2013-14 season must have been fun
Updated:
July 18, 2014, 1:02 AM ET
ESPN.com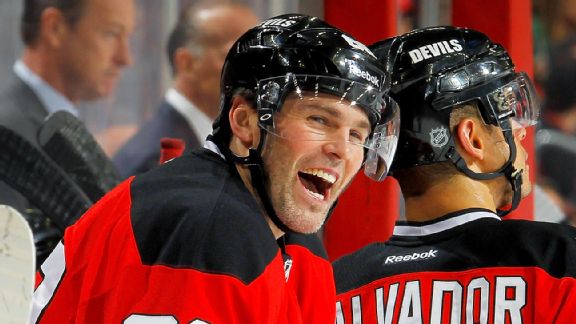 Jim McIsaac/Getty ImagesJaromir Jagr has apparently already read the story below.
We've noticed over the years that NHL players for whatever reason have a tendency to use the word "fun" a lot. Maybe it's because they appear to be having more fun at their sport than most other athletes. Perhaps it's because they're funny guys. So, since we're all about fun here at ESPN.com/NHL, especially during the offseason, we've decided to tell the 2013-14 season using only quotes containing the word "fun." Did we succeed? Well, it was fun trying.
THE SEASON
"You can tell they have that swagger and that confidence that it's a really good club. It's fun to join that." -- Boston Bruins' Jarome Iginla
"Yeah, it was fun, a lot more fun if I could have scored. That's the way it goes, I'm not the first guy to miss in a shootout, won't be the last, but it's always tough to miss, for sure." -- Colorado Avalanche's Nathan MacKinnon
"It's more fun winning hockey games. You might have the best stats, but if you lose, it's still not really fun. It's been a lot of fun, especially the whole month of December." -- Anaheim Ducks' Jonas Hiller
"I had so much fun out there. It's so exciting to be back." -- Columbus Blue Jackets' Nathan Horton
"It's never a fun situation because your partner, you know something might not be good with him, but that's the job and you have to be ready when they call you." -- Florida Panthers' Dan Ellis
"I never thought [winning the Jack Adams Award] would have ever happened, to be honest with you. It's fun to see it happening, but I know why I'm receiving this trophy: I have a group of players that made a commitment and bought into what we wanted to do. They had in their mind to surprise the world of hockey, and that's exactly what they've done by winning the Central Division. It's a special group, and I cannot thank them enough today for what happened to me." -- Colorado Avalanche coach Patrick Roy
OUTDOOR GAMES
"But it's going to be a fun moment. At the end of the day, you've just got to enjoy that it's probably never going to happen again." -- Toronto Maple Leafs' Jonathan Bernier
"I'm really looking forward to it. It's going to be a fun experience." -- New Jersey Devils defenseman Andy Greene
"Yeah, I didn't even realize the roof was open at first, because it kind of blends in a little bit. I thought they just kept the building really cold. But I was fortunate enough to play in one in Philly and it's a neat process. I think it's fun for the guys. I think it's great for our game. I hope there are some good stories that come out of it. ... You know, with this team, at least the coach of this team is in a little bit different situation where we're dying on the vine here. We need to get these points, too. So you can't have too much fun with it. You have to keep your concentration. So I hope they enjoy themselves with their family. It was fun to skate today. [At] one o'clock tomorrow, you have two teams that are kind of in the same situation, trying to fight to get in, and hopefully we'll be all business then." -- Vancouver Canucks coach John Tortorella
"Definitely warm-ups will be fun, looking around, skating around." -- New York Islanders' Kyle Okposo
"This is a different atmosphere, different environment, but as far as the sheet of ice, the 200 by 85 -- it stays the same; it's going to be the same game, except there will probably be a heightened sense of awareness and a little bit more excitement out there, and it should be pleasant and a lot of fun for everybody. ... You know what, I've watched all the games from the past that have been outdoors, saying to myself, 'Boy, I would like this to happen to me one time,' that it seems like it's a lot of fun." -- New York Rangers coach Alain Vigneault
"Yeah, want to keep the fun element. At the same time this is a huge game tomorrow. It's a four-point game. Two teams that are this close in the standings. And the reality of this, the way things look, one of us might be in the playoffs. One of us might be on the outside looking in. So the message to our group today was enjoy the day, let's have fun, enjoy your families here today. And when we get to the hotel tonight, it's all business, because the game's too important tomorrow." -- New Jersey Devils coach Peter DeBoer
"But at the end of the day, we're just playing hockey. It's fun, it's great, but we're not really here to put a big show on. ... I'm really excited. This is fun for me and my family, to be part of this." -- New Jersey Devils goalie Martin Brodeur
WINTER OLYMPICS
"It's always a fun challenge to play against top players in this league and it's an awesome feeling to shut them down." -- Team Sweden's Oliver Ekman-Larsson
"We're always, in a fun way, competing against each other on a daily basis. We'll be competitive if we get a chance to play each other. One guy is not going to want the other to get the best of him." -- Team Canada's Jonathan Toews, talking about Chicago Blackhawks teammate and Team USA's Patrick Kane
"It's something you practice at the end of practice all the time, just kind of messing around. I had to go back and maybe think of some different moves that I can do and maybe go back to some that I already did. It was a fun end." -- Team USA frequent shooter T.J. Oshie
"It's fun. I'd absolutely do it [again in future Olympic Games]." -- Team USA goalie Jonathan Quick
"It was a lot of fun. It is something I will never forget. Even though you are only together for a couple of weeks, how much goes into that tournament and how hard it is to win it and the way we did it was certainly a great feeling." -- Team Canada's John Tavares
"We're just an amazing team to watch, the way we work together. We were just all over them. It's fun to be a part of." -- Team Canada's Jonathan Toews
STANLEY CUP PLAYOFFS
"I'm sure we will be excited about it, it's going to be so much fun to play in the playoffs." -- Colorado Avalanche's Semyon Varlamov
"You're captain. You're the leader of a team that's going to the Stanley Cup playoffs. It's a challenge, but it's fun, it's exciting." -- Tampa Bay Lightning's Steven Stamkos
"I love MSG. I grew up watching games there. I love going there. I haven't played in the finished building yet, so this will be fun for me." -- Montreal Canadiens' Max Pacioretty
"It's a good feeling. The boys battled hard, and to come back from two down was a lot of fun. I'm happy for everyone." -- Anaheim Ducks' Devante Smith-Pelly
"I'm glad the opportunity was there to make a deal. We've had nothing but fun with each other. We continue to do it. It's been a good relationship. Coaches sometimes run out of time wherever they are. I think it's fun. I hope our team thinks it's fun. I hope the fans like it. It's a very intense time of the year for everyone. If you can get through that intensity and enjoy it, it's great." -- New York Rangers GM Glen Sather
"That was the first [fist] pump of my life. That was a pretty special goal for me. It's not necessarily my job, but it was fun." -- Anaheim Ducks' Ben Lovejoy
"For myself personally, it's been a lot of fun to play with them. They bring a lot of energy and enthusiasm to our team. They're out there on the ice having fun, working hard." -- Los Angeles Kings' Jeff Carter
"We had a great group of guys. Fun to be a part of. Just gets you motivated to go out and want to do it." -- Los Angeles Kings' Kyle Clifford
"But as a goalie, it's a fun challenge, too, when they're putting the heat on you. Especially in that third period, it was a lot of action. But it was a fun challenge." -- New York Rangers goalie Henrik Lundqvist
"We want to go in and play well, too. Otherwise it's not going to be much fun either way. We want to go in and play well and win a game." -- Los Angeles Kings' Jarret Stoll
"You just try to stay in that moment, stay in the moment and focus on the next shot. You know, it was pretty intense at times, but you try just to stay calm, I guess, and focus on your job, not overdoing anything or complicate anything. But it's fun. I like that challenge. You know, it's fun to be out there in these types of games. Obviously we'd like to be in a better position right now. We're down 3-1. But at the same time it's a lot of fun to be out playing in these types of games." -- New York Rangers goalie Henrik Lundqvist
"Winning is fun. That's it. ... I don't care how you win, winning is fun." -- Los Angeles Kings' Justin Williams