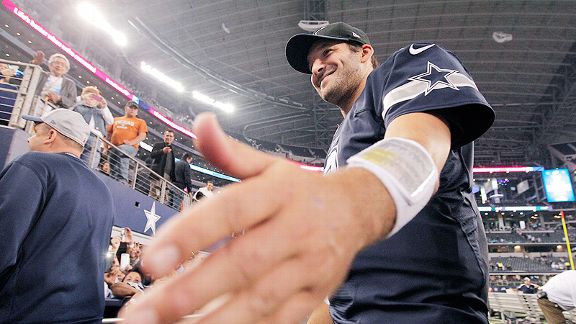 AP Photo/Brandon WadeJon Gruden tells the guys about Cowboys-Bears, Tony Romo, Saints-Seahawks and much more.
• Monday Night Football's Jon Gruden covers Saints-Seahawks, Russell Wilson's development, the impact of Seattle's home-field advantage, Cowboys-Bears and more. Gruden

• ESPN NFL analyst Herm Edwards weighs in on how to beat the Seahawks, Bill Belichick's comments about replay, the playoff picture, Mike Tomlin's apology and more. Edwards

• ESPN CFB analyst Kirk Herbstreit shares his thoughts on the weight of a loss, the criteria that decides which teams will play in the championship game, the lack of recognition Missouri has received, Ohio State-Michigan State and more. Herbstreit

• ESPN NFL draft Insider Todd McShay talks about how Zach Mettenberger's injury will impact his draft stock, Marcus Mariota's decision to return to Oregon for his junior season and more. McShay

• SEC commissioner Mike Slive comments on why the winner of his conference deserves to play in the national championship more than Ohio State, the value of a loss, the competitiveness of his teams and more. Slive

LISTEN LIVE ON ESPNLA.COM
Rothenberg & Weatherford
9:00 AM-11:30 AM


BEST OF MIKE & MIKE PODCAST
Espngreeny Mike Greenberg
Round two NBA predictions:#Warriors in six.#Clippers in six.#Wizards in six.#Cavs in seven.
about an hour ago

Espngreeny Mike Greenberg
All in all, my favorite photo of the biggest sports weekend ever was this one. @jemelehill http://t.co/t1hyT1Tdiy
about an hour ago

Espngreeny Mike Greenberg
If I had to bet on it, I would say Bryce Petty will be the #Jets starting quarterback in 2016. And I hope I'm wrong.
about an hour ago

Espngreeny Mike Greenberg
I love the #Jets draft. All in all, I don't know that any team had a better weekend.
about an hour ago

Espngreeny Mike Greenberg
If that was last we see of these #Spurs, they go out the way champs should. Fighting to the last second. Words can't describe my respect.
about an hour ago

Espngreeny Mike Greenberg
Last night, Chris Paul silenced what remain of his critics. I don't care what round it was. A performance for the ages on one leg. #Clippers
about an hour ago

Espngreeny Mike Greenberg
Also, there is no one in our business I have more respect for than @Rachel__Nichols. She is a pro's pro.
about an hour ago

Espngreeny Mike Greenberg
If any fight was going to "save" boxing, it certainly wasn't this one.
about an hour ago

Espngreeny Mike Greenberg
Manny Pacquaio fought like a guy who knew he had no chance. If his shoulder was so bad, they should have postponed the event.
about an hour ago

Espngreeny Mike Greenberg
Just watched the fight on the DVR. Who do I talk to about getting my hundred bucks back?
about an hour ago

espngolic Mike Golic
Well, no doubt game 7 was best event Saturday, enjoyed the Derby as well, unfortunately PPV is a roll of the dice, and we rolled snake eyes
about 5 hours ago

Espngreeny Mike Greenberg
Nothing to lose, everything to gain. #Jets
1 day ago

Espngreeny Mike Greenberg
I looooove it!!!!!! #BrycePetty #Jets
1 day ago

Espngreeny Mike Greenberg
Boom. #Jets
1 day ago

Espngreeny Mike Greenberg
The #Raiders are on their way to getting much better.
1 day ago

MikeAndMike Mike & Mike
This week on Instagram:- The worst fan ever- The best Greeny TBT ever- The first Tebow Eagles jersey everFOLLOW: http://t.co/0sN2u2er1s
1 day ago

Espngreeny Mike Greenberg
Standing O for Jim Kelly. Awesome...
1 day ago

Espngreeny Mike Greenberg
I haven't had this level of faith in #Jets decision makers since Parcells. I'm all in with these guys. Let's go!!!
1 day ago

Espngreeny Mike Greenberg
Love the pick. Absolutely love it. https://t.co/vhcWucfK0b
1 day ago

JGolic88 Jake Golic
@Oreo do the right thing. Send this school 10,000 Oreos. http://t.co/iyvBNnQ5aT
1 day ago
JAYSON STARK'S MLB TRIVIA
Adam Wainwright is one of three active pitchers who are at least 50 games over .500 in their careers but have never won a Cy Young Award. Who are the other two individuals? Listen

FRANK CALIENDO
Our favorite moments with Frank Caliendo:
-Watch: 'A Visit from St. Nicholas'


-Watch: William Shatner


-Listen: #GolicButtPhoto voicemails


-Watch: Donald Trump


-Listen: Trick-or-Treat


-Watch: Stephen A. Smith


-Watch: Mel Kiper Jr.


-Watch: Charles Barkley


-Watch: Allen Iverson's rant


-Watch: Remembering Robin Williams


-Watch: LeBron James' letter

THE HIGHLIGHTS
Mel Kiper Jr., NFL
ESPN Radio's Mel Kiper Jr. covers the trades in the NFL draft, Jameis Winston's Instagram post that featured crab legs, the Giants' selection of Ereck Flowers and the Rams' decision to draft Todd Gurley.
Lovie Smith, Buccaneers
Buccaneers coach Lovie Smith comments on his team's selection of Jameis Winston with the No. 1 pick in the NFL draft, Tampa Bay's reception of Winston and Winston's crab legs Instagram post.
Roger Goodell, NFL
NFL commissioner Roger Goodell dishes on moving the draft to Chicago, the support drafted prospects will receive from veterans and league officials, the Deflategate probe and the league's return to L.A.
Mayweather-Pacquiao picks: 5/1
Mike Greenberg and Mike Golic share their predictions for the fight between Floyd Mayweather and Manny Pacquiao.
Adam Schefter, NFL
ESPN NFL Insider Adam Schefter covers the draft, including whether the Eagles could acquire Marcus Mariota, a potential Philip Rivers trade and the chances that La'el Collins will be selected.
Buck Showalter, Orioles
Orioles manager Buck Showalter dishes on the closed-doors game against the White Sox, including how quiet it was in Camden Yards and how important the fans are to MLB.
Frank Caliendo, NFL
Comedian Frank Caliendo joins Mike & Mike to discuss the NFL draft and do some impressions, including Mel Kiper Jr., Jon Gruden, Adam Schefter, Mike Ditka and Chris Berman.
Chris Mortensen, NFL
ESPN NFL Insider Chris Mortensen discusses the draft, shares why he thinks Sam Bradford won't sign an extension with any team besides the Eagles and covers Adrian Peterson's situation with the Vikings.
OFF-MIKES EPISODES
View episodes of ESPN.com's first Emmy winner, "Off-Mikes," a series based on the interactions of Greeny and Golic on "Mike & Mike."
-"Snook, Line and Sinker"


-"Wee-Wee Mon Sewer"


-"Raging Bull-Oney"


-"Bend It Like Golic"


-"The Wettest Yard"


-"Pomp You Up"


-"Throw Momma from the Chair"


-"Air Force Ton"


-"Night of the Living Chippers"