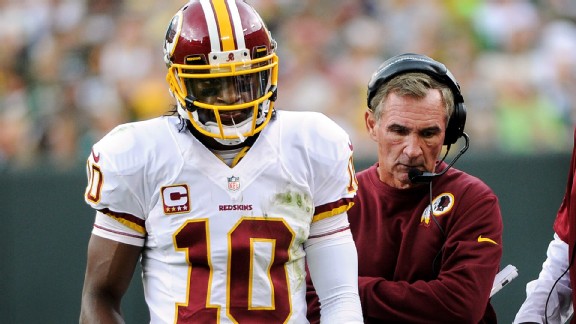 Benny Sieu/USA TODAY SportsMichael Wilbon tells the guys about Robert Griffin III, Mike Shanahan, the Bears' QBs and much more.
• PTI's Michael Wilbon weighs in on the Redskins' decision to bench Robert Griffin III, Mike Shanahan's future in Washington, the Bears' QB situation and more. Wilbon

• ESPN NFL Insider Chris Mortensen shares his thoughts on whether Texas would recruit NFL coaches and coordinators, Nick Saban's NFL prospects, the Texans' search for a new coach, the Redskins' future and more. Mortensen

• ESPN NFL analyst Mark Schlereth discusses whether Jay Cutler or Josh McCown should start for the Bears, the status of Aaron Rodgers, Matt Elam's comments about Calvin Johnson and more. Schlereth


LISTEN LIVE ON ESPNLA.COM
ESPNLA Morning Show with Travis & Kelvin
5:00 AM-9:00 AM


BEST OF MIKE & MIKE PODCAST
JAYSON STARK'S MLB TRIVIA
Max Scherzer will soon achieve his fourth straight season with at least 225 strikeouts. Which two other active pitchers have struck out 225 batters in three consecutive seasons? Listen

FRANK CALIENDO
Our favorite moments with Frank Caliendo:
-Watch: 'A Visit from St. Nicholas'


-Watch: William Shatner


-Listen: #GolicButtPhoto voicemails


-Watch: Donald Trump


-Listen: Trick-or-Treat


-Watch: Stephen A. Smith


-Watch: Mel Kiper Jr.


-Watch: Charles Barkley


-Watch: Allen Iverson's rant


-Watch: Remembering Robin Williams


-Watch: LeBron James' letter

THE HIGHLIGHTS
Lester Munson, Golf
ESPN legal analyst Lester Munson covers Phil Mickelson's ties to an illegal gambling operation, whether Mickelson will face legal consequences and how the PGA Tour will respond.
Jon Weiner, NBA
ESPN Radio's Jon "Stugotz" Weiner offers his insights on Dwyane Wade's value to the Heat, Miami's potential next season and the team's interest in Kevin Durant.
Julie Foudy, Soccer
ESPN soccer analyst Julie Foudy weighs in on the United States' performance in the Women's World Cup, the team's offensive struggles and the squad's matchup against Germany.
Adam Caplan, NFL
ESPN NFL Insider Adam Caplan discusses Russell Wilson's contract situation, WRs who want new deals, Sam Bradford's future and the timeline for decisions in the appeals of Tom Brady and Greg Hardy.
Brian Windhorst, NBA
ESPN NBA Insider Brian Windhorst discusses LeBron James' decision to opt out and whether Kevin Love will stay in Cleveland. Plus, Windhorst covers the latest on Carmelo Anthony, LaMarcus Aldridge and DeAndre Jordan.
Tom Haberstroh, NBA
ESPN.com's Tom Haberstroh comments on a potential sign-and-trade deal involving Kevin Love, why Carmelo Anthony needs to stick it out with the Knicks and what players would be interested in a Lakers rebuild.
Jemele Hill, NBA
His & Hers' Jemele Hill weighs in on how Kobe Bryant's personality has changed throughout his career and why Bryant fails to garner appreciation for playing through pain and carrying the Lakers.
Darius Rucker, WCB
Musician Darius Rucker shares his thoughts on Mike Golic's performance at Rucker's concert, wearing a Notre Dame jersey and hat at the show and Mike Greenberg's singing abilities.
OFF-MIKES EPISODES
View episodes of ESPN.com's first Emmy winner, "Off-Mikes," a series based on the interactions of Greeny and Golic on "Mike & Mike."
-"Snook, Line and Sinker"


-"Wee-Wee Mon Sewer"


-"Raging Bull-Oney"


-"Bend It Like Golic"


-"The Wettest Yard"


-"Pomp You Up"


-"Throw Momma from the Chair"


-"Air Force Ton"


-"Night of the Living Chippers"

BEST OF NATIONAL SECURITY?