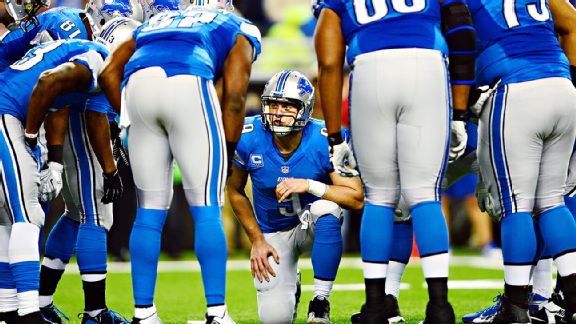 Andrew Weber/USA TODAY SportsRon Jaworski tells the guys about Matthew Stafford, Tony Romo, Drew Brees, Bears-Eagles and more.
• ESPN NFL analyst Ron Jaworski weighs in on the criticism of Tony Romo, Matthew Stafford's recent struggles, the Saints' style of play on the road, Bears-Eagles and more. Jaworski

• ESPN NFL analyst Darren Woodson talks about the state of the Cowboys, Dallas' management, the chances the Saints will beat the Panthers, the Chiefs' improved offense and more. Woodson

• ESPN NFL analyst Ray Lewis offers his insight on the NFL's offensive focus, the Ravens' style of play, the rule classifying punters and kickers as defenseless players and more. Lewis

• 97.9 ESPN Tallahassee's Jeff Cameron shares his thoughts on the possibility of Jimbo Fisher becoming Texas' new coach and more. Cameron

• Greeny and Golic make their picks for Week 16 of the NFL season in the "Stone Cold Lead Pipe Locks." Stone Cold Lead Pipe Locks »
LISTEN LIVE ON ESPNLA.COM


WHO'S IN?
Listen live to Mike & Mike for the daily winning word for your chance to win a trip to the College Football Playoff. Enter » Listen (6-10 a.m. ET)

NCAA TOURNAMENT BET PAYOFFS
Mike Greenberg completes the latest installment of the guys' bracket wager payoff. Photos


Watch: Greeny Milks a Cow


Watch: Greeny Gets Waxed


Watch: Greeny Competitively Eats


Watch: Greeny Sings Vanilla Ice

THE HIGHLIGHTS
Danny Kanell, CFB
ESPN CFB analyst Danny Kanell weighs in on the first College Football Playoff rankings, the selection process for the committee and the matchup between Auburn and Mississippi.
Jon Gruden, NFL
Monday Night Football's Jon Gruden discusses concerns for the Cowboys, Tony Romo's return in the loss to the Redskins, Broncos-Patriots and the Colts' loss to the Steelers.
Bud Selig, MLB
MLB commissioner Bud Selig comments on his time in office, the Giants' use of Madison Bumgarner, the Royals' journey to the World Series and baseball's TV ratings.
Adam Silver, NBA
NBA commissioner Adam Silver dishes on the league's test of shorter games, maximum contracts and the exchange between Dwight Howard and Kobe Bryant during Rockets-Lakers.
On Todd Gurley, 10/29
Mike Greenberg and Mike Golic react to the NCAA's four-game suspension of Todd Gurley for receiving money for autographs and Georgia's plans to appeal the decision.
Mark Cuban, Mavericks
Mavericks owner Mark Cuban dishes on the rivalry between his team and the Spurs, San Antonio's hiring of Becky Hammon, the length of the NBA season and testing out shorter games.
Brad Edwards, CFB
College GameDay on ESPN Radio's Brad Edwards weighs in on how he would choose teams for the College Football Playoff, top contenders for the playoff and Kansas State's schedule.
Paul Pierce, Wizards
Wizards F Paul Pierce comments on his team's potential, his departure for Washington, his training regimen, maximum contracts and players' arrangements to join the same team.