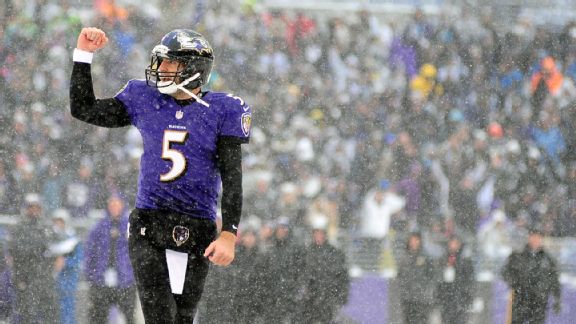 Evan Habeeb-USA TODAY SportsJoe Flacco tells the guys about getting ready for another matchup with the Patriots and much more.
• Ravens QB Joe Flacco talks about his health, Baltimore's win over the Lions, his team's four-game winning streak, preparing to face the Patriots, the keys to success in December and more. Flacco

• ESPN NFL Insider Chris Mortensen weighs in on this year's cold-weather Super Bowl, NFL coaches who could lose their jobs, why the Buccaneers should keep Greg Schiano, Aaron Rodgers' status and more. Mortensen

• Super Bowl XXXV champion Brian Billick dishes on Tom Coughlin's future with the Giants, the state of the NFC North, Patriots-Ravens and more. Billick

• ESPN NFL analyst Mark Schlereth discusses the NFL playoff picture, the rule providing punters defenseless-player protection, Cowboys-Redskins, the Heat's win over the Pacers and more. Schlereth

• ESPN Radio's Colin Cowherd shares his thoughts on Texas' search for a new coach, the Heat's win over the Pacers and more. Cowherd

LISTEN LIVE ON ESPNLA.COM


BEST OF MIKE & MIKE PODCAST
ELIMINATOR CHALLENGE
This season, play against Greeny, Golic and the Mike & Mike staff in the show's Eliminator Challenge group. Eliminator Challenge »
JAYSON STARK'S MLB TRIVIA
David Wright is one of four active players who have spent the last 12 seasons with the same team. Who are the other three? Listen

FRANK CALIENDO
Our favorite moments with Frank Caliendo:
-Watch: 'A Visit from St. Nicholas'


-Watch: William Shatner


-Listen: #GolicButtPhoto voicemails


-Watch: Donald Trump


-Listen: Trick-or-Treat


-Watch: Stephen A. Smith


-Watch: Mel Kiper Jr.


-Watch: Charles Barkley


-Watch: Allen Iverson's rant


-Watch: Remembering Robin Williams


-Watch: LeBron James' letter

THE HIGHLIGHTS
Sal Paolantonio, NFL
ESPN NFL reporter Sal Paolantonio joins Mike Greenberg and Mike Golic to share the latest from court proceedings in Tom Brady's appeal, for which a ruling should come down today.
Jeff Saturday, NFL
ESPN NFL analyst Jeff Saturday declares that as the head coach in Washington, Jay Gruden should be allowed to make his own decisions on personnel. Plus, Saturday weighs in on the impact of Maurkice Pouncey's injury.
Cal Ripken Jr., MLB
Baseball Hall of Famer Cal Ripken Jr. comments on his streak of consecutive games played, the abundance of young talent in the sport and whether MLB should improve ballpark safety.
Adam Schefter, NFL
ESPN NFL Insider Adam Schefter dishes on reports that members of the Redskins organization want Robert Griffin III gone, the Browns' potential interest in Ray Rice, who will start Week 1 for the Bills and the latest on Tom Brady's appeal.
Patrick McEnroe, Tennis
ESPN tennis analyst Patrick McEnroe weighs in on Serena Williams' quest to complete the 2015 Grand Slam, including why her biggest obstacle to a win at the US Open is herself. Plus, McEnroe covers who the favorite is in the men's tournament.
Brian Hoyer, Texans
Texans QB Brian Hoyer dishes on signing with Houston, competing with former teammate Ryan Mallett, being named the starter, losing Arian Foster to injury and participating in HBO's "Hard Knocks."
Dan Quinn, Falcons
Falcons coach Dan Quinn offers thoughts on his first training camp as a head coach in the NFL, including implementing his vision, creating locker-room cohesion, improving the defense and working with Matt Ryan.
Damien Woody, NFL
ESPN NFL analyst Damien Woody discusses Robert Griffin III's ability to lead the Redskins, how Maurkice Pouncey's injury affects the Steelers and fining student-athletes.
OFF-MIKES EPISODES
View episodes of ESPN.com's first Emmy winner, "Off-Mikes," a series based on the interactions of Greeny and Golic on "Mike & Mike."
-"Snook, Line and Sinker"


-"Wee-Wee Mon Sewer"


-"Raging Bull-Oney"


-"Bend It Like Golic"


-"The Wettest Yard"


-"Pomp You Up"


-"Throw Momma from the Chair"


-"Air Force Ton"


-"Night of the Living Chippers"