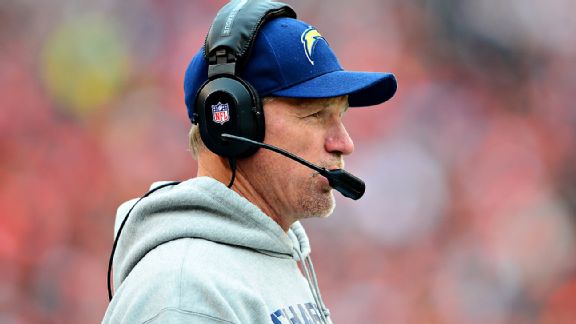 Andrew Weber/USA TODAY SportsRon Jaworski tells the guys about whether Ken Whisenhunt's focus is on the playoffs and much more.
• ESPN NFL analyst Ron Jaworski discusses Jay Gruden's preparedness for the Redskins job, Ken Whisenhunt's focus, Saints-Seahawks, why he thinks the Colts can upset the Patriots and more. Jaworski

• FOX's Howie Long weighs in on whether the Saints' mental preparation could help them against the Seahawks, how Michael Crabtree could impact 49ers-Panthers, Philip Rivers' improvement, Colts-Patriots and more. Long

• FOX's Brian Billick offers his insight on the uniqueness of Ken Whisenhunt's interview schedule, whether Whisenhunt's focus is on the playoffs and more. Billick

LISTEN LIVE ON ESPNLA.COM
BEST OF MIKE & MIKE PODCAST
JAYSON STARK'S MLB TRIVIA
Besides Felix Hernandez, four active pitchers have finished in the top two in Cy Young Award voting more than once. Who are they? Listen

FRANK CALIENDO
Our favorite moments with Frank Caliendo:
-Watch: 'A Visit from St. Nicholas'


-Watch: William Shatner


-Listen: #GolicButtPhoto voicemails


-Watch: Donald Trump


-Listen: Trick-or-Treat


-Watch: Stephen A. Smith


-Watch: Mel Kiper Jr.


-Watch: Charles Barkley


-Watch: Allen Iverson's rant


-Watch: Remembering Robin Williams


-Watch: LeBron James' letter

THE HIGHLIGHTS
Ian Darke, Soccer
Ian Darke of ESPN FC shares the aftermath of the indictment of FIFA members, including if president Sepp Blatter will survive the controversy, the possibility of world soccer federations deciding to pull away from FIFA and more.
Marc Stein, NBA
ESPN NBA Insider Marc Stein covers the potentially imminent departure of coach Tom Thibodeau from the Bulls, who Chicago may be targeting for the job and who the Pelicans are considering for their vacancy.
Brad Daugherty, NBA
ESPN NBA analyst Brad Daugherty breaks down how LeBron James will match up against the Warriors' defensive schemes in the NBA Finals, how much a championship would mean to the city of Cleveland and more.
Mychal Thompson, NBA
Mychal Thompson of 710 ESPN Los Angeles discusses the Warriors' progression to the NBA Finals, what this season has been like as the father of Klay Thompson and how Klay is feeling after suffering from concussion-like symptoms.
Brian Windhorst, NBA
ESPN NBA Insider Brian Windhorst weighs in on the Cavaliers' sweep of the Hawks in the Eastern Conference finals, including LeBron James' historic playoff performance, what it means to the city of Cleveland and James' supporting cast.
Jayson Stark, MLB
ESPN MLB Insider Jayson Stark weighs in on the debate between Bryce Harper and Mike Trout and whether pitchers should be allowed to use substances to help grip the ball. Plus, Stark plays trivia with Mike Greenberg and Mike Golic.
Jared Dudley, Bucks
Bucks F Jared Dudley dishes on what it is like to compete against LeBron James, how James compares to Michael Jordan and how far is too far when it comes to physical play in the NBA playoffs.
Sarah Spain, NFL
espnW's Sarah Spain discusses the release of Bears DE Ray McDonald, including how Chicago failed in the initial process of signing McDonald and why the NFL doesn't need to wait for the legal process.
OFF-MIKES EPISODES
View episodes of ESPN.com's first Emmy winner, "Off-Mikes," a series based on the interactions of Greeny and Golic on "Mike & Mike."
-"Snook, Line and Sinker"


-"Wee-Wee Mon Sewer"


-"Raging Bull-Oney"


-"Bend It Like Golic"


-"The Wettest Yard"


-"Pomp You Up"


-"Throw Momma from the Chair"


-"Air Force Ton"


-"Night of the Living Chippers"