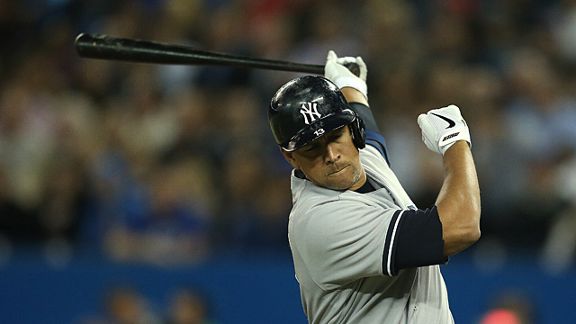 Steve Russell/Toronto Star via Getty ImagesBuster Olney tells Golic, Cris Carter and Jorge Sedano about the future of Alex Rodriguez and more.
• ESPN MLB Insider Buster Olney dishes on the reduction of Alex Rodriguez's suspension to 162 games, what comes next for Rodriguez and the Yankees and more. Olney

• ESPN legal analyst Lester Munson explains why it is unlikely that a federal court will intervene in arbitrator Fredric Horowitz's decision regarding Alex Rodriguez's suspension and more. Munson

• ESPN New York 98.7 FM's Michael Kay weighs in on Alex Rodriguez's year-long ban, A-Rod's future, how the Yankees will approach his suspension and more. Kay


LISTEN LIVE ON ESPNLA.COM


Coming Up

3:00 PM

Max & Marcellus

7:00 PM

ESPN News

10:00 PM

SportsCenter Tonight
NCAA TOURNAMENT BET PAYOFFS
Mike Greenberg completes the latest installment of the guys' bracket wager payoff. Photos


Watch: Greeny Milks a Cow


Watch: Greeny Gets Waxed


Watch: Greeny Competitively Eats


Watch: Greeny Sings Vanilla Ice

JAYSON STARK'S MLB TRIVIA
Jon Lester has won at least 15 wins five times since 2008. Only three other active pitchers have achieved at least four 15-win seasons since that year. Who are these individuals? Listen

THE HIGHLIGHTS
Jayson Stark, MLB
ESPN MLB Insider Jayson Stark joins Mike Greenberg and Mike Golic to ask his baseball trivia question and gives his take on Jon Lester's trade possibilities.
Herm Edwards, NFL
ESPN NFL analyst Herm Edwards talks to Mike Greenberg and Mike Golic about Ray Rice, Johnny Manziel and training camps around the league.
Jimbo Fisher, Florida State
Florida State coach Jimbo Fisher previews the Seminoles' upcoming season and discusses Jameis Winston.
Amy Van Dyken-Rouen, Olympics
Olympic swimmer Amy Van Dyken-Rouen opens up about her recovery from a spinal cord injury.
Matthew Stafford, Lions
Lions QB Matthew Stafford discusses his relationship with Dodgers ace Clayton Kershaw and previews Detroit's upcoming season.
Joe Torre, MLB
Baseball Hall of Famer Joe Torre discusses his induction into the Baseball Hall of Fame.
Adolpho Birch, NFL
Adolpho Birch, the NFL's senior vice president of labor policy and government affairs, covers how the league determined Ray Rice's suspension and public reaction to the discipline.
Mike Smith, Falcons
Falcons coach Mike Smith comments on why his team agreed to appear on "Hard Knocks," Roddy White's contract extension, Julio Jones' health and Tony Gonzalez's departure.
BEST OF LOSING A WHOLE YEAR