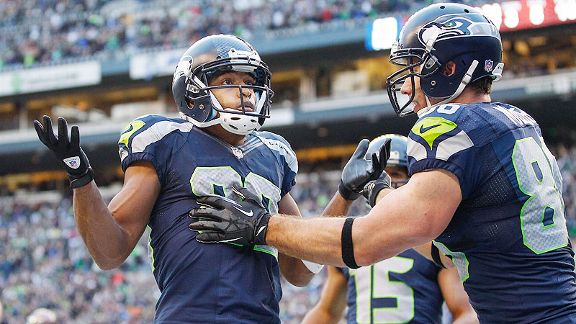 Otto Greule Jr/Getty ImagesDoug Baldwin tells Greeny and Golic about his team's mindset heading into the Super Bowl and more.
• Seahawks WR Doug Baldwin dishes on his team's inexperience in the Super Bowl, dealing with the attention Richard Sherman has received, Percy Harvin's return and more. Baldwin

• NFL commissioner Roger Goodell comments on contingency plans for the Super Bowl, how full-time officials would affect the game, the league's plans for international expansion, adding playoff teams and more. Goodell

• Pro Football Hall of Famer Curtis Martin talks about whether prior experience at the Super Bowl benefits teams, the impact of weather on the game, Marshawn Lynch's abilities and more. Martin

• ESPN NFL analyst Mark Schlereth discusses the Broncos' evolving offense, how wind could affect the Super Bowl, the impact of Terrance Knighton, the keys to beating the Seahawks and more. Schlereth


LISTEN LIVE ON ESPNLA.COM


MIKE & MIKE AT NBA ALL-STAR WEEKEND
MIKES AND ME
Now you can be pictured with Mike & Mike! Print this image, pose with the Mikes and tweet your photo to @MikeAndMike using the hashtag #MikesAndMe for a chance to be featured here and on the show. Watch

THE HIGHLIGHTS
Herm Edwards, NFL
ESPN NFL analyst Herm Edwards discusses Darrelle Revis' future, the value of cover corners, where Michael Vick and Josh McCown could land, Darren Sproles' abilities and more.
Avery Johnson, NBA
ESPN NBA analyst Avery Johnson discusses Joakim Noah's value, Blake Griffin's development, the 76ers' decision to tank, Phil Jackson's potential role with the Knicks and more.
Jim Delany, Big Ten
Big Ten commissioner Jim Delany comments on concerns with conference realignment, Northwestern student-athletes' attempt to unionize, the one-and-done rule and more.
On Phil Jackson, 3/10
Mike Greenberg and Mark Schlereth share their thoughts on the reports that Phil Jackson could take a front-office job with the Knicks, Jackson's competitiveness and more.
Stephen A. Smith, NBA
ESPN New York 98.7 FM's Stephen A. Smith covers the Knicks' reasons for offering a front-office job to Phil Jackson, what Jackson could gain from taking the position and more.
Josh McCown, Bears
Bears QB Josh McCown dishes on his performance last season, the number of teams he has communicated with regarding his future, his relationship with Jay Cutler, Cutler's maturation and more.
Buster Olney, MLB
ESPN MLB Insider Buster Olney weighs in on the Royals' potential, Ervin Santana's health, Robinson Cano's remarks about the Mariners' roster, Ryan Braun's return and more.
Chris Broussard, NBA
ESPN NBA Insider Chris Broussard discusses what it would take to bring Carmelo Anthony to Chicago, how much money matters to Melo, Melo's options in 2015 and more.
BEST OF UNCHARTED TERRITORY