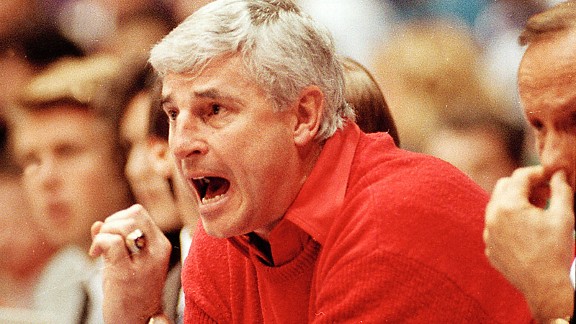 AP Photo/John SwartBob Knight tells the guys about his expectations for Wichita State, the one-and-done rule and more.
• Basketball Hall of Famer Bob Knight discusses his expectations for Wichita State, whether talent is more widespread now than during the peak of his career, the one-and-done rule and more. Knight

• Former Raptors GM Bryan Colangelo clarifies his remarks about tanking and talks about developing Toronto's young players, changing the NBA's draft and lottery systems and more. Colangelo

LISTEN LIVE ON ESPNLA.COM
ESPNLA Morning Show with Travis & Kelvin
5:00 AM-9:00 AM


BEST OF MIKE & MIKE PODCAST
JAYSON STARK'S MLB TRIVIA
Max Scherzer will soon achieve his fourth straight season with at least 225 strikeouts. Which two other active pitchers have struck out 225 batters in three consecutive seasons? Listen

FRANK CALIENDO
Our favorite moments with Frank Caliendo:
-Watch: 'A Visit from St. Nicholas'


-Watch: William Shatner


-Listen: #GolicButtPhoto voicemails


-Watch: Donald Trump


-Listen: Trick-or-Treat


-Watch: Stephen A. Smith


-Watch: Mel Kiper Jr.


-Watch: Charles Barkley


-Watch: Allen Iverson's rant


-Watch: Remembering Robin Williams


-Watch: LeBron James' letter

THE HIGHLIGHTS
Brian Windhorst, NBA
ESPN NBA Insider Brian Windhorst discusses LeBron James' decision to opt out and whether Kevin Love will stay in Cleveland. Plus, Windhorst covers the latest on Carmelo Anthony, LaMarcus Aldridge and DeAndre Jordan.
Tom Haberstroh, NBA
ESPN.com's Tom Haberstroh comments on a potential sign-and-trade deal involving Kevin Love, why Carmelo Anthony needs to stick it out with the Knicks and what players would be interested in a Lakers rebuild.
Jemele Hill, NBA
His & Hers' Jemele Hill weighs in on how Kobe Bryant's personality has changed throughout his career and why Bryant fails to garner appreciation for playing through pain and carrying the Lakers.
Darius Rucker, WCB
Musician Darius Rucker shares his thoughts on Mike Golic's performance at Rucker's concert, wearing a Notre Dame jersey and hat at the show and Mike Greenberg's singing abilities.
Chad Ford, NBA
ESPN NBA draft Insider Chad Ford covers the Lakers' selection of D'Angelo Russell with the No. 2 pick, LaMarcus Aldridge's future, Kristaps Porzingis' fit with the Knicks and the state of the Kings.
Tim Legler, NBA
ESPN NBA analyst Tim Legler weighs in on the Lakers' selection of D'Angelo Russell, Justise Winslow's fall to Heat, Carmelo Anthony's future and DeMarcus Cousins' attitude.
Larry Brown, SMU
SMU coach Larry Brown dishes on Emmanuel Mudiay's abilities, how draft selections reflect the evolution of the game, Jahlil Okafor's weaknesses and Kristaps Porzingis' transition to the Knicks.
Flip Saunders, Timberwolves
Timberwolves president of basketball operations Flip Saunders comments on his team's selection of Karl-Anthony Towns, Minnesota's outlook and fan reaction to the squad's draft.
OFF-MIKES EPISODES
View episodes of ESPN.com's first Emmy winner, "Off-Mikes," a series based on the interactions of Greeny and Golic on "Mike & Mike."
-"Snook, Line and Sinker"


-"Wee-Wee Mon Sewer"


-"Raging Bull-Oney"


-"Bend It Like Golic"


-"The Wettest Yard"


-"Pomp You Up"


-"Throw Momma from the Chair"


-"Air Force Ton"


-"Night of the Living Chippers"