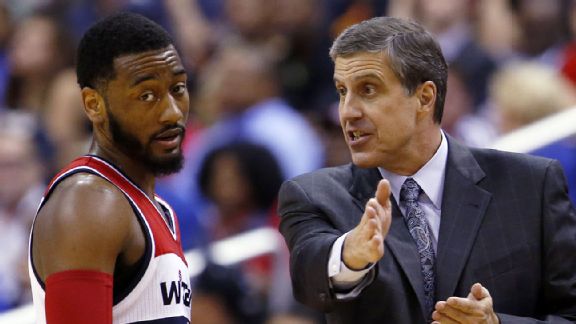 AP Photo/Alex BrandonRandy Wittman tells the guys about how his team has limited the Bulls in the fourth quarter and more.
• Wizards coach Randy Wittman comments on his team's 2-0 lead on the Bulls, the keys to limiting Chicago in the fourth quarter, Washington's approach to Game 3 and more. Wittman

• ESPN NBA Insider Chris Broussard weighs in on Phil Jackson's comments about Carmelo Anthony, Jackson's relationship with James Dolan, the reasons for the Pacers' struggles and more. Broussard

LISTEN LIVE ON ESPNLA.COM


WHO'S IN?
Listen live to Mike & Mike for the daily winning word for your chance to win a trip to the College Football Playoff. Enter » Listen (6-10 a.m. ET)

FRANK CALIENDO
Our favorite moments with Frank Caliendo:
-Watch: Donald Trump


-Listen: Trick-or-Treat


-Watch: Stephen A. Smith


-Watch: Mel Kiper Jr.


-Watch: Charles Barkley


-Watch: Allen Iverson's rant


-Watch: Remembering Robin Williams


-Watch: LeBron James' letter

THE HIGHLIGHTS
Ron Jaworski, NFL
ESPN NFL analyst Ron Jaworski weighs in on the Patriots' game plan for the Colts, Arizona's offensive line, areas of improvement for the Broncos and Robert Griffin III's struggles.
Greg Olsen, Panthers
Panthers TE Greg Olsen comments on his team's struggles, Carolina's receivers, the state of the NFC South, the Greg Hardy situation and the NFL's handling of domestic violence.
Rusty Hardin, NFL
Attorney Rusty Hardin discusses Adrian Peterson's suspension, the NFL's role in disciplining players for domestic violence issues and whether the Vikings wanted Peterson back.
Jon Gruden, NFL
MNF's Jon Gruden weighs in on the outlook for the Steelers, Robert Griffin III's struggles, Aaron Rodgers' performance this season, the state of the Saints and the Chiefs' improvement.
Kirk Herbstreit, CFB
College GameDay's Kirk Herbstreit discusses whether Mississippi State will make it to the College Football Playoff, Jameis Winston's performance and the SEC championship.
Jeff Pash, NFL
NFL executive vice president Jeff Pash comments on the handling of Adrian Peterson's case and whether the league has a responsibility to set an example with its approach to domestic violence.
Jeff Van Gundy, NBA
ESPN NBA analyst Jeff Van Gundy talks about the length of the shot clock in college basketball, the state of the Cavaliers, Derrick Rose's health and the outlook for the Lakers.
DeMaurice Smith, NFL
NFLPA executive director DeMaurice Smith discusses the NFL's suspension of Adrian Peterson and whether the league and the NFLPA are collaborating to establish domestic violence policy.