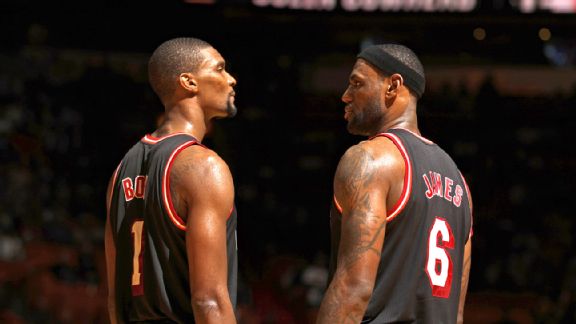 Issac Baldizon/Getty ImagesColin Cowherd tells Golic and The Coach about the decisions of Chris Bosh and LeBron James and more.
• ESPN NBA Insider Chris Broussard discusses what Chris Bosh could earn from the Heat, Dwyane Wade's health, the Lakers' pitch to Carmelo Anthony and Derrick Rose's role in recruiting Anthony. Broussard

• ESPN Radio's Colin Cowherd covers Brazil's loss to Germany in the World Cup, Germany's defeat of the United States, the state of MLS and the looming decisions of LeBron James and Chris Bosh. Cowherd

LISTEN LIVE ON ESPNLA.COM
ESPNLA Morning Show
5:00 AM-9:00 AM


MIKE & MIKE'S 15TH ANNIVERSARY
The show is celebrating its 15th anniversary this year. You're invited to join the festivities. More »
MIKES & WIVES
The wives of Greeny and Golic, Stacy Greenberg and Christine Golic, join the guys to reflect on the past 15 years of "Mike & Mike." Listen

#GOLICBUTTPHOTO SHIRT
Muze Clothing has created a shirt featuring the infamous #GolicButtPhoto. All proceeds benefit the South Bend Center for the Homeless. More »
FRANK CALIENDO
Our favorite moments with Frank Caliendo:
-Watch: 'A Visit from St. Nicholas'


-Watch: William Shatner


-Listen: #GolicButtPhoto voicemails


-Watch: Donald Trump


-Listen: Trick-or-Treat


-Watch: Stephen A. Smith


-Watch: Mel Kiper Jr.


-Watch: Charles Barkley


-Watch: Allen Iverson's rant


-Watch: Remembering Robin Williams


-Watch: LeBron James' letter

THE HIGHLIGHTS
Dave McMenamin, NBA
ESPN.com's Dave McMenamin offers his insights on the Cavaliers' win over the Warriors, Cleveland's chemistry, David Griffin's management and Kyrie Irving's injury.
Louis Riddick, NFL
ESPN NFL Insider Louis Riddick gives his takes on the futures of Dez Bryant and DeMarco Murray, Adrian Peterson's relationship with the Vikings and the combine.
Bob Nightengale, MLB
USA Today's Bob Nightengale weighs in on the report that Josh Hamilton suffered a relapse, Hamilton's future, what penalty he could face and the outlook for the Angels.
Jon Gruden, NFL
Monday Night Football's Jon Gruden covers the Buccaneers' need at QB, Marcus Mariota's abilities, concerns with Jameis Winston, Jay Cutler's future and Marshawn Lynch's value to the Seahawks.
Bill Wennington, NBA
Bulls analyst Bill Wennington discusses the outlook for Chicago, Derrick Rose's future with the squad, whether this season is Tom Thibodeau's last with the team and the Hawks' potential.
Kyle Lowry, Raptors
Raptors G Kyle Lowry comments on Toronto's performance, play-calling duties in the NBA, the Hack-a-Shaq tactic, living in Canada, his music taste and the top point guard in the league.
Stephen A. Smith, NBA
First Take's Stephen A. Smith discusses Derrick Rose's injury, the Bulls' plans regarding Rose moving forward, Rajon Rondo's relationship with Rick Carlisle and Rondo's future.
Chris Webber, NBA
Five-time NBA All-Star Chris Webber covers Derrick Rose's injury, the Bulls' plan for Rose, the argument between Rajon Rondo and Rick Carlisle and Russell Westbrook's performance.