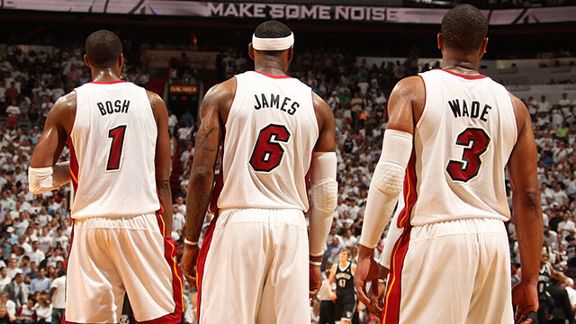 Issac Baldizon/NBAE/Getty ImagesBrian Windhorst tells Golic and The Coach about whether the Big Three will break up and much more.
• ESPN NBA Insider Brian Windhorst covers how LeBron James' impending choice affects the Rockets, whether James and Carmelo Anthony could team up in Miami and Dwyane Wade's future. Windhorst

• ESPN NBA analyst Tom Penn talks about the Rockets' offer to Chris Bosh, the Cavaliers' moves to entice LeBron James, what the Bulls could offer Carmelo Anthony and Pau Gasol's fit with Chicago. Penn

• ESPN New York 98.7 FM's Stephen A. Smith weighs in on Carmelo Anthony's future, the NBA free-agency standstill and whether LeBron James owes it to Chris Bosh to make a decision. Smith

• Basketball Hall of Famer Isiah Thomas gives his take on LeBron James' handling of free agency, Carmelo Anthony's looming decision and top players' responsibility to request larger contracts. Thomas

LISTEN LIVE ON ESPNLA.COM


NCAA TOURNAMENT BET PAYOFFS
Mike Greenberg completes the latest installment of the guys' bracket wager payoff. Photos


Watch: Greeny Milks a Cow


Watch: Greeny Gets Waxed


Watch: Greeny Competitively Eats


Watch: Greeny Sings Vanilla Ice

JAYSON STARK'S MLB TRIVIA
Former Twins skipper Ron Gardenhire managed 2,107 games without winning a World Series. Only two active managers have managed more than 1,800 games without capturing an MLB championship. Who are they? Listen

THE HIGHLIGHTS
Jayson Stark, MLB
ESPN MLB Insider Jayson Stark talks about why Buster Posey reminds him of Derek Jeter, the Royals' win in Game 2 of the World Series and Kansas City's dugout.
Ron Jaworski, NFL
ESPN NFL analyst Ron Jaworski offers his insight on the state of the Eagles, Austin Davis' potential and the performances of Tony Romo and Drew Brees this season.
Tony Dungy, NFL
Two-time Super Bowl champion Tony Dungy weighs in on Peyton Manning's passing touchdown record, the Seahawks' struggles and Percy Harvin's departure for the Jets.
Jon Gruden, NFL
MNF's Jon Gruden covers the Seahawks' struggles, Percy Harvin's departure for the Jets, the state of the Bears, the Cowboys' success this season and the Redskins' QB situation.
Kirk Herbstreit, CFB
College GameDay's Kirk Herbstreit discusses Notre Dame-Florida State, the Fighting Irish's outlook, the state of Texas A&M and Georgia's performance since Todd Gurley's suspension.
On World Series Game 1, 10/22
Mike Greenberg and Mike Golic react to the Giants' win in Game 1 of the World Series, the game's strike zone and the performances of Madison Bumgarner and James Shields.
Herm Edwards, NFL
ESPN NFL analyst Herm Edwards offers his insight on concerns for the Seahawks, the state of the Steelers and the outlooks for the Ravens and the Bears.
George Brett, MLB
Baseball Hall of Famer George Brett weighs in on the Royals' return to the World Series, players' mindset heading into the Fall Classic and Kansas City's bullpen.
BEST OF AND THEN THERE WAS ONE?