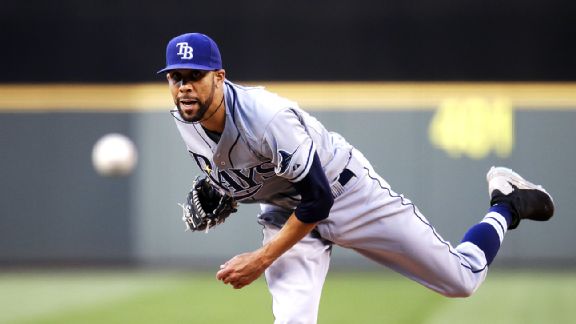 AP PhotoTim Kurkjian tells the guys about whether the Rays will trade David Price, injuries in MLB and more.
• ESPN MLB Insider Tim Kurkjian discusses the game of baseball and how it can regain lost followers. Kurkjian

• Baseball Hall of Famer Cal Ripken Jr. talks about star power in baseball. Ripken Jr.

• Dodgers P Clayton Kershaw talks about not starting the All-Star Game, how tough it was to sit out a month, how much pressure is put on him and more. Kershaw

• Cardinals P Adam Wainwright discusses being the starting pitcher in the MLB All-Star Game, how he found out, his recommendations to help elbow injuries and more. Wainwright

LISTEN LIVE ON ESPNLA.COM
FRANK CALIENDO
Our favorite moments with Frank Caliendo:
-Listen: #GolicButtPhoto voicemails


-Watch: Donald Trump


-Listen: Trick-or-Treat


-Watch: Stephen A. Smith


-Watch: Mel Kiper Jr.


-Watch: Charles Barkley


-Watch: Allen Iverson's rant


-Watch: Remembering Robin Williams


-Watch: LeBron James' letter

THE HIGHLIGHTS
Jordy Nelson, Packers
Packers WR Jordy Nelson comments on playing with Aaron Rodgers, Green Bay's home-field advantage during inclement weather and the team's blowout win over the Bears.
Locks: 11/21
Mike Greenberg and Mike Golic make their picks for Week 12 of the NFL season in the "Locks."
#GolicButtPhoto reveal, 11/21
Mike Greenberg and Mike Golic unveil the #GolicButtPhoto.
#GolicButtPhoto Voicemails, 11/21
Frank Caliendo channels Charles Barkley, Chris Berman, George W. Bush, Morgan Freeman, Jon Gruden, Stephen A. Smith and David Letterman in voicemails about #GolicButtPhoto.
Ron Jaworski, NFL
ESPN NFL analyst Ron Jaworski weighs in on the Patriots' game plan for the Colts, Arizona's offensive line, areas of improvement for the Broncos and Robert Griffin III's struggles.
Greg Olsen, Panthers
Panthers TE Greg Olsen comments on his team's struggles, Carolina's receivers, the state of the NFC South, the Greg Hardy situation and the NFL's handling of domestic violence.
Rusty Hardin, NFL
Attorney Rusty Hardin discusses Adrian Peterson's suspension, the NFL's role in disciplining players for domestic violence issues and whether the Vikings wanted Peterson back.
Jon Gruden, NFL
MNF's Jon Gruden weighs in on the outlook for the Steelers, Robert Griffin III's struggles, Aaron Rodgers' performance this season, the state of the Saints and the Chiefs' improvement.