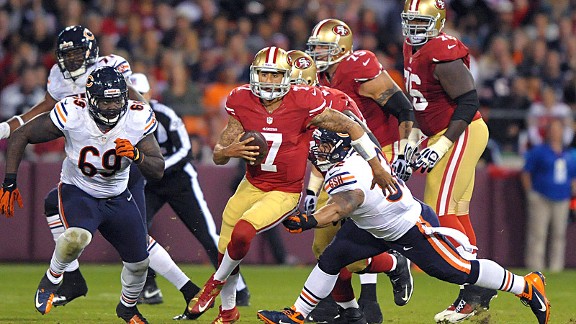 Kirby Lee/Image of Sport/US PresswireThe guys give their takes on Bears-49ers, Colin Kaepernick, Alex Smith, Jim Harbaugh and more.
• NFL EVP of Football Operations Ray Anderson talks about the decision to suspend Ed Reed and more. Anderson says that the burden is on defenders for hits to the head and neck. Anderson

• ESPN NBA analyst Magic Johnson discusses the Lakers' hiring of Mike D'Antoni, Kobe Bryant, Steve Nash, Dwight Howard, Los Angeles' defense, the Knicks' 7-1 start and more. Johnson

• ESPN NFL analyst Cris Carter covers Bears-49ers, Jim Harbaugh, Colin Kaepernick, Alex Smith, the suspension of Ed Reed, the Steelers' interest in Plaxico Burress and more.
Carter

• ESPN NFL analyst Eric Mangini shares his thoughts on the one-game suspension of Ed Reed for illegal hits and more. Mangini

• ESPN NFL Insider John Clayton dishes on the 49ers' QB situation, the injuries to Michael Vick, Jay Cutler and Alex Smith, Plaxico Burress, the suspension of Ed Reed and more. Clayton

• Chicago's ESPN 1000's Tom Waddle weighs in on the Bears' loss to the 49ers, Jay Cutler's absence and more. Waddle says that Chicago's offensive line is beyond repair. Waddle

• 1986 Heisman Trophy winner Vinny Testaverde comments on Bill Belichick, player safety, QB controversies and more. Testaverde says the NFL's protection of QBs has gone too far. Testaverde

• Greeny and Golic wonder if there is a QB controversy in San Francisco following the 49ers' win over the Bears. Listen

• Greeny and Golic share their thoughts on the NFL's one-game suspension of Ed Reed for illegal hits, Roger Goodell and more. Listen

Web exclusive: 2012 Sprint Cup champion Brad Keselowski shares his thoughts on giving Roger Penske his first NASCAR title, maintaining focus during races and more. Keselowski

THE HIGHLIGHTS
Ron Jaworski, NFL
ESPN NFL analyst Ron Jaworski weighs in on Marc Trestman's decision to start Jay Cutler, the motives behind benching Robert Griffin III, the Broncos' offensive concerns, Andy Dalton's potential and more.
Ray Lewis, NFL
ESPN NFL analyst Ray Lewis talks about the choice to start Jay Cutler, the lack of leadership in the Redskins' locker room, the Cowboys' defensive problems and more.
Michael Wilbon, NFL
PTI's Michael Wilbon weighs in on the Redskins' decision to bench Robert Griffin III, Mike Shanahan's future in Washington, the Bears' QB situation and more.
Paul Finebaum, CFB
ESPN Radio's Paul Finebaum talks about Johnny Manziel's NFL prospects, Nick Saban's future, why Saban should stay at Alabama, his legacy with the Crimson Tide and more.
Chris Mortensen, NFL
ESPN NFL Insider Chris Mortensen shares his thoughts on whether Texas would recruit NFL coaches and coordinators, Nick Saban's NFL prospects, the Texans' search for a new coach, the Redskins' future and more.
John Keim, NFL
ESPN Redskins reporter John Keim shares his thoughts on the benching of Robert Griffin III, whether Mike Shanahan will lose his job due to the decision, the motives behind starting Kirk Cousins and more.
Roy Halladay, MLB
Former MLB pitcher Roy Halladay reflects on his career and talks about his decision to retire, the changes in the MLB throughout his time in the league and more.
Jimbo Fisher, Florida State
Florida State coach Jimbo Fisher comments on Jameis Winston's candidacy for the Heisman Trophy, his relationship with Winston, the nature of the BCS standings and more.