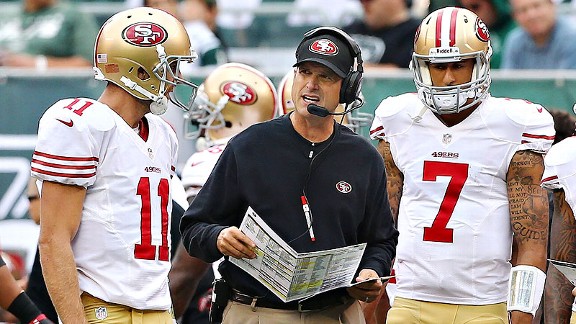 Jim McIsaac/Getty ImagesThe guys give their takes on Jim Harbaugh's handling of Colin Kaepernick and Alex Smith and more.
• ESPN NFL analyst Marcellus Wiley weighs in on Jim Harbaugh's handling of the 49ers' QBs, Ndamukong Suh, Ben Roethlisberger, Saints-Falcons and more. Wiley

• Super Bowl XXXV champion Brian Billick discusses Jim Harbaugh, the 49ers' QB situation, Ben Roethlisberger's injury, the state of the Jets and more. Billick

• Super Bowl XXXVII champion John Lynch dishes on the 49ers' QB situation, the Saints' postseason chances, Ben Roethlisberger, Peyton Manning, the Eagles' struggles and more. Lynch

• ESPN's Frank Caliendo covers Jon Gruden, Mike Ditka, Lou Holtz, Charles Barkley, the greatest stand-up comics of all-time and more. Caliendo

• Greeny and Golic debate about Jim Harbaugh's decision to make Colin Kaepernick the 49ers' starting QB for Sunday's game against the Rams. Listen

• Greeny and Golic give their takes on whether Barry Bonds, Roger Clemens or Sammy Sosa will be elected to the Baseball Hall of Fame and more. Listen

• Greeny and Golic share their thoughts on the incident between Rajon Rondo and Kris Humphries in the Nets' win over the Celtics and more. Listen

LISTEN LIVE ON ESPNLA.COM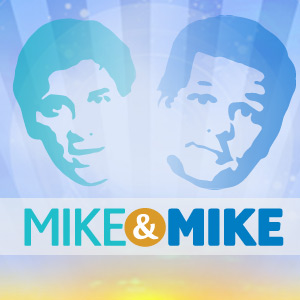 MIKE & MIKE AT THE MLB ALL-STAR GAME
NCAA TOURNAMENT BET PAYOFFS
Mike Greenberg completes the latest installment of the guys' bracket wager payoff. Photos


Watch: Greeny Milks a Cow


Watch: Greeny Gets Waxed


Watch: Greeny Competitively Eats


Watch: Greeny Sings Vanilla Ice

JAYSON STARK'S MLB TRIVIA
Miguel Cabrera will start in his ninth MLB All-Star Game on July 15. Only two other active players have participated in more Midsummer Classics than him. Who are these individuals? Listen

THE HIGHLIGHTS
Marc Stein, NBA
ESPN.com NBA Insider Marc Stein covers the impact of Dan Gilbert's letter, whether the Cavaliers could win a title with LeBron James, Chris Bosh's deadline for his decision and Carmelo Anthony's future.
Chris Broussard, NBA
ESPN NBA Insider Chris Broussard discusses the delay in LeBron James' choice, Chris Bosh's deadline, whether James would return to Miami without Bosh and Carmelo Anthony's consideration of the Bulls.
Brian Windhorst, NBA
ESPN NBA Insider Brian Windhorst covers how LeBron James' impending choice affects the Rockets, whether James and Carmelo Anthony could team up in Miami and Dwyane Wade's future.
Michael Strahan, NFL
Pro Football Hall of Fame inductee Michael Strahan discusses how he would approach Johnny Manziel, the handling of Josh Gordon and the negotiations between Jimmy Graham and the Saints.
Richard Sherman, Seahawks
Seahawks CB Richard Sherman dishes on life since the Super Bowl, why he believes Seattle will perform better during the upcoming season, Johnny Manziel's lifestyle and Josh Gordon's arrest.
Chris Broussard, NBA
ESPN NBA Insider Chris Broussard discusses what Chris Bosh could earn from the Heat, Dwyane Wade's health, the Lakers' pitch to Carmelo Anthony and Derrick Rose's role in recruiting Anthony.
Alexi Lalas, Soccer
ESPN soccer analyst Alexi Lalas weighs in on Brazil's defense in its loss to Germany, Miroslav Klose's World Cup scoring record and the Selecao's approach to the third-place match.
Aaron Goldhammer, NFL
ESPN Cleveland's Aaron Goldhammer gives his take on the rumors surrounding LeBron James' future, fan perception of Josh Gordon and Johnny Manziel's conduct away from the field.
BEST OF MIKE & MIKE ON ESPN RADIO: SHOW IN REVIEW NOVEMBER 29