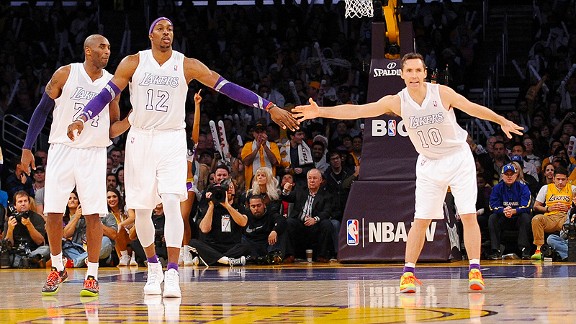 Noah Graham/NBAE/Getty ImagesJeff Van Gundy tells Mike Hill and Robert Smith about Steve Nash, the Clippers' hot start and more.
• ESPN NBA analyst Jeff Van Gundy weighs in on the impact of Steve Nash's return to the Lakers, Kobe Bryant, where the Clippers rank in the West and more. Van Gundy

• ESPN NBA analyst Antonio Davis dishes on how Steve Nash's presence changes the Lakers, the Clippers' potential, his expectations for the Knicks, LeBron James and more. Davis

• ESPN NFL Insider Adam Schefter shares his thoughts on Cowboys-Redskins, the futures of Tony Romo, Michael Vick, Chip Kelly and Bruce Arians and more. Schefter

• ESPN NFL Insider John Clayton covers Michael Vick, coaches on the hot seat, Cowboys-Redskins, Tony Romo, the injuries to DeMarcus Ware and Mario Manningham and more. Clayton

• ESPN NFL analyst Damien Woody discusses Cowboys-Redskins, Tony Romo, Robert Griffin III, the team to beat in the AFC, Peyton Manning, Adrian Peterson, Tim Tebow and more. Woody

LISTEN LIVE ON ESPNLA.COM


Coming Up

1:00 AM

SportsCenter AM

3:00 AM

Mike and Mike

5:00 AM

ESPNLA Rewind
BEST OF MIKE & MIKE PODCAST
JAYSON STARK'S MLB TRIVIA
Adrian Beltre is one of three active players with at least 300 home runs and four Gold Gloves. Who are the other two individuals? Listen

FRANK CALIENDO
Our favorite moments with Frank Caliendo:
-Watch: 'A Visit from St. Nicholas'


-Watch: William Shatner


-Listen: #GolicButtPhoto voicemails


-Watch: Donald Trump


-Listen: Trick-or-Treat


-Watch: Stephen A. Smith


-Watch: Mel Kiper Jr.


-Watch: Charles Barkley


-Watch: Allen Iverson's rant


-Watch: Remembering Robin Williams


-Watch: LeBron James' letter

THE HIGHLIGHTS
Brian Windhorst, NBA
ESPN NBA Insider Brian Windhorst delves into how problematic DeMarre Carroll's injury can be for his impending free agency, if the Hawks can even their series against the Cavaliers and how small the margin for error is against the Warriors.
Antonio Davis, NBA
ESPN NBA analyst Antonio Davis weighs in on James Harden's turnover in the final possession of Game 2, how the Rockets can stop Stephen Curry and whether the offensive direction of the league is changing draft strategies.
Stephen A. Smith, NBA
First Take's Stephen A. Smith talks about the Rockets' chances to come back against the Warriors, DeMarre Carroll's importance and fan sentiment if Cleveland fails to win the title.
Brad Stevens, Celtics
Celtics coach Brad Stevens dishes on the use of analytics in the NBA, the best strategy for defending the Warriors, teams' approach to the draft and Stephen Curry's 3-point shooting abilities.
Frank Caliendo, Comedian
Comedian Frank Caliendo shares his thoughts on appearing on the "Late Show with David Letterman" and how Letterman influenced the entertainment industry.
P.J. Carlesimo, NBA
ESPN NBA analyst P.J. Carlesimo reacts to Game 1 of the Western Conference finals between the Warriors and Rockets and covers whether selecting a post player with a top pick in the draft is a smart move given the current trend of "pace and space."
Adam Schefter, NFL
ESPN NFL Insider Adam Schefter covers Robert Kraft's decision not to appeal Deflategate sanctions on behalf of the Patriots, the future of Tom Brady's appeal as well as the potential of the NFL in L.A. in 2016.
Jim and Erin Kelly, NFL
Pro Football Hall of Famer Jim Kelly and Kelly's daughter, Erin Kelly, dish on the process of writing Erin's new book "Kelly Tough," the book's message and how cancer changed Jim's priorities.
OFF-MIKES EPISODES
View episodes of ESPN.com's first Emmy winner, "Off-Mikes," a series based on the interactions of Greeny and Golic on "Mike & Mike."
-"Snook, Line and Sinker"


-"Wee-Wee Mon Sewer"


-"Raging Bull-Oney"


-"Bend It Like Golic"


-"The Wettest Yard"


-"Pomp You Up"


-"Throw Momma from the Chair"


-"Air Force Ton"


-"Night of the Living Chippers"

BEST OF MIKE & MIKE ON ESPN RADIO: SHOW IN REVIEW DECEMBER 26