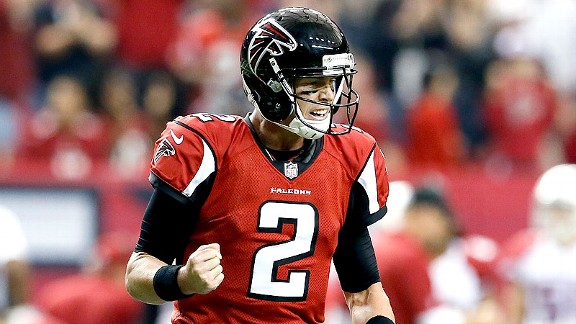 Kevin C. Cox/Getty ImagesMatt Ryan tells the guys about how the Falcons are getting ready for the playoffs and much more.
• Falcons QB Matt Ryan comments on the scrutiny that Atlanta has received for its disappointing performances in the postseason, Michael Turner, Tony Gonzalez and more. Ryan

• Ravens QB Joe Flacco shares his thoughts on the change that Baltimore made at offensive coordinator, Ray Rice's role, preparing to host the Colts in the playoffs and more. Flacco

• Ohio State coach Urban Meyer discusses the Buckeyes' undefeated season, the format of college football's postseason, Tim Tebow and the usage of spread offenses in the NFL. Meyer

• Northwestern coach Pat Fitzgerald weighs in on his team's win over Mississippi State in the Gator Bowl, what the Wildcats' 10-win season means to his program and more. Fitzgerald

• ESPN NFL Insider Adam Schefter dishes on the Cardinals' interest in Andy Reid, the Bears' future, the statuses of Jim Schwartz, Ron Rivera and Mike Mularkey and more. Schefter

• ESPN NFL analyst Jason Taylor talks about what the playoffs are like, Vikings-Packers, Bengals-Texans, Colts-Ravens, Seahawks-Redskins and more. Taylor

• Greeny and Golic look back at all of the predictions that were made before the start of the NFL season. Listen

THE HIGHLIGHTS
John Keim, NFL
ESPN Redskins reporter John Keim shares his thoughts on the benching of Robert Griffin III, whether Mike Shanahan will lose his job due to the decision, the motives behind starting Kirk Cousins and more.
Roy Halladay, MLB
Former MLB pitcher Roy Halladay reflects on his career and talks about his decision to retire, the changes in the MLB throughout his time in the league and more.
Jimbo Fisher, Florida State
Florida State coach Jimbo Fisher comments on Jameis Winston's candidacy for the Heisman Trophy, his relationship with Winston, the nature of the BCS standings and more.
Tony La Russa, MLB
Three-time World Series champion Tony La Russa talks about being elected to the Baseball Hall of Fame and more. Plus, 1997 World Series champion Jim Leyland congratulates La Russa.
Cris Carter, NFL
ESPN NFL analyst Cris Carter covers the impact of Rob Gronkowski's injury, the Bears' win over the Cowboys, Alshon Jeffery's development, Chicago's QB situation and more.
John Clayton, NFL
ESPN NFL Insider John Clayton discusses the Bears' QBs, the state of the Cowboys' defense, Mike Shanahan's future with the Redskins, coaches that could be on the hot seat, illegal hits and more.
Gus Malzahn, Auburn
Auburn coach Gus Malzahn dishes on the success of his team's running game against Missouri, what contributed to the Tigers' turnaround, Nick Marshall's performance this season and more.
Mike Ditka, NFL
ESPN NFL analyst Mike Ditka reflects on his football career and discusses the impact of Rob Gronkowski's injury on the Patriots, Peyton Manning's performance against the Titans, the Saints' offense and more.