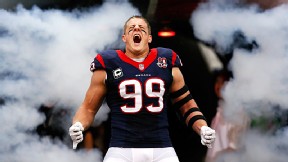 AP Photo/Aaron M. SprecherThe guys will be joined by J.J. Watt.
Greeny and Golic welcome Super Bowl XXXV champion Brian Billick (7:30 a.m. ET), Buccaneers coach Greg Schiano (7:45), ESPN Radio's Mark Schlereth (8:00), ESPN NFL Insider Chris Mortensen (9:15) and Texans DE J.J. Watt (9:30) to the show on Thursday morning.
Get in touch with Mike & Mike by emailing (mikeandmike@espnradio.com), texting (73776) or tweeting (@MikeAndMike) the guys -- we'll be with you from 6-10 a.m. ET. Follow all of the action on ESPN2, ESPN Radio or ESPNRadio.com.
LISTEN LIVE ON ESPNLA.COM


BEST OF MIKE & MIKE PODCAST
JAYSON STARK'S MLB TRIVIA
Albert Pujols has now achieved 500 home runs and 100 steals. Who are the other two active players with 400 homers and 100 steals? Listen

FRANK CALIENDO
Our favorite moments with Frank Caliendo:
-Watch: 'A Visit from St. Nicholas'


-Watch: William Shatner


-Listen: #GolicButtPhoto voicemails


-Watch: Donald Trump


-Listen: Trick-or-Treat


-Watch: Stephen A. Smith


-Watch: Mel Kiper Jr.


-Watch: Charles Barkley


-Watch: Allen Iverson's rant


-Watch: Remembering Robin Williams


-Watch: LeBron James' letter

THE HIGHLIGHTS
George Atallah, NFLPA Assistant Executive
NFLPA assistant director of external affairs George Atallah reacts to Robert Kraft's comments towards the NFL in yesterday's press conference. Plus, what arguments the NFLPA intends to make on behalf of Tom Brady and why the appeal now is strictly about the process.
DeMarco Murray, Eagles RB
Eagles running back DeMarco Murray discusses the difficulty of his contract dispute with the Cowboys which led to his signing with Philadelphia. Plus, how he fits into Chip Kelly's offense and how it differs from previous systems he has been a part of.
Buster Olney, ESPN MLB Insider
ESPN MLB Insider Buster Olney shares his takes on the fallout of a collapsed deal to acquire Carlos Gomez by the Mets. Plus, the Rangers' acquisition of Cole Hamels and the Nationals' acquisition of Jonathan Papelbon.
Dan Wetzel, Yahoo! Sports
Yahoo! Sports columnist Dan Wetzel weighs in on Roger Goodell's rejection of Tom Brady's appeal. He feels that from the start the NFL wanted to turn Deflategate into a PR battle and that the NFL simply ran theirs much better than the Patriots.
Mike Reiss, ESPN NFL Nation Patriots Reporter
ESPN NFL Nation Patriots reporter Mike Reiss covers Robert Kraft and Bill Belichick's reaction to the rejection of Tom Brady's appeal. He estimates that Kraft believed that if he stood down initially the NFL would exonerate Brady.
Ryan Smith, NFL
ABC News' Ryan Smith covers the denial of Tom Brady's appeal by Roger Goodell on behalf of the NFL and shares why at this point it is in the best interest of Brady's reputation to proceed with a lawsuit against the league even if he is guilty.
Bill Polian, NFL
ESPN NFL analyst Bill Polian offers his insights on Tom Brady's response to his upheld suspension, Bill Belichick's approach to the season and Roger Goodell's power.
Dan Graziano, NFL
ESPN Giants reporter Dan Graziano shares his lack of optimism that a settlement can be reached between Tom Brady and the NFL regarding the appeal of Brady's four-game suspension. Plus, Graziano covers why New York has yet to examine Jason Pierre-Paul.
OFF-MIKES EPISODES
View episodes of ESPN.com's first Emmy winner, "Off-Mikes," a series based on the interactions of Greeny and Golic on "Mike & Mike."
-"Snook, Line and Sinker"


-"Wee-Wee Mon Sewer"


-"Raging Bull-Oney"


-"Bend It Like Golic"


-"The Wettest Yard"


-"Pomp You Up"


-"Throw Momma from the Chair"


-"Air Force Ton"


-"Night of the Living Chippers"

BEST OF MIKE & MIKE ON ESPN RADIO: SHOW PREVIEW JANUARY 3, 2012