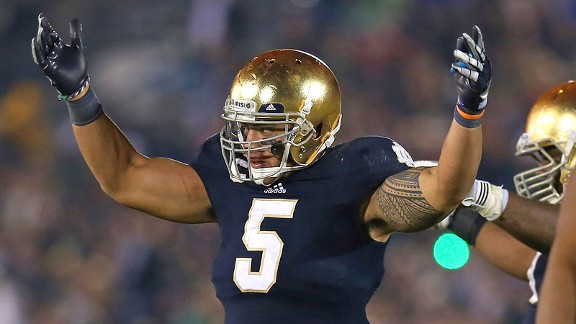 Jonathan Daniel/Getty ImagesMike Greenberg, Mike Golic and Mark Schlereth try to make sense of the hoax surrounding Manti Te'o.
• Mike Golic says there are still a lot of questions to be answered and inconsistencies in the story with the hoax surrounding Notre Dame's Manti Te'o. Golic says he didn't get to know Te'o as well as many other players in the program. Listen

• ESPN's Gene Wojciechowski says there was never any indication that something was amiss with Manti Te'o's in his meetings with Te'o. Wojciechowski says going back through all the interviews with Te'o, there were some small to medium inconsistencies that Te'o will have to address. Listen

• CBS legal analyst Jack Ford reviews the potential legal ramifications of the Manti Te'o hoax story. Listen

• The Chicago Tribune's Teddy Greenstein shares the local perspective on the Manti Te'o hoax and says he would change his Heisman vote for Te'o if he had it back. Listen

• ESPN NFL Insider Adam Schefter shares the news that Seattle Seahawks defensive coordinator Gus Bradley will be the new head coach of the Jacksonville Jaguars. Listen

LISTEN LIVE ON ESPNLA.COM


BEST OF MIKE & MIKE PODCAST
LOCKS
ELIMINATOR CHALLENGE
See how Greeny, Golic and the Mike & Mike staff are faring in the show's Eliminator Challenge group for the NFL season. Eliminator Challenge »
NDmom christine golic
Oops!! https://t.co/PaZLqSgwVk
about an hour ago

NDmom christine golic
That's @espngolic speaking to the @OTheoryFitness family in Florida today?How many of you out there workout at OTF? http://t.co/YYa06c5MtC
about 2 hours ago

MikeAndMike Mike & Mike
"I'm not sure there is anyone who can slow down the Cubs at this point." - @Kurkjian_ESPN http://t.co/gzzRzAKePd
about 6 hours ago

MikeAndMike Mike & Mike
So @BubbaTheGlue redecorated the control room. Follow us on Snapchat for more. Username: ESPNMikeAndMike https://t.co/cZScSlqjOv
about 6 hours ago

MikeAndMike Mike & Mike
"Right now, Michigan is the best team in the Big Ten."LISTEN: http://t.co/qKwzaBlDea http://t.co/Eb9kq2dnXW
about 22 hours ago

MikeAndMike Mike & Mike
NERD NOTESUSC head coaches vs Notre Dame:2012: Lane Kiffin2013: Ed Orgeron2014: Steve Sarkisian2015: Clay Helton http://t.co/PF4MUiAcwk
1 day ago

MikeAndMike Mike & Mike
NERD NOTES: Devonta Freeman is first player in Super Bowl era to rush for at least 7 TD in his first 3 career starts. http://t.co/ecj4RbqtXK
1 day ago

karlravechespn karl ravech
Utley appeal will not be heard today. He is eligible to play tonight
1 day ago

Espngreeny Mike Greenberg
The best revenge is living well. Which means, win the series. Nothing else matters. #Mets
1 day ago

Espngreeny Mike Greenberg
Pat Haden is going to have to answer some very tough questions. First and foremost, from the parents of the players. #USC
1 day ago

MikeAndMike Mike & Mike
"Right now, Michigan is the best team in the Big Ten." – @Espngreeny http://t.co/zEcltkSHPO
1 day ago

MikeAndMike Mike & Mike
"Right now, Michigan is the best team in the Big Ten." – @Espngreeny http://t.co/MmQuxj2LF3
1 day ago

Espngreeny Mike Greenberg
Since a season-opening loss on the road to #4 Utah, Michigan is 5-0 and has outscored its opponent 160-14. #Michigan #HarbaughEffect
1 day ago

Espngreeny Mike Greenberg
If that isn't interference, there has never been interference. The inability to get that call right, or corrected, is a massive fail. #Utley
1 day ago

Espngreeny Mike Greenberg
.@ESPNgolic nobody wants to see you pinched, squeezed or hugged. Trust me. #leejeans #ad https://t.co/ooKo4P0Wj6
1 day ago

espngolic Mike Golic
If it's not comfortable, it's not worth it." Style Rule No.1 is going to be tough to beat! #leejeans #ad http://t.co/66IFQ3krTZ
1 day ago

MikeAndMike Mike & Mike
NERD NOTESTom Brady's first 4 games of 2015 (that he was originally suspended for)•1387 Yds•11 TD•0 Int•W-L: 4-0 http://t.co/MOg8eVHtTY
1 day ago

MikeAndMike Mike & Mike
Hey @espngreeny, how do you feel about the call on Chase Utley's slide into second base? https://t.co/Gnv3iOAsvL
1 day ago

StacyGSG StacyGSGreenberg
Sunday. #Phoebe https://t.co/h2Lht4heOP
1 day ago
JAYSON STARK'S MLB TRIVIA
If Jake Arrieta fails to win the NL Cy Young Award, he has the consolation that three active pitchers with at least 21 victories in a season didn't receive the Cy Young during that same season. Who are these individuals? Listen

FRANK CALIENDO
Our favorite moments with Frank Caliendo:
-Watch: 'A Visit from St. Nicholas'


-Watch: William Shatner


-Listen: #GolicButtPhoto voicemails


-Watch: Donald Trump


-Listen: Trick-or-Treat


-Watch: Stephen A. Smith


-Watch: Mel Kiper Jr.


-Watch: Charles Barkley


-Watch: Allen Iverson's rant


-Watch: Remembering Robin Williams


-Watch: LeBron James' letter

THE HIGHLIGHTS
Marcellus Wiley, ESPN LA 710
ESPN 710's Marcellus Wiley weighs in on Steve Sarkisian's firing from USC. He feels that it is a "shame" for the Trojan players to not have a place to look to for leadership and that the timing couldn't have been worse.
Aaron Boone, ESPN MLB Analyst
ESPN MLB analyst Aaron Boone discusses the Cubs' Game 3 victory over the Cardinals including the poise of their rookies. Plus, he weighs in on the postseason perils of Clayton Kershaw, David Price and the firing Steve Sarkisian at USC.
Paul Finebaum, SEC Network
Paul Finebaum of the SEC Network shares his takes on the firing of Steve Sarkisian from USC, Steve Spurrier's decision to retire at South Carolina, the suspension of Florida QB Will Grier for performance enhancing drugs and more.
Herm Edwards, NFL
ESPN NFL analyst Herm Edwards dishes on the impact of Jim Harbaugh at Michigan, the effect of Steve Sarkisian's problems on USC, what teams are doing to limit Peyton Manning and more.
Ron Darling, MLB
1986 World Series champion Ron Darling covers the late slide of Chase Utley that injured Ruben Tejada, Utley's subsequent suspension and the pressure placed on Matt Harvey.
Ron Jaworski, ESPN NFL Analyst
ESPN NFL analyst Ron Jaworski comments on Bill O'Brien's indecision at QB for the Texans, the deficiencies of Ryan Mallet, Eli Manning's improvement in facing the blitz and more.
Myles Jack, CFB
Former UCLA LB Myles Jack breaks down his decision to withdraw from school and head to the NFL, his relationship with coach Jim Mora and why it is apparent that schools can still profit off of players' likenesses.
Ronda Rousey, UFC
UFC women's bantamweight champion Ronda Rousey discusses her upcoming matchup with Holly Holm in Australia, her parts in Hollywood films, whether or not kids should view her as a role model and more.
OFF-MIKES EPISODES
View episodes of ESPN.com's first Emmy winner, "Off-Mikes," a series based on the interactions of Greeny and Golic on "Mike & Mike."
-"Snook, Line and Sinker"


-"Wee-Wee Mon Sewer"


-"Raging Bull-Oney"


-"Bend It Like Golic"


-"The Wettest Yard"


-"Pomp You Up"


-"Throw Momma from the Chair"


-"Air Force Ton"


-"Night of the Living Chippers"

BEST OF MIKE & MIKE ON ESPN RADIO: SHOW IN REVIEW JANUARY 17