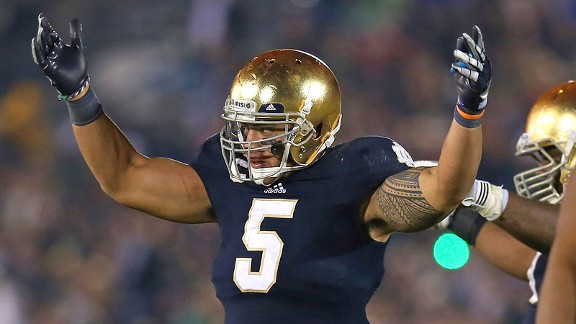 Jonathan Daniel/Getty ImagesMike Greenberg, Mike Golic and Mark Schlereth try to make sense of the hoax surrounding Manti Te'o.
• Mike Golic says there are still a lot of questions to be answered and inconsistencies in the story with the hoax surrounding Notre Dame's Manti Te'o. Golic says he didn't get to know Te'o as well as many other players in the program. Listen

• ESPN's Gene Wojciechowski says there was never any indication that something was amiss with Manti Te'o's in his meetings with Te'o. Wojciechowski says going back through all the interviews with Te'o, there were some small to medium inconsistencies that Te'o will have to address. Listen

• CBS legal analyst Jack Ford reviews the potential legal ramifications of the Manti Te'o hoax story. Listen

• The Chicago Tribune's Teddy Greenstein shares the local perspective on the Manti Te'o hoax and says he would change his Heisman vote for Te'o if he had it back. Listen

• ESPN NFL Insider Adam Schefter shares the news that Seattle Seahawks defensive coordinator Gus Bradley will be the new head coach of the Jacksonville Jaguars. Listen

LISTEN LIVE ON ESPNLA.COM


Coming Up

3:00 PM

Max & Marcellus

5:30 PM

Kia Motors Shootaround

7:30 PM

ESPNews
STONE COLD LEAD PIPE LOCKS
HOLIDAY GIFT GUIDE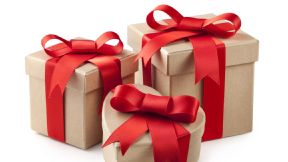 Need to find the perfect gift for a loved one or acquaintance? Look no further! We've got the best gift ideas right here. Holiday Gift Guide »
MIKES AND ME
Now you can be pictured with Mike & Mike! Print this image, pose with the Mikes and tweet your photo to @MikeAndMike using the hashtag #MikesAndMe for a chance to be featured here and on the show. Watch

THE HIGHLIGHTS
Dr. Michael Kaplan, NBA
ESPN medical analyst Dr. Michael Kaplan comments on Kobe Bryant's knee injury, his expectations for Bryant's future and more.
Darren Woodson, NFL
ESPN NFL analyst Darren Woodson talks about the state of the Cowboys, Dallas' management, the chances the Saints will beat the Panthers, the Chiefs' improved offense and more.
Bruce Bowen, NBA
ESPN NBA analyst Bruce Bowen gives his take on Kobe Bryant's injury, adjustments Bryant must make when he returns, the Lakers' chances of signing another big name, Carmelo Anthony's future and more.
Joe Flacco, Ravens
Ravens QB Joe Flacco talks about his health, Baltimore's win over the Lions, his team's four-game winning streak, preparing to face the Patriots, the keys to success in December and more.
Brian Billick, NFL
Super Bowl XXXV champion Brian Billick dishes on Tom Coughlin's future with the Giants, the state of the NFC North, Patriots-Ravens and more.
Alex Smith, Chiefs
Chiefs QB Alex Smith talks about what he learned from struggles earlier in his career, Andy Reid's passion, Kansas City's mindset during its losing streak, Jamaal Charles' performance against the Raiders and more.
Steve Weatherford, Giants
Giants P Steve Weatherford comments on how many tackles he has made throughout his career, the hit on Kevin Huber during Bengals-Steelers, the rule that provides punters with defenseless-player protection and more.
Jon Gruden, NFL
Monday Night Football's Jon Gruden dishes on the injury to Kevin Huber, the Ravens' win over the Lions, the Cowboys' loss to the Packers, the state of the 49ers and more.
Espngreeny Mike Greenberg
Pretty awesome.RT "@Sports_Greats: The greatest photo of Lebron James and Dwayne Wade ever taken. http://t.co/5lQDRrjzin"
about an hour ago

espngolic Mike Golic
"@khuber10: My new http://t.co/2nouAWSTPs photo! http://t.co/bJshvHIxIJ" great sense of humor about the injury. Good job out of you
about 2 hours ago

MikeAndMike Mike & Mike
"Carmelo is a great scorer, but he hasn't improved upon making others better"- @Bowen12 on Carmelo Anthony #Knicks
about 6 hours ago

MikeAndMike Mike & Mike
"Carmello is a great scorer, but he hasn't improved upon making others better" - @Bowen12 on Carmelo Anthony #Knicks
about 6 hours ago

MikeAndMike Mike & Mike
Kobe Bryant is out with a fracture in his knee. Will he ever play at an elite level again? #BlackMamba RT for YES Fav for NO
about 7 hours ago

MikeAndMike Mike & Mike
"Tony puts up amazing numbers, wins a lot of games...for some reason these mistakes come back, & they haunt him" @JAWSespn on Tony Romo
about 8 hours ago

MikeAndMike Mike & Mike
StoneColdLeadPipeLocks @ESPNgreeny takes #Chargers & #Redskins; @ESPNgolic says #Chiefs & #Cowboys #SCLPL Who are YOUR picks?
about 8 hours ago

MikeAndMike Mike & Mike
Do you think that Florida State coach Jimbo Fisher will go to Texas after the National Championship Game?RT for YesFav for No
about 9 hours ago

MikeAndMike Mike & Mike
"His interceptions are epic...his interceptions are Gone with the Wind!" - @ESPNGreeny on #TonyRomo #Cowboys
about 9 hours ago

MikeAndMike Mike & Mike
LEAD STORY: @KobeBryant breaks his knee. Is it time to hang it up? Sound Off! #blackmamba
about 10 hours ago

espngolic Mike Golic
Don't forget to snack smart during this holiday season. At work, on the road or watching a game, I grab a handful of #almonds!
about 21 hours ago

MikeAndMike Mike & Mike
RT "@SportsCenter: Kobe Bryant is expected to miss 6 weeks with fracture in his left knee." How will the Lakers front office react?
1 day ago

Espngreeny Mike Greenberg
Oh no.RT @Lakers: Injury Update: Kobe Bryant has a fracture of lateral tibial plateau in his left knee. Expected to miss six weeks (BRUTAL)
1 day ago

Espngreeny Mike Greenberg
Every day that passes and no one is named coach of Texas is another reason to expect it eventually to be Jimbo Fisher. #Longhorns
1 day ago

Espngreeny Mike Greenberg
If DWade is fully healthy in May, nobody beats Miami. #Heat
1 day ago

MikeAndMike Mike & Mike
Looked like this RT ‏@MikeAndMike "Kick the ball, grab your tee and r-r-r-r-r-run off the field as fast as you can" http://t.co/cgNjE9gK77
1 day ago

MikeAndMike Mike & Mike
"Kick the ball, grab your tee and r-r-r-r-r-r-r-run off the field as fast as you can... if the ball gets near you it's a TD" @MarkSchlereth
1 day ago

MikeAndMike Mike & Mike
"It finally confirms... punters and kickers are not football players. The rules speak for themselves!" @MarkSchlereth
1 day ago

MikeAndMike Mike & Mike
Do you enjoy outdoors "snow-bowl" NFL games? Would you go to watch good teams "bring it"? RT for YES, FAV for NO! http://t.co/ol91kNWKdg
1 day ago

Espngreeny Mike Greenberg
Let it snow, let it snow, let it snow.#SuperBowl
1 day ago
BEST OF MIKE & MIKE ON ESPN RADIO: SHOW IN REVIEW JANUARY 17