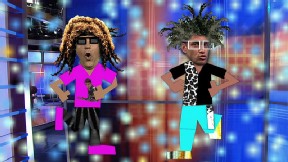 Courtesy of Craig O'BrienThey're sexy and they know it.
It's a tradition unlike any other: Joaquin's tributes to the QBs who reach the Super Bowl. Which song do you prefer? Vote in the poll on the right side of the show page.
-
Joe Flacco
:
Listen

-
Colin Kaepernick
:
Listen

LISTEN LIVE ON ESPNLA.COM
Countdown to Kickoff
8:00 AM-10:00 AM


Espngreeny Mike Greenberg
If coming THISCLOSE to costing every one of his teammates a chance at a national championship doesn't wake Jameis Winston up, nothing will.
about an hour ago

espngolic Mike Golic
"@ConradMorgan23: @espngolic @richdvm1 What's Jakes number?" 10
about 15 hours ago

espngolic Mike Golic
"@richdvm1: @espngolic bummer, that was going towards Jake." Yes it was.... Oh well that's football
about 15 hours ago

MikeAndMike Mike & Mike
.@FrankCaliendo channels Charles Barkley as he makes picks for Week 3 in the NFL: http://t.co/Hsz8NkLfGQ http://t.co/sCYVIF1vVD
about 23 hours ago

espngolic Mike Golic
"@SydGolic: @JGolic88 I didn't mean to leave me alone" does it mean you are buying 2 pair of shoes
about 23 hours ago

Espngreeny Mike Greenberg
Autocorrect is a menace.RT "@JayeUrgo: @Espngreeny "it's," not, "it's." But I agree."
1 day ago

Espngreeny Mike Greenberg
No argument here.RT "@mfwurst: @StacyGSG Greeny, looking at those two lovely ladies, it's clear you definitely out kicked your coverage."
1 day ago

Espngreeny Mike Greenberg
He'd be like a son to me, six days a week.RT "@superacct2004: what if many years from now your daughter married a Patriot fan?"
1 day ago

Espngreeny Mike Greenberg
Meanwhile, the women in my home are wearing enemy colors. We are a house divided. @StacyGSG @ChicagoBears @nyjets http://t.co/cf5DzZxuvQ
1 day ago

Espngreeny Mike Greenberg
It isn't the NFL's job to solve the problem of domestic violence. But it's fans and customers deserve the whole truth.
1 day ago

Espngreeny Mike Greenberg
If #Ravens front office knew what it seems they did, and still tweeted prominently about Janay regretting her role, that's beyond shameful.
1 day ago

Espngreeny Mike Greenberg
As to the incredible reporting of @DVNJr and his team, if all true the #Ravens organization is a disgrace, starting at the very, very top.
1 day ago

Espngreeny Mike Greenberg
I thought Roger Goodell's comments yesterday lacked transparency, as well as specificity. Another hugely disappointing day for the NFL.
1 day ago

SageRosenfels18 Sage Rosenfels
Brady Quinn writes an important piece to NFL players. It's time to be accountable. @3rd_Goal http://t.co/FvbHPZv9o4
1 day ago

jvs3 Jen Vining-Smith
Hey @GunnerKiel be a doll and throw @JGolic88 the ball today huh? Remember when you used to listen to me? Don't stop now :-) Good luck today
1 day ago

FXFL FXFL
#FXFL Goes to Camp http://t.co/bewIXMjJsB http://t.co/7azHf5QygY
1 day ago

JGolic88 Jake Golic
@MGolicJR57 I WANNA BEAT HIM DAD
1 day ago

MGolicJR57 Mike Golic Jr
Knowing I missed the chance to tell Lou Ferrigno how much I loved Pumping Iron will surely haunt me for the rest of my days.
1 day ago

espngolic Mike Golic
"@brizzybear183: @espngolic @NDmom lol dad joke" sooo true
1 day ago

espngolic Mike Golic
"@deltadawgg: @espngolic @NDmom how fast after seeing him did u think that you had to tweet that line? LOL" immediately
1 day ago
NCAA TOURNAMENT BET PAYOFFS
Mike Greenberg completes the latest installment of the guys' bracket wager payoff. Photos


Watch: Greeny Milks a Cow


Watch: Greeny Gets Waxed


Watch: Greeny Competitively Eats


Watch: Greeny Sings Vanilla Ice

JAYSON STARK'S MLB TRIVIA
This season, Clayton Kershaw has struck out more than 200 hitters for the fifth time in his career. Only two other active pitchers have achieved at least five seasons with 200 strikeouts. Who are these players? Listen

THE HIGHLIGHTS
Al Michaels, NFL
NBC's Al Michaels gives his take on the state of the NFL in the wake of the league's recent off-the-field incidents.
Jeff Cameron, CFB
97.9 ESPN Tallahassee's Jeff Cameron weighs in on Jameis Winston's latest off-the-field incident and Florida State fans' support of Winston.
Devon Still, Bengals
Bengals DT Devon Still comments on dealing with his daughter's battle with cancer while playing football. Plus, Saints coach Sean Payton discusses donating 100 Still jerseys.
Herm Edwards, NFL
ESPN NFL analyst Herm Edwards discusses Jonathan Dwyer's arrest and previews the upcoming weekend's games.
Brian Woods, NFL
FXFL commissioner Brian Woods discusses the new minor league football league he formed and how it will help the NFL grow.
Adam Schefter, NFL
ESPN NFL Insider Adam Schefter talks about the Vikings' decision to place Adrian Peterson's on the league's exempt list.
Donald Trump, Billionaire
Billionaire Donald Trump covers the latest off-the-field issues in the NFL, how sponsors will determine the future of the league and his previous interest in buying the Bills.
Kirk Herbstreit, CFB
ESPN CFB analyst Kirk Herbstreit previews this weekend games, including Auburn-Kansas State, Florida-Alabama and Clemson-Florida State.
BEST OF MIKE & MIKE ON ESPN RADIO: JOAQUIN'S SUPER BOWL SONGS