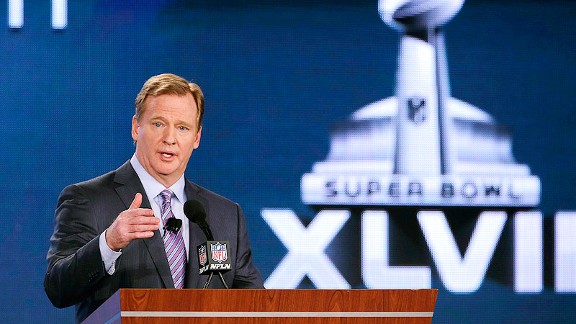 AP Photo/Charlie RiedelRoger Goodell tells the guys about his time in New Orleans, player safety in the NFL and much more.
• NFL commissioner Roger Goodell covers the Saints' bounty scandal, the long-term viability of football, HGH testing, the Pro Bowl's future, the Rooney Rule, London and more. Goodell

• ESPN NFL analyst Cris Carter shares his thoughts on being selected for induction into the Pro Football Hall of Fame and more. Carter

• ESPN NFL Insider John Clayton comments on the voting process for the Pro Football Hall of Fame, Cris Carter, Bill Parcells, Super Bowl XLVII and more. Clayton

• Liam's Mum makes her official prediction for Super Bowl XLVII. Listen

LISTEN LIVE ON ESPNLA.COM


BEST OF MIKE & MIKE PODCAST
JAYSON STARK'S MLB TRIVIA
Adam Wainwright is one of three active pitchers who are at least 50 games over .500 in their careers but have never won a Cy Young Award. Who are the other two individuals? Listen

FRANK CALIENDO
Our favorite moments with Frank Caliendo:
-Watch: 'A Visit from St. Nicholas'


-Watch: William Shatner


-Listen: #GolicButtPhoto voicemails


-Watch: Donald Trump


-Listen: Trick-or-Treat


-Watch: Stephen A. Smith


-Watch: Mel Kiper Jr.


-Watch: Charles Barkley


-Watch: Allen Iverson's rant


-Watch: Remembering Robin Williams


-Watch: LeBron James' letter

THE HIGHLIGHTS
Brian Windhorst, NBA
ESPN NBA Insider Brian Windhorst discusses LeBron James' postseason performance, the environment in the Bulls' locker room environment given the status of Tom Thibodeau and Chicago's pursuit of Kevin Love.
George Foreman, Boxing
Two-time world heavyweight champion George Foreman weighs in on Mayweather-Pacquiao, including fighting through injury, Mayweather Jr.'s career and the importance of the bout for boxing.
Isiah Thomas, WNBA
Basketball Hall of Famer Isiah Thomas covers his checkered reign with the Knicks due to sexual harassment allegations, his recent appointment as president of the New York Liberty and how he can be an ambassador for the WNBA.
Pedro Martinez, MLB
2004 World Series champion Pedro Martinez discusses some of the highlights of his career, including his pitching style, when he knew he could be a star and whether he ever considered taking performance-enhancing drugs.
Dick Vitale, Boxing
ESPN CBB analyst Dick Vitale shares his thoughts on the Mayweather-Pacquiao fight, including whether the bout hurt boxing's popularity.
Nate Robinson, NBA
NBA G Nate Robinson weighs in on Stephen Curry's dominance this season, the evolution of Blake Griffin as evidenced by Griffin's playoff performance and the Bulls' title push.
Brian Billick, NFL
Super Bowl XXXV champion Brian Billick discusses the learning curve for a rookie QB, the risk in taking prospects with a history of questionable decision-making and prospects that could be the biggest steals of the draft.
Stephen A. Smith, Boxing
First Take's Stephen A. Smith weighs in on the Clippers' Game 7 victory over the Spurs and Floyd Mayweather Jr.'s win by unanimous decision over Manny Pacquiao, including where the fight fits into the historical context of boxing.
OFF-MIKES EPISODES
View episodes of ESPN.com's first Emmy winner, "Off-Mikes," a series based on the interactions of Greeny and Golic on "Mike & Mike."
-"Snook, Line and Sinker"


-"Wee-Wee Mon Sewer"


-"Raging Bull-Oney"


-"Bend It Like Golic"


-"The Wettest Yard"


-"Pomp You Up"


-"Throw Momma from the Chair"


-"Air Force Ton"


-"Night of the Living Chippers"

BEST OF MIKE & MIKE ON ESPN RADIO: SHOW IN REVIEW FEBRUARY 3