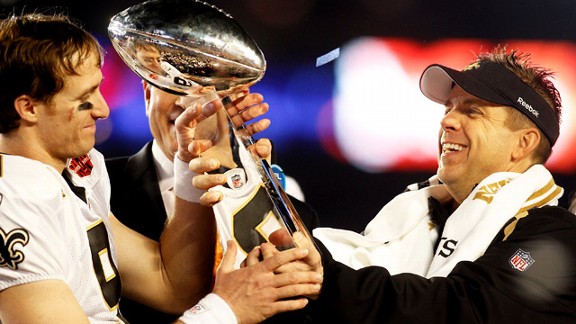 Chris Graythen/Getty ImagesSean Payton tells the guys about being reinstated by the NFL, Bountygate, Rob Ryan and much more.
• Saints coach Sean Payton talks about his season away from the NFL, being reinstated by the league, New Orleans' defense, his relationship with Roger Goodell and more. Payton

• ESPN NFL Insider Adam Schefter shares his thoughts on Joe Flacco's contract status, the futures of Michael Vick and Alex Smith, notable cuts and more. Schefter

• ESPN Radio's Mark Schlereth weighs in on the Ryan Braun story, the Broncos' relationship with BALCO during his playing days and more. Schlereth

• Greeny and Golic react to the report that ties Ryan Braun to the clinic that allegedly provided performance-enhancing drugs to numerous MLB players. Listen

LISTEN LIVE ON ESPNLA.COM
ESPNU CBB Now
3:00 AM-4:00 AM


MIKE & MIKE AT NBA ALL-STAR WEEKEND
MIKES AND ME
Now you can be pictured with Mike & Mike! Print this image, pose with the Mikes and tweet your photo to @MikeAndMike using the hashtag #MikesAndMe for a chance to be featured here and on the show. Watch

THE HIGHLIGHTS
Josh McCown, Buccaneers
Buccaneers QB Josh McCown dishes on signing with Tampa Bay, what influenced his decision to sign with the team, how the squad's offense differs from that of the Bears and more.
Dan Gilbert, Cavaliers
Cavaliers owner Dan Gilbert discusses his relationship with LeBron James, partnering with Warren Buffett for the Billion Dollar Bracket Challenge, Kyrie Irving's future and more.
Lovie Smith, Buccaneers
Buccaneers coach Lovie Smith comments on signing Josh McCown, assessing Darrelle Revis' health, building Tampa Bay's defense, Mike Glennon's future and more.
Andrew McCutchen, Pirates
Pirates OF Andrew McCutchen dishes on his hair, Ken Griffey Jr.'s praise of him, the vibe at spring training, Clint Hurdle's impact on Pittsburgh, takeaways from last season and more.
Donnie Walsh, Pacers
Pacers consultant Donnie Walsh comments on the Pacers' skid, expectations for Andrew Bynum, the Nets' resurgence, whether James Dolan would give Phil Jackson autonomy and more.
Gregg Marshall, Wichita State
Wichita State coach Gregg Marshall dishes on the meaning of "playing angry," whether his players play with a chip on their shoulders, challenges of coaching an undefeated team and more.
Adam Schefter, NFL
ESPN NFL Insider Adam Schefter weighs in on whether the Buccaneers will release Darrelle Revis, the Saints' handling of Darren Sproles, the Texans' chances for Josh McCown and more.
Justin Verlander, Tigers
Tigers P Justin Verlander dishes on differences between Jim Leyland and Brad Ausmus, daring Torii Hunter to kiss an alligator, recovering from core-muscle surgery and more.
Espngreeny Mike Greenberg
Wetzel. Exceptional. As usual.RT "@DanWetzel: NBC let Dottie Sandusky attack her husband's victims. http://t.co/yTQW5UldVH"
28 minutes ago

Espngreeny Mike Greenberg
RT @ESPNSteinLine: Give Phil this much: After all those claims he was gift-wrapped MJ/Pip, then Shaq & Kobe, he's now taking hardest job he…
40 minutes ago

Espngreeny Mike Greenberg
I cannot believe Phil is doing this. #Knicks
about 11 hours ago

espngolic Mike Golic
"@NeyleBell: @MikeAndMike @ESPN_Greeny @espngolic Is this the last year for your show or just the sheets of integrity???"just sheets
about 11 hours ago

Espngreeny Mike Greenberg
Thinking of our friend Jim Kelly tonight. Toughest son of a gun you'll ever meet. Stay strong, Jim. A whole lot of love out there for you.
about 12 hours ago

MikeAndMike Mike & Mike
Behind The Mikes Podcast #3: the staff answers your questions, has fun with accents & @KristenBalboni on Steve Smith http://t.co/Ip2Hckm5t0
about 14 hours ago

Espngreeny Mike Greenberg
You can't do a job better than @AdamSchefter did his this week. All the respect in the world.
about 16 hours ago

MikeAndMike Mike & Mike
Joaquin loves his new fish flask! Check out the Behind The Mikes Podcast for the backstory, link coming soon! http://t.co/K51jDYGSHM
about 17 hours ago

Espngreeny Mike Greenberg
Congratulations @coach_collins. #Northwestern fans and friends everywhere are proud of you guys.http://t.co/wONmlU04h1@NU_Sports
about 20 hours ago

MikeAndMike Mike & Mike
Got questions for Liam, Balbiz, Bubba or Joaquin? Use #AskTheStaff and we'll answer them in our Behind The Mikes podcast later today!
about 22 hours ago

Espngreeny Mike Greenberg
RT @SprowESPN: @Espngreeny This is the fake account @Buster_ESPN set up for his made up co-conspirator.
about 23 hours ago

MikeAndMike Mike & Mike
Steve Nash says "I won't retire b/c I want the money." Do you really want athletes to be this honest? #MikeAndMikeRT - YESFAV - NO
1 day ago

MikeAndMike Mike & Mike
Time to enter the #5thHour w/ @5hourenergy. Do you agree with @kobebryant calling out Jim and @JeanieBuss?
1 day ago

espngolic Mike Golic
"@NDmom: This wasn't Hank but I love this guys spunk!! https://t.co/65VRw9kAsV"that is great
1 day ago

Espngreeny Mike Greenberg
I like the Decker signing. Didn't break the bank. Still need another WR. But it's a fine place to start. #Jets
1 day ago

Espngreeny Mike Greenberg
Herman likes #Bucs to win NFC South next year. If #Panthers don't get Cam some receivers, I think I agree.
1 day ago

espngolic Mike Golic
"@Albino0110Mike: @espngolic how you feel about DWare going to broncos?"They know Peyton has a couple yrs left, so they are going to buy big
1 day ago

espngolic Mike Golic
"@Bada_Bingham: @espngolic @4Arnold4 No pancakes...right?"haha.... Nope, gave them up for lent
1 day ago

MikeAndMike Mike & Mike
Send us your questions for N.L. MVP @TheCUTCH22 at 8:15 ET and we'll ask him on the air! #AskAPirate
1 day ago
BEST OF MIKE & MIKE ON ESPN RADIO: SHOW IN REVIEW FEBRUARY 6