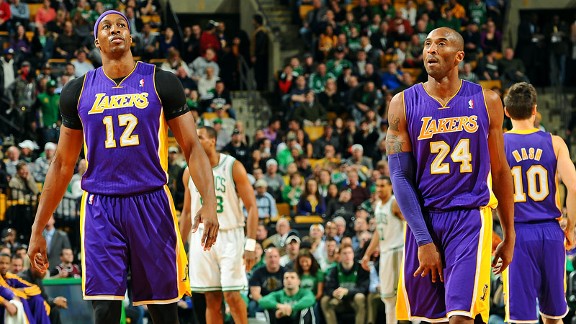 Brian Babineau/NBAE/Getty ImagesDave McMenamin tells the guys about Kobe Bryant, Dwight Howard, the state of the Lakers and more.
• Syracuse coach Jim Boeheim comments on parity in college basketball, the Orange's 19-3 start, his time in the Big East and more. Boeheim

• Kansas coach Bill Self talks about the Jayhawks' loss to TCU, the landscape of college basketball, getting ready for the NCAA tournament and more. Self

• Louisville coach Rick Pitino shares his thoughts on the state of college basketball, what coaching against his son was like, the demise of the Big East and more. Pitino

• NBC Sports' Bob Costas covers the future of the NFL, Alex Rodriguez, Ryan Braun, the role of performance-enhancing drugs in sports and more. Costas

• ESPN Los Angeles' Dave McMenamin dishes on the relationship between Kobe Bryant and Dwight Howard, Mike D'Antoni's future with the Lakers and more. McMenamin

• Greeny hears why the way that Jay Cutler proposed to Kristin Cavallari gets Golic off of the hook. Listen

LISTEN LIVE ON ESPNLA.COM
Inside the Huddle
2:00 AM-3:00 AM


Coming Up

3:00 AM

The Sporting Life

4:00 AM

The Ian O'Connor Show

5:00 AM

Southern California Experience
BEST OF MIKE & MIKE PODCAST
JAYSON STARK'S MLB TRIVIA
David Wright is one of four active players who have spent the last 12 seasons with the same team. Who are the other three? Listen

FRANK CALIENDO
Our favorite moments with Frank Caliendo:
-Watch: 'A Visit from St. Nicholas'


-Watch: William Shatner


-Listen: #GolicButtPhoto voicemails


-Watch: Donald Trump


-Listen: Trick-or-Treat


-Watch: Stephen A. Smith


-Watch: Mel Kiper Jr.


-Watch: Charles Barkley


-Watch: Allen Iverson's rant


-Watch: Remembering Robin Williams


-Watch: LeBron James' letter

THE HIGHLIGHTS
Brian Hoyer, Texans
Texans QB Brian Hoyer dishes on signing with Houston, competing with former teammate Ryan Mallett, being named the starter, losing Arian Foster to injury and participating in HBO's "Hard Knocks."
Dan Quinn, Falcons
Falcons coach Dan Quinn offers thoughts on his first training camp as a head coach in the NFL, including implementing his vision, creating locker-room cohesion, improving the defense and working with Matt Ryan.
Damien Woody, NFL
ESPN NFL analyst Damien Woody discusses Robert Griffin III's ability to lead the Redskins, how Maurkice Pouncey's injury affects the Steelers and fining student-athletes.
Rich Cohen, MLB
Rich Cohen of Sports Illustrated takes a look inside the Cubs' push to break the curse and win their first World Series since 1908. He feels that this new generation of players has changed the mentality of Chicago fans.
Ben Roethlisberger, Steelers
Steelers QB Ben Roethlisberger dishes on his relationship with Todd Haley, Maurkice Pouncey's injury, the signing of Michael Vick, adjusting to new rules in preseason and the athleticism of Antonio Brown.
Sean Payton, Saints
Saints coach Sean Payton comments on motivating his team following Hurricane Katrina, New Orleans' journey to a Super Bowl and how the squad has affected the community since the storm.
Jeremy Fowler, NFL
ESPN Steelers reporter Jeremy Fowler shares his thoughts on Pittsburgh's signing of Michael Vick as a backup to Ben Roethlisberger and the health of Maurkice Pouncey.
Rece Davis & Kirk Herbstreit, CFB
Rece Davis and Kirk Herbstreit of College GameDay weigh in on Ohio State's fight with complacency, USC's chances to win the Pac-12 and who is best positioned for the Heisman Trophy.
OFF-MIKES EPISODES
View episodes of ESPN.com's first Emmy winner, "Off-Mikes," a series based on the interactions of Greeny and Golic on "Mike & Mike."
-"Snook, Line and Sinker"


-"Wee-Wee Mon Sewer"


-"Raging Bull-Oney"


-"Bend It Like Golic"


-"The Wettest Yard"


-"Pomp You Up"


-"Throw Momma from the Chair"


-"Air Force Ton"


-"Night of the Living Chippers"

BEST OF MIKE & MIKE ON ESPN RADIO: SHOW IN REVIEW FEBRUARY 8