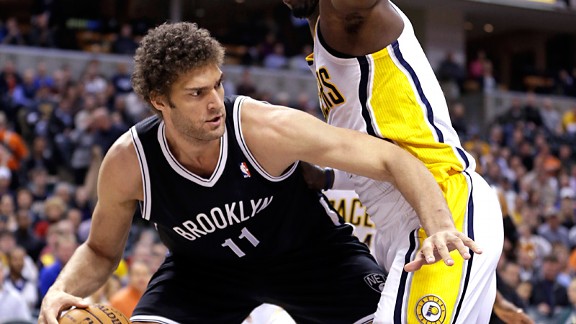 AP Photo/Michael ConroyBrook Lopez tells the guys about the Nets' success under P.J. Carlesimo, trade rumors and more.
• Nets C Brook Lopez dishes on what games against the Knicks are like, P.J. Carlesimo's impact, his expectations for the second half of Brooklyn's season and more. Lopez

• ESPN CBB Insider Andy Katz responds to Jim Boeheim's criticism. Katz

• ESPN NFL analyst Herm Edwards weighs in on the possibility of the Eagles trading Nick Foles, Kevin Youkilis' comments about his fond feelings for the Red Sox and more.
Edwards

• ESPN Radio's Mark Schlereth shares his thoughts on Kevin Youkilis' remarks regarding his fond feelings for the Red Sox and more. Schlereth

• TNT's Kenny Smith talks about LeBron James' record-setting efficiency, whether anyone can challenge the Heat in the East, the Clippers' chances in the West and more. Smith

• Former Alabama coach Bill Curry comments on whether Jadeveon Clowney should sit out until he is eligible to enter the NFL draft, the future of football and more. Curry

THE HIGHLIGHTS
Skip Bayless, NBA
ESPN First Take's Skip Bayless weighs in on the Pacers' elimination of the Knicks, Carmelo Anthony's performance, his relationship with Stephen A. Smith and more.
Antonio Davis, NBA
ESPN NBA analyst Antonio Davis dishes on the end of the Knicks' season, LeBron James' response to Frank Vogel's comments, Pacers-Heat, Grizzlies-Spurs and more.
Mike Lupica, NBA
ESPN Radio's Mike Lupica talks about the criticism of Carmelo Anthony, Anthony's style of play, the Heat's dominance and more.
Lionel Hollins, Grizzlies
Grizzlies coach Lionel Hollins talks about Memphis' win over the Thunder, how Russell Westbrook's injury impacted Kevin Durant, preparing for the Spurs and more.
Stephen A. Smith, NBA
ESPN New York 98.7 FM's Stephen A. Smith covers the Knicks' win over the Pacers in Game 5, the impact of George Hill's absence, Carmelo Anthony, his expectations for Game 6 and more.
Marc Silverman, NBA
Chicago's ESPN 1000's Marc Silverman gives his take on the perception of Derrick Rose in the Bulls' locker room and more.
Brady Hoke, Michigan
Michigan coach Brady Hoke discusses his comments about Notre Dame's decision to end its series with the Wolverines after the 2014 season and more.
Jayson Stark, MLB
ESPN MLB Insider Jayson Stark shares his thoughts on the ways that the state of umpiring can be improved and more.
PODCASTS
A daily offering of the best of ESPN Radio's Mike and Mike.