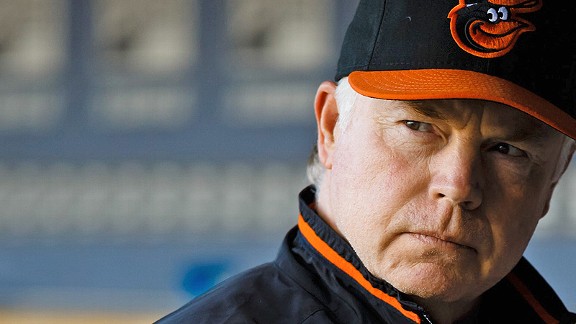 Rick Osentoski/US PresswireBuck Showalter tells the guys about managing expectations, spring training, the AL East and more.
• Orioles manager Buck Showalter dishes on the expectations for Baltimore, spring training, the strength of the AL East, designated hitters, instant replay and more. Showalter

• Miami coach Jim Larranaga covers the Hurricanes' 22-4 start, the importance of experience in March, the state of college basketball and more. Larranaga

• ESPN NBA analyst Flip Saunders shares his thoughts on the Lakers' improved play, Mark Cuban, whether anyone can beat the Heat in the playoffs and more. Saunders

• ESPN CBB analyst Dick Vitale talks about parity in college basketball, Miami's experience, whether Indiana is the best team in the country, Georgetown's potential and more. Vitale

• 2013 Bassmaster Classic champion Cliff Pace comments on winning the event and more. Pace

LISTEN LIVE ON ESPNLA.COM
BEST OF MIKE & MIKE PODCAST
JAYSON STARK'S MLB TRIVIA
David Wright is one of four active players who have spent the last 12 seasons with the same team. Who are the other three? Listen

FRANK CALIENDO
Our favorite moments with Frank Caliendo:
-Watch: 'A Visit from St. Nicholas'


-Watch: William Shatner


-Listen: #GolicButtPhoto voicemails


-Watch: Donald Trump


-Listen: Trick-or-Treat


-Watch: Stephen A. Smith


-Watch: Mel Kiper Jr.


-Watch: Charles Barkley


-Watch: Allen Iverson's rant


-Watch: Remembering Robin Williams


-Watch: LeBron James' letter

THE HIGHLIGHTS
Adam Schefter, NFL
ESPN NFL Insider Adam Schefter dishes on reports that members of the Redskins organization want Robert Griffin III gone, the Browns' potential interest in Ray Rice, who will start Week 1 for the Bills and the latest on Tom Brady's appeal.
Patrick McEnroe, Tennis
ESPN tennis analyst Patrick McEnroe weighs in on Serena Williams' quest to complete the 2015 Grand Slam, including why her biggest obstacle to a win at the US Open is herself. Plus, McEnroe covers who the favorite is in the men's tournament.
Brian Hoyer, Texans
Texans QB Brian Hoyer dishes on signing with Houston, competing with former teammate Ryan Mallett, being named the starter, losing Arian Foster to injury and participating in HBO's "Hard Knocks."
Dan Quinn, Falcons
Falcons coach Dan Quinn offers thoughts on his first training camp as a head coach in the NFL, including implementing his vision, creating locker-room cohesion, improving the defense and working with Matt Ryan.
Damien Woody, NFL
ESPN NFL analyst Damien Woody discusses Robert Griffin III's ability to lead the Redskins, how Maurkice Pouncey's injury affects the Steelers and fining student-athletes.
Rich Cohen, MLB
Rich Cohen of Sports Illustrated takes a look inside the Cubs' push to break the curse and win their first World Series since 1908. He feels that this new generation of players has changed the mentality of Chicago fans.
Ben Roethlisberger, Steelers
Steelers QB Ben Roethlisberger dishes on his relationship with Todd Haley, Maurkice Pouncey's injury, the signing of Michael Vick, adjusting to new rules in preseason and the athleticism of Antonio Brown.
Sean Payton, Saints
Saints coach Sean Payton comments on motivating his team following Hurricane Katrina, New Orleans' journey to a Super Bowl and how the squad has affected the community since the storm.
OFF-MIKES EPISODES
View episodes of ESPN.com's first Emmy winner, "Off-Mikes," a series based on the interactions of Greeny and Golic on "Mike & Mike."
-"Snook, Line and Sinker"


-"Wee-Wee Mon Sewer"


-"Raging Bull-Oney"


-"Bend It Like Golic"


-"The Wettest Yard"


-"Pomp You Up"


-"Throw Momma from the Chair"


-"Air Force Ton"


-"Night of the Living Chippers"

BEST OF MIKE & MIKE ON ESPN RADIO: SHOW IN REVIEW FEBRUARY 25