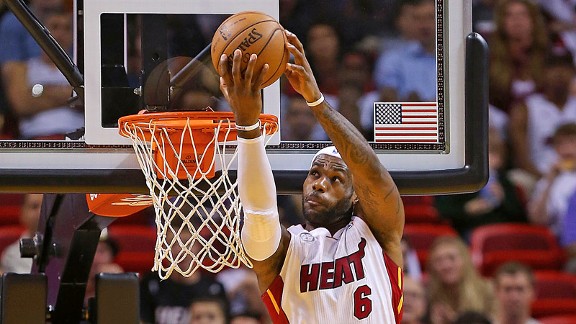 Mike Ehrmann/Getty ImagesTim Legler tells the guys about LeBron James, Warriors-Pacers, Andrew Bynum and much more.
• ESPN NBA analyst Tim Legler talks about whether anyone can beat the Heat in the playoffs, the incident between the Warriors and the Pacers, Andrew Bynum and more. Legler

• ESPN NFL Insider Adam Schefter shares his thoughts on the reaction to Tom Brady's contract extension, the futures of Darrelle Revis, Alex Smith and Nick Foles and more. Schefter

• ESPN NFL analyst Herm Edwards weighs in on Darrelle Revis's value, Tom Brady's contract extension, Manti Te'o's performance at the scouting combine and more. Edwards

• Seven-time NBA All-Star Alonzo Mourning comments on the state of the Heat, LeBron James' dominance, Dwight Howard, free-throw shooting, the demise of the Big East and more. Mourning

LISTEN LIVE ON ESPNLA.COM


Coming Up

7:00 PM

Dodgers Spring Training Special

10:00 PM

SportsCenter Tonight

11:00 PM

SportsCenter AllNight
MIKE & MIKE AT NBA ALL-STAR WEEKEND
MIKES AND ME
Now you can be pictured with Mike & Mike! Print this image, pose with the Mikes and tweet your photo to @MikeAndMike using the hashtag #MikesAndMe for a chance to be featured here and on the show. Watch

THE HIGHLIGHTS
Herm Edwards, NFL
ESPN NFL analyst Herm Edwards discusses Darrelle Revis' future, the value of cover corners, where Michael Vick and Josh McCown could land, Darren Sproles' abilities and more.
Avery Johnson, NBA
ESPN NBA analyst Avery Johnson discusses Joakim Noah's value, Blake Griffin's development, the 76ers' decision to tank, Phil Jackson's potential role with the Knicks and more.
Jim Delany, Big Ten
Big Ten commissioner Jim Delany comments on concerns with conference realignment, Northwestern student-athletes' attempt to unionize, the one-and-done rule and more.
On Phil Jackson, 3/10
Mike Greenberg and Mark Schlereth share their thoughts on the reports that Phil Jackson could take a front-office job with the Knicks, Jackson's competitiveness and more.
Stephen A. Smith, NBA
ESPN New York 98.7 FM's Stephen A. Smith covers the Knicks' reasons for offering a front-office job to Phil Jackson, what Jackson could gain from taking the position and more.
Josh McCown, Bears
Bears QB Josh McCown dishes on his performance last season, the number of teams he has communicated with regarding his future, his relationship with Jay Cutler, Cutler's maturation and more.
Buster Olney, MLB
ESPN MLB Insider Buster Olney weighs in on the Royals' potential, Ervin Santana's health, Robinson Cano's remarks about the Mariners' roster, Ryan Braun's return and more.
Chris Broussard, NBA
ESPN NBA Insider Chris Broussard discusses what it would take to bring Carmelo Anthony to Chicago, how much money matters to Melo, Melo's options in 2015 and more.
espngolic Mike Golic
"@1717mnt: @espngolic @jmcstravick70 either of u know how to get tickets. Sold out super quick. Been every yr. not sure, I'll check
about an hour ago

Espngreeny Mike Greenberg
Can't tell you how much I admire @Realrclark25 for his professionalism on our set while his NFL career hangs in the balance.
about 2 hours ago

espngolic Mike Golic
"@jmcstravick70: @espngolic are you playing in Monday After The Masters this year"yes
about 4 hours ago

Espngreeny Mike Greenberg
Made me laugh aloud.RT "@FauxJohnMadden: #Raiders re-sign Darren McFadden to one-year deal, immediately list him as "doubtful" for Week 1."
about 4 hours ago

Espngreeny Mike Greenberg
RT @StacyGSG: Thanks, all, for all the lovely Birthday Wishes! Going to be the best year yet! http://t.co/C3aGsdFVHn
about 4 hours ago

Espngreeny Mike Greenberg
Our friend Stuart. Toughest guy you'll ever meet. And through it all, still cooler than the other side of the pillow.http://t.co/edp86La9wy
about 8 hours ago

MikeAndMike Mike & Mike
Read this story about a man who planned his entire wedding http://t.co/PKfrpM0ttd Guys how would that go over with your wife? #ManPlan
about 12 hours ago

MikeAndMike Mike & Mike
NFL free agency at the talk stage. RT @AdamSchefter Two teams to watch in CB Darrelle Revis once Tampa releases him: #Eagles and #Patriots
about 13 hours ago

MikeAndMike Mike & Mike
Go ahead and vote in his poll! @Espngreeny RT if you'd rather have Noah. FAV if you'd rather have Griffin. #MikeAndMike
about 14 hours ago

Espngreeny Mike Greenberg
RT if you'd rather have Noah.FAV if you'd rather have Griffin.#MikeAndMike
about 14 hours ago

MikeAndMike Mike & Mike
Stay tuned here today for free agency, or if only just to hear the #SchefterAlert when news breaks. http://t.co/K2Du5Uyc5d
about 15 hours ago

Espngreeny Mike Greenberg
RT @ABC: Man plans entire surprise wedding for unsuspecting fiancée: http://t.co/H8ybQZvEhP
about 15 hours ago

espngolic Mike Golic
"@atr7464: first episode of 'house of cards' in the books. needless to say, i'm already hooked. 🎣" just wait... Keeps getting better
about 23 hours ago

Espngreeny Mike Greenberg
This is on the money.RT "@WojYahooNBA: Column: New York's doomed partnership of Phil Jackson and James Dolan. http://t.co/TIaimXu575"
1 day ago

Espngreeny Mike Greenberg
Santonio Holmes was as difficult to root for as any player my favorite team has ever had. I wish him luck, anywhere else. #Jets
1 day ago

espngolic Mike Golic
"@JNoyesMaker: Final update: I HAVE SPILLED MUSTARD. All hopes of romance are over."some guys may dig that
1 day ago

Espngreeny Mike Greenberg
RT "@Chris_Broussard: All indications are Phil Jackson will accept NYK front-office job. Title not yet clear, not coach or mere consultant"
1 day ago

espngolic Mike Golic
"@CaseyKdot6: @espngolic chuck Norris lost his virginity before his dad" I think this is the best one, and I love so many of them
1 day ago

Espngreeny Mike Greenberg
Who would you rather have: Blake Griffin or Joakim Noah?#Clippers #Bulls
1 day ago

Espngreeny Mike Greenberg
Darren Sproles is exactly what the #Patriots need.
1 day ago
BEST OF MIKE & MIKE ON ESPN RADIO: SHOW IN REVIEW FEBRUARY 27