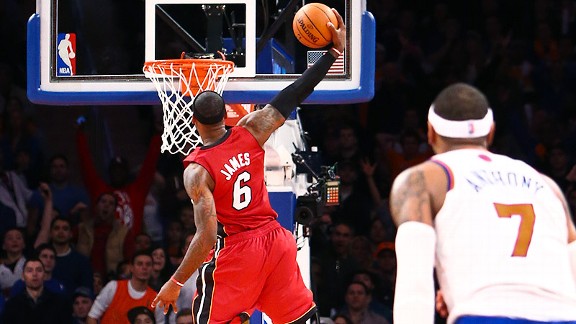 Debby Wong/USA TODAY Sports The guys give their takes on Heat-Knicks, LeBron James, Carmelo Anthony, Dwyane Wade and more.
• Ohio State coach Thad Matta talks about the strength of the Big Ten, preparing for Victor Oladipo and Indiana, court-storming and more. Matta

• ESPN NBA analyst Jeff Van Gundy weighs in on Heat-Knicks, New York's struggles in the second half, whether anyone can beat Miami in the playoffs and more. Van Gundy

• ESPN New York 98.7 FM's Stephen A. Smith dishes on the Heat's win over the Knicks, New York's usage of Amare Stoudemire, Derrick Rose's status, Tony Parker's injury and more. Smith

• Greeny and Golic share their thoughts on the Heat's win over the Knicks, LeBron James' performance, whether Miami has become more likeable and more. Listen

• Greeny and Golic give their takes on whether it's ever acceptable to propose at a sporting event. Listen

• Joaquin presents an example of the dangers that can be associated with proposing at a sporting event. Joaquin's Stash »
LISTEN LIVE ON ESPNLA.COM


BEST OF MIKE & MIKE PODCAST
JAYSON STARK'S MLB TRIVIA
David Price is one of eight active pitchers who have won an American League Cy Young Award, but he is not one of the three who is still pitching for the team that they won it for. Can you name those three? Listen

FRANK CALIENDO
Our favorite moments with Frank Caliendo:
-Watch: 'A Visit from St. Nicholas'


-Watch: William Shatner


-Listen: #GolicButtPhoto voicemails


-Watch: Donald Trump


-Listen: Trick-or-Treat


-Watch: Stephen A. Smith


-Watch: Mel Kiper Jr.


-Watch: Charles Barkley


-Watch: Allen Iverson's rant


-Watch: Remembering Robin Williams


-Watch: LeBron James' letter

THE HIGHLIGHTS
Tim Brown, HOF WR
HOF wide receiver Tim Brown comments on his Hall of Fame induction, how the honor has compared to his expectations as well as if he's ready for Canton this weekend. Plus, how Cardinals training camp assistant Jen Welter got started in football.
Sal Paolantonio, ESPN NFL Insider
ESPN NFL reporter Sal Paolantonio covers Chip Kelly's ability to rebound from controversy and find success as an NFL head coach. He feels there is something missing from the story given that he has never seen players turning on their former head coach like this.
Stephen A. Smith, First Take
Stephen A. Smith of First Take weighs in on the controversy in Philadelphia which centers on Chip Kelly's ability to relate to his players. Smith feels it began with the Eagles' decision to retain Riley Cooper, but that it runs much deeper.
Chael Sonnen, ESPN MMA Analyst
ESPN MMA analyst Chael Sonnen offers his takes on Ronda Rousey's knockout victory in UFC 190 which he felt didn't live up to the hype. He shares that there just aren't enough quality fighters out there to challenge Rousey.
Rich Cimini, ESPN NFL Nation Jets Reporter
ESPN NFL Nation Jets reporter Rich Cimini covers the latest in the NFL's response as well as the Jets' response to Sheldon Richardson's arrest. Plus, the health of Muhammad Wilkerson and Devin Smith.
George Atallah, NFLPA Assistant Executive
NFLPA assistant director of external affairs George Atallah reacts to Robert Kraft's comments towards the NFL in yesterday's press conference. Plus, what arguments the NFLPA intends to make on behalf of Tom Brady and why the appeal now is strictly about the process.
DeMarco Murray, Eagles RB
Eagles running back DeMarco Murray discusses the difficulty of his contract dispute with the Cowboys which led to his signing with Philadelphia. Plus, how he fits into Chip Kelly's offense and how it differs from previous systems he has been a part of.
Ryan Smith, NFL
ABC News' Ryan Smith covers the denial of Tom Brady's appeal by Roger Goodell on behalf of the NFL and shares why at this point it is in the best interest of Brady's reputation to proceed with a lawsuit against the league even if he is guilty.
OFF-MIKES EPISODES
View episodes of ESPN.com's first Emmy winner, "Off-Mikes," a series based on the interactions of Greeny and Golic on "Mike & Mike."
-"Snook, Line and Sinker"


-"Wee-Wee Mon Sewer"


-"Raging Bull-Oney"


-"Bend It Like Golic"


-"The Wettest Yard"


-"Pomp You Up"


-"Throw Momma from the Chair"


-"Air Force Ton"


-"Night of the Living Chippers"

BEST OF MIKE & MIKE ON ESPN RADIO: SHOW IN REVIEW MARCH 4