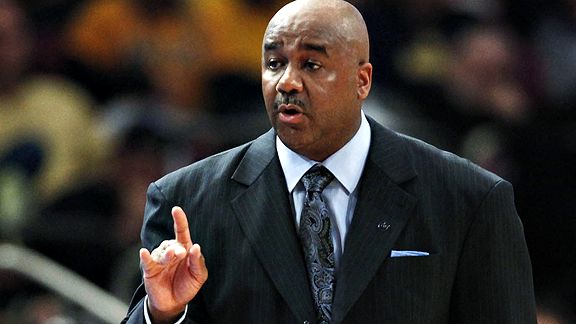 David Butler II/US PresswireJohn Thompson III tells Golic and Mike Hill about the future of the Big East, Otto Porter Jr. and more.
• Georgetown coach John Thompson III talks about the Hoyas' winning streak, conference realignment, Otto Porter Jr., court-storming and more. Thompson III

• ESPN NBA analyst Tim Legler shares his thoughts on the Heat's 15-game winning streak, Derrick Rose's status, Lakers-Thunder, the impact of Tony Parker's injury and more. Legler

• ESPN NFL Insider John Clayton covers the Chiefs' plans for the No. 1 pick, Joe Flacco's contract extension, Wes Welker, Darrelle Revis, Mike Wallace, Reggie Bush and more. Clayton

• Baseball Hall of Famer Cal Ripken Jr. covers the expectations for the Orioles, the strength of the AL East, Mike Trout, Bryce Harper, the World Baseball Classic and more. Ripken Jr.

LISTEN LIVE ON ESPNLA.COM


Coming Up

3:00 PM

Max & Marcellus

7:00 PM

ESPN News

10:00 PM

SportsCenter Tonight
NCAA TOURNAMENT BET PAYOFFS
Mike Greenberg completes the latest installment of the guys' bracket wager payoff. Photos


Watch: Greeny Milks a Cow


Watch: Greeny Gets Waxed


Watch: Greeny Competitively Eats


Watch: Greeny Sings Vanilla Ice

JAYSON STARK'S MLB TRIVIA
Cy Young teammates Greg Maddux and Tom Glavine will enter the Baseball Hall of Fame together. Three pairs of current teammates have won MVP awards. Who are the players? Listen

THE HIGHLIGHTS
Frank Caliendo, NBA
Comedian Frank Caliendo shares his impressions with Mike Greenberg and Mike Golic and channels Morgan Freeman in a reading of LeBron James' essay announcing his return to Cleveland.
Tom Jackson, NFL
ESPN NFL analyst Tom Jackson offers his insight on Pat Bowlen's decision to step down as Broncos owner and Denver's training camp.
Nelly, NBA
Actor and rapper Nelly comments on his music, his love of St. Louis sports and owning a team with Michael Jordan.
Jeff Fisher, Rams
Rams coach Jeff Fisher discusses the attention that Michael Sam has received during training camp, Tony Dungy's controversial comments, St. Louis' upcoming season and more.
J.J. Watt, Texans
Texans DE J.J. Watt weighs in on the start of training camp, Jadeveon Clowney's potential, Andre Johnson's future in Houston, his team's upcoming season and more.
Charlie Strong, Texas
Texas coach Charlie Strong comments on preparing for his first season with the Longhorns, whether the Big 12 needs a conference title game, the treatment of student-athletes and more.
Rory McIlroy, Golf
Golfer Rory McIlroy dishes on winning the Open Championship, what he can accomplish moving forward and his father's bet on him as a young kid.
Bob Bowlsby, Big 12
Big 12 commissioner Bob Bowlsby explains his comments about cheating in the NCAA and covers the potential for the Power Five conferences to form their own governing body.
BEST OF MIKE & MIKE ON ESPN RADIO: SHOW IN REVIEW MARCH 5