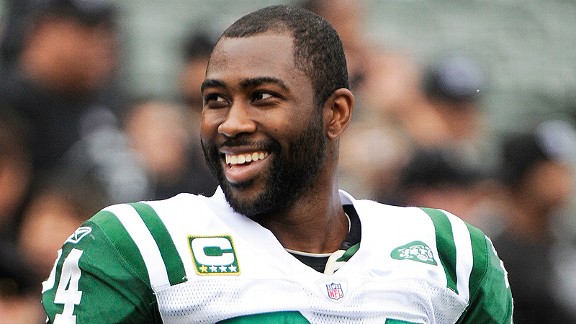 Thearon W. Henderson/Getty ImagesAdam Schefter tells the guys about Darrelle Revis' future with the Jets, free agency and much more.
• Dodgers manager Don Mattingly dishes on the expectations in Los Angeles, the World Baseball Classic, Magic Johnson, Matt Kemp, Clayton Kershaw, Carl Crawford and more. Mattingly

• ESPN NBA Insider Chris Broussard covers Lakers-Thunder, Kobe Bryant, Dwight Howard, the decision to fine Serge Ibaka, Carmelo Anthony's injury, Andrew Bynum's status and more. Broussard

• ESPN NFL Insider Adam Schefter shares his thoughts on the market for Darrelle Revis, the Jets' motivation for wanting to trade Revis, Mike Wallace's future and more. Schefter

• ESPN's Mike Tirico talks about Ohio State's win over Indiana, the celebration of Senior Night that the Hoosiers had after the game and more. Tirico

• ESPN's Sage Steele weighs in on the way that Indiana celebrated Senior Night following the Hoosiers' loss to Ohio State and more. Steele

• Greeny and Golic react to the report that says the 49ers and the Falcons are interested in acquiring Darrelle Revis from the Jets. Listen

LISTEN LIVE ON ESPNLA.COM
SUPER WEEK
TABASCO® BOLD MOMENT OF THE WEEKEND
Mike & Mike select the TABASCO® Bold Moment of the Weekend. Plus, some TABASCO® inspired recipes for the NFL playoffs. More »
#GOLICBUTTPHOTO SHIRT
Muze Clothing has created a shirt featuring the infamous #GolicButtPhoto. All proceeds benefit the South Bend Center for the Homeless. More »
FRANK CALIENDO
Our favorite moments with Frank Caliendo:
-Watch: 'A Visit from St. Nicholas'


-Watch: William Shatner


-Listen: #GolicButtPhoto voicemails


-Watch: Donald Trump


-Listen: Trick-or-Treat


-Watch: Stephen A. Smith


-Watch: Mel Kiper Jr.


-Watch: Charles Barkley


-Watch: Allen Iverson's rant


-Watch: Remembering Robin Williams


-Watch: LeBron James' letter

THE HIGHLIGHTS
Howie Long, NFL
Pro Football Hall of Famer Howie Long covers Robert Kraft's Deflategate remarks, J.J. Watt's abilities, the Seahawks' defense, Russell Wilson's style of play and defending Marshawn Lynch.
Ron Jaworski, NFL
ESPN NFL analyst Ron Jaworski weighs in on Robert Kraft's Deflategate comments, Tom Brady's legacy, the Patriots' approach to the Seahawks and how to defend Russell Wilson.
Mike Krzyzewski, Duke
Duke coach Mike Krzyzewski comments on his achievement of 1,000 career wins, how he connects with players, the Blue Devils' schedule and one-and-dones' impact on coaching.
Charles Barkley, NBA
Basketball Hall of Famer Charles Barkley discusses Deflategate, Klay Thompson's abilities, the success of the Warriors and the Hawks, AAU basketball and which team will win the NBA title.
Shane Battier, CBB
ESPN CBB analyst Shane Battier discusses Mike Krzyzewski's achievement of 1,000 career wins, Krzyzewski's coaching philosophy and how he motivates players.
Frank Caliendo, NFL
Comedian Frank Caliendo does impressions of Jon Gruden, former president Bill Clinton, Mel Kiper Jr., actor Morgan Freeman, Patriots coach Bill Belichick and more at Super Week 2015.
Nick Mangold, Jets
Jets C Nick Mangold dishes on the Patriots' run defense, the challenges of preparing for New England, Deflategate and Ohio State's College Football Playoff National Championship win.
Tom Jackson, NFL
ESPN NFL analyst Tom Jackson gives his takes on Deflategate, Josh Gordon's future, defending Russell Wilson, Marshawn Lynch's impact and preparing to face Rob Gronkowski.
BEST OF MIKE & MIKE ON ESPN RADIO: SHOW IN REVIEW MARCH 6