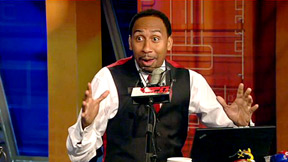 ESPNStephen A. Smith will join Greeny and Tim Legler.
Greeny and Tim Legler welcome ESPN NFL Insider Adam Schefter (7:30 a.m. ET), ESPN New York 98.7 FM's Stephen A. Smith (8:30) and ESPN NFL analyst Bill Polian (8:45) to the show on Monday.
Get in touch with Mike & Mike by emailing (mikeandmike@espnradio.com), texting (73776) or tweeting (@MikeAndMike) the guys -- we'll be with you from 6-10 a.m. ET. Follow all of the action on ESPN2, ESPN Radio or ESPNRadio.com.
LISTEN LIVE ON ESPNLA.COM
Trojan Warmup
2:30 PM-4:30 PM


Espngreeny Mike Greenberg
Ohio State with a likely knockout punch. Credit Urban Meyer going for it on fourth and short near midfield. #OSUvsNavy
about 3 hours ago

Espngreeny Mike Greenberg
Quick strike, huge play.... #OSUvsNavy
about 4 hours ago

Espngreeny Mike Greenberg
Navy leading Ohio St in the third quarter and, frankly, Buckeyes fortunate to be in the game. #OhioState #OSUvsNavy
about 4 hours ago

JordanBernfield Jordan Bernfield
#Northwestern fans: the subject of my pregame feature tomorrow is QB Trevor Siemian. Listen in on @gamechicago starting at 2PM!
about 21 hours ago

MGolicJR57 Mike Golic Jr
Anddddd part 2! Breaking down the new look defense with @iRJerrell99! http://t.co/ooBIK45Wf6 @GolicNewmanPod
1 day ago

MGolicJR57 Mike Golic Jr
Check out part 1 of the epic 2 part season/Rice preview podcast from @GolicNewmanPod! A look at the Irish O in 2014! http://t.co/LukHQkXWJa
1 day ago

dariusrucker Darius Rucker
I want to hear what y'all think about my new song #HomegrownHoney!! If ya haven't heard it yet, give it a listen: http://t.co/5TwoCCdBDF
1 day ago

MikeAndMike Mike & Mike
Coming this hour, more talk on the NFL's new domestic violence policy, Giants QB Eli Manning, and Eagles RB LeSean McCoy.
1 day ago

MikeAndMike Mike & Mike
ESPN Senior Fantasy Analyst Matthew Berry joining us next! Tweet us your fantasy questions!
1 day ago

MikeAndMike Mike & Mike
How long would you stick with RGIII before you bench him for Kirk Cousins?
1 day ago

MikeAndMike Mike & Mike
Coming up this hour, Jorge, Mike, and Jemele discuss RGIII, the Cowboys and Matthew Berry and Dale Jarrett will be joining us!
1 day ago

Cthomas25 Big C
@MikeAndMike I think he is reacting to the media noise. But sometimes it takes criticism to realize you made a mistake. #justgetitright
1 day ago

TakeMeBackTo98 JD
@MikeAndMike Hes doing what needs to be done as a business man. In that sense, hes a good leader regardless of when, where and why he did it
1 day ago

MikeAndMike Mike & Mike
Is Roger Goodell being a leader in the new domestic violence policy or just reacting to the media noise?
1 day ago

espngolic Mike Golic
"@winegar_ronald: @MikeWellsNFL Their own fault .. They could've brought @espngolic son in for a look" couldn't agree more
1 day ago

Espngreeny Mike Greenberg
Playing in the NFL is no more a privilege than any other good job. In fact, even less so. You're either good enough or you're not.
2 days ago

mes1up mark
@MikeAndMike Josh Gordon knew the rules!!! He broke the rules & must pay for breaking rules!!!
2 days ago

MikeAndMike Mike & Mike
Coming up this hour, Talking about the Joshes: Shaw and Gordon with Browns reporter Pat McManamon and @ESPN_ReceDavis
2 days ago

sixer0606 matthew maybury
@Espngreeny what about George faking his import export business.. Vandalay industries.. "SAY VANDALAY !!With his pants around his ankles ha!
2 days ago
NCAA TOURNAMENT BET PAYOFFS
Mike Greenberg completes the latest installment of the guys' bracket wager payoff. Photos


Watch: Greeny Milks a Cow


Watch: Greeny Gets Waxed


Watch: Greeny Competitively Eats


Watch: Greeny Sings Vanilla Ice

JAYSON STARK'S MLB TRIVIA
Derek Jeter is the active leader in postseason game appearances with 158. Only two other active players have appeared in at least 80 postseason matchups. Who are they? Listen

THE HIGHLIGHTS
Dale Jarrett, NASCAR
ESPN NASCAR analyst Dale Jarrett covers Tony Stewart's decision to return to the track, the impact of Kevin Ward Jr.'s death on racing and Stewart's eligibility for the Chase.
Eli Manning, Giants
Giants QB Eli Manning comments on his fantasy football DirecTV commercial, losing to Michael Smith's high school team and New York's new offensive system.
LeSean McCoy, Eagles
Eagles RB LeSean McCoy dishes on his weight loss during the offseason, how many hours he sleeps per night, his fitness regimen and what makes Chip Kelly unique.
Danny Kanell, CFB
ESPN CFB analyst Danny Kanell discusses Kenny Hill's performance against South Carolina, the Josh Shaw situation and Jameis Winston's chances to win the Heisman Trophy again.
Matthew Berry, NFL
ESPN fantasy analyst Matthew Berry provides a fantasy breakdown of wide receivers and tight ends in the NFL.
Jeff Saturday & Shaun O'Hara, NFL
ESPN NFL analyst Jeff Saturday and NFL Network's Shaun O'Hara discuss Josh Gordon's suspension from the NFL.
Bobby Bowden, CFB
College Football Hall of Famer Bobby Bowden weighs in on the Josh Shaw situation at USC, previews the upcoming season and looks ahead to the College Football Playoff.
Jimbo Fisher, Florida State
Florida State coach Jimbo Fisher previews the Seminoles' upcoming season.
BEST OF MIKE & MIKE ON ESPN RADIO: SHOW PREVIEW MARCH 11, 2013