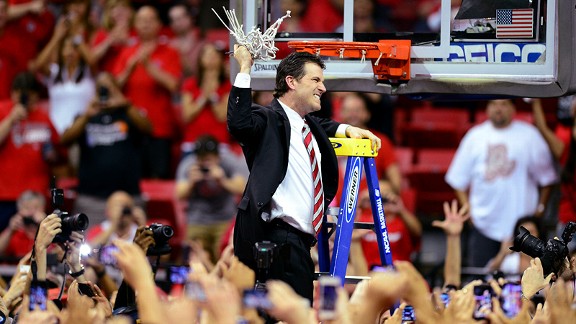 Ron Chenoy/USA TODAY SportsBruce Pearl tells Golic and Scott Van Pelt about New Mexico, Florida, the NCAA tournament and more.
• ESPN CBB analyst Bruce Pearl dishes on what the NCAA tournament is like, the No. 1 seeds, Florida's struggles, whether New Mexico could reach the Final Four and more.
Pearl

LISTEN LIVE ON ESPNLA.COM
STONE COLD LEAD PIPE LOCKS
NCAA TOURNAMENT BET PAYOFFS
Mike Greenberg completes the latest installment of the guys' bracket wager payoff. Photos


Watch: Greeny Milks a Cow


Watch: Greeny Gets Waxed


Watch: Greeny Competitively Eats


Watch: Greeny Sings Vanilla Ice

JAYSON STARK'S MLB TRIVIA
This season, Clayton Kershaw has struck out more than 200 hitters for the fifth time in his career. Only two other active pitchers have achieved at least five seasons with 200 strikeouts. Who are these players? Listen

THE HIGHLIGHTS
Adam Schefter, NFL
ESPN NFL Insider Adam Schefter talks about the Vikings' decision to place Adrian Peterson's on the league's exempt list.
Donald Trump, Billionaire
Billionaire Donald Trump covers the latest off-the-field issues in the NFL, how sponsors will determine the future of the league and his previous interest in buying the Bills.
Kirk Herbstreit, CFB
ESPN CFB analyst Kirk Herbstreit previews this weekend games, including Auburn-Kansas State, Florida-Alabama and Clemson-Florida State.
Jayson Stark, MLB
ESPN MLB Insider Jayson Stark poses his latest trivia question and talks about the Beltway teams' clinching of their division titles.
On Adrian Peterson, 9/17
Mike Greenberg and Mike Golic react to Adrian Peterson's placement on the NFL's exempt list and the Vikings' handling of the situation.
Jim Turner, NFL
Former Dolphins offensive line coach Jim Turner shares his side of the story of the Jonathan Martin-Richie Incognito situation, which opposes the Wells report.
Brian Dawkins, NFL
ESPN NFL analyst Brian Dawkins breaks down the Eagles' comeback win over the Colts and the off-the-field issues in the NFL.
Jemele Hill, NFL
His & Hers' Jemele Hill weighs in on the latest developments in the Adrian Peterson case and the continued bad publicity the NFL faces.
BEST OF MIKE & MIKE ON ESPN RADIO: NCAA TOURNAMENT MARCH 19