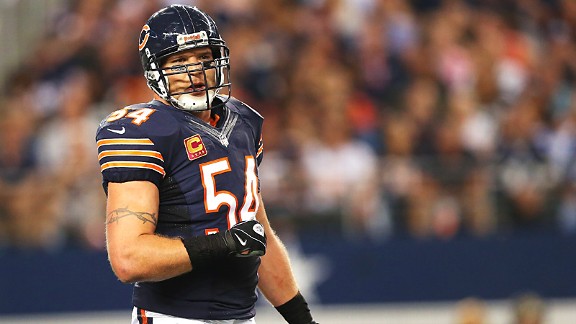 Ronald Martinez/Getty ImagesBrian Urlacher tells Golic and Adnan Virk about his negotiations with the Bears, his future and more.
• Five-time NFL All-Pro LB Brian Urlacher talks about the end of his time in Chicago, why he couldn't reach an agreement with the Bears, his future and more. Urlacher

• Chicago's ESPN 1000's Tom Waddle dishes on whether he is surprised by the end of Brian Urlacher's time with the Bears, the reaction in Chicago and more. Waddle

• SI's Peter King comments on the new rule that makes it illegal for runners to lower their heads and initiate contact with tacklers, the market for Brian Urlacher and more. King

• Super Bowl XL champion Jerome Bettis discusses the new rule that makes it illegal for runners to lower their heads and initiate contact with tacklers, Brian Urlacher and more. Bettis

• Golic and Adnan cover the rule change that makes it illegal for runners to lower their heads and initiate contact with tacklers, Brian Urlacher's future and more. Listen

LISTEN LIVE ON ESPNLA.COM
BEST OF MIKE & MIKE PODCAST
JAYSON STARK'S MLB TRIVIA
Albert Pujols has now achieved 500 home runs and 100 steals. Who are the other two active players with 400 homers and 100 steals? Listen

FRANK CALIENDO
Our favorite moments with Frank Caliendo:
-Watch: 'A Visit from St. Nicholas'


-Watch: William Shatner


-Listen: #GolicButtPhoto voicemails


-Watch: Donald Trump


-Listen: Trick-or-Treat


-Watch: Stephen A. Smith


-Watch: Mel Kiper Jr.


-Watch: Charles Barkley


-Watch: Allen Iverson's rant


-Watch: Remembering Robin Williams


-Watch: LeBron James' letter

THE HIGHLIGHTS
Field Yates, ESPN NFL Insider
ESPN NFL Insider Field Yates covers the arrest of Sheldon Richardson including why he may not play for the Jets this year. Plus, when we may see Jason Pierre-Paul reconcile with the Giants and why Kam Chancellor is holding out of training camp.
Buster Olney, ESPN MLB Insider
ESPN MLB Insider Buster Olney weighs in on the Blue Jays' acquisition of David Price. Plus, why the Dodgers are in a unique position to make moves due to their financial situation.
George Atallah, NFLPA Assistant Executive
NFLPA assistant director of external affairs George Atallah reacts to Robert Kraft's comments towards the NFL in yesterday's press conference. Plus, what arguments the NFLPA intends to make on behalf of Tom Brady and why the appeal now is strictly about the process.
DeMarco Murray, Eagles RB
Eagles running back DeMarco Murray discusses the difficulty of his contract dispute with the Cowboys which led to his signing with Philadelphia. Plus, how he fits into Chip Kelly's offense and how it differs from previous systems he has been a part of.
Dan Wetzel, Yahoo! Sports
Yahoo! Sports columnist Dan Wetzel weighs in on Roger Goodell's rejection of Tom Brady's appeal. He feels that from the start the NFL wanted to turn Deflategate into a PR battle and that the NFL simply ran theirs much better than the Patriots.
Mike Reiss, ESPN NFL Nation Patriots Reporter
ESPN NFL Nation Patriots reporter Mike Reiss covers Robert Kraft and Bill Belichick's reaction to the rejection of Tom Brady's appeal. He estimates that Kraft believed that if he stood down initially the NFL would exonerate Brady.
Ryan Smith, NFL
ABC News' Ryan Smith covers the denial of Tom Brady's appeal by Roger Goodell on behalf of the NFL and shares why at this point it is in the best interest of Brady's reputation to proceed with a lawsuit against the league even if he is guilty.
Bill Polian, NFL
ESPN NFL analyst Bill Polian offers his insights on Tom Brady's response to his upheld suspension, Bill Belichick's approach to the season and Roger Goodell's power.
OFF-MIKES EPISODES
View episodes of ESPN.com's first Emmy winner, "Off-Mikes," a series based on the interactions of Greeny and Golic on "Mike & Mike."
-"Snook, Line and Sinker"


-"Wee-Wee Mon Sewer"


-"Raging Bull-Oney"


-"Bend It Like Golic"


-"The Wettest Yard"


-"Pomp You Up"


-"Throw Momma from the Chair"


-"Air Force Ton"


-"Night of the Living Chippers"

BEST OF MIKE & MIKE ON ESPN RADIO: BRIAN URLACHER MARCH 21