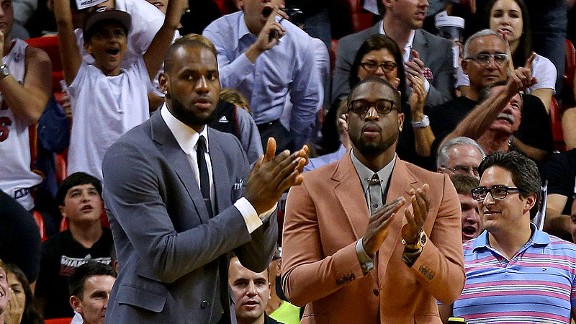 Mike Ehrmann/Getty ImagesThe guys give their takes on the Heat's decision to rest LeBron James and Dwyane Wade and more.
• ESPN New York 98.7 FM's Stephen A. Smith says Kobe Bryant and Michael Jordan understood they are the show. Plus, Carmelo Anthony is a superstar and can't let the Knicks lose in the first round. Smith

• ESPN NBA analyst Tim Legler says he disagrees with the premise that the NBA is more physically demanding than it was in the '90s. Plus, Legler says the Knicks may be No. 2 in the East, but Carmelo Anthony is not No. 2 in the MVP race. Legler

• ESPN Radio's Colin Cowherd weighs in on whether or not the Heat should rest their players. Cowherd says its unfair to expect teams to play all of their stars night after night. Cowherd

• Golf Channel on NBC analyst Peter Jacobsen says he believes Tiger Woods is back, dominating the field when he plays well. Jacobsen compares Woods' play early in his career to now. Jacobsen

• Greeny argues that LeBron James should not be taking games off to rest at the end of the season because that's not the way superstars of the past handled the regular season. Listen

LISTEN LIVE ON ESPNLA.COM
SUPER WEEK
MIKE & MIKE'S 15TH ANNIVERSARY
The show is celebrating its 15th anniversary this year. You're invited to join the festivities. More »
TABASCO® BOLD MOMENT OF THE WEEKEND
Mike & Mike select the TABASCO® Bold Moment of the Weekend. Plus, some TABASCO® inspired recipes for the NFL playoffs. More »
#GOLICBUTTPHOTO SHIRT
Muze Clothing has created a shirt featuring the infamous #GolicButtPhoto. All proceeds benefit the South Bend Center for the Homeless. More »
FRANK CALIENDO
Our favorite moments with Frank Caliendo:
-Watch: 'A Visit from St. Nicholas'


-Watch: William Shatner


-Listen: #GolicButtPhoto voicemails


-Watch: Donald Trump


-Listen: Trick-or-Treat


-Watch: Stephen A. Smith


-Watch: Mel Kiper Jr.


-Watch: Charles Barkley


-Watch: Allen Iverson's rant


-Watch: Remembering Robin Williams


-Watch: LeBron James' letter

THE HIGHLIGHTS
J.J. Watt, Texans
Texans DE J.J. Watt dishes on his MVP candidacy, his areas for improvement, Jadeveon Clowney's potential, Houston's future at QB, the Patriots' offense and defending Marshawn Lynch.
Joe Buck, NFL
FOX Sports' Joe Buck covers his broadcasting experiences, addressing Deflategate during the Super Bowl XLIX broadcast, potential MLB rule changes and Seattle's improvement.
Merril Hoge, NFL
ESPN NFL analyst Merril Hoge gives his takes on the adaptability of the Patriots' offense and how New England should approach defending Marshawn Lynch.
Justin Tuck, Raiders
Raiders DE Justin Tuck talks about his leadership, Marshawn Lynch's relationship with the media, how the Patriots should attack the Seahawks and Tom Brady's play-making abilities.
Herm Edwards, NFL
ESPN NFL analyst Herm Edwards covers how he would coach Marshawn Lynch, the impending birth of Richard Sherman's son, Sherman's health and defending Rob Gronkowski.
Arian Foster, Texans
Texans RB Arian Foster weighs in on which team will win the Super Bowl, LeGarrette Blount's running style, the Seahawks' defense and the requirement that players must speak with the media.
Charles Woodson, Raiders
Raiders S Charles Woodson offers his insights on Marshawn Lynch's reluctance to speak with the media, the Seahawks' defense and whether Tom Brady is the best QB of all time.
Jon Gruden, NFL
Monday Night Football's Jon Gruden discusses Super Bowl media day, the Seahawks' defense, the Patriots' approach to Seattle's offense and Russell Wilson's ability to improvise.
BEST OF MIKE & MIKE ON ESPN RADIO: SHOW IN REVIEW APRIL 10