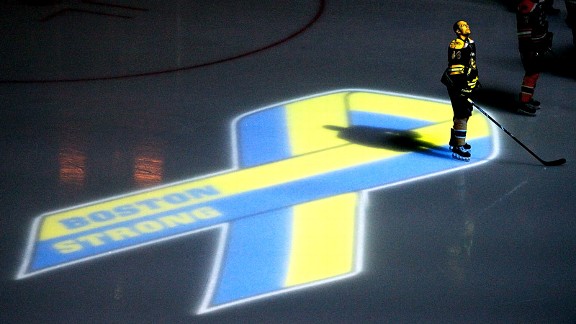 Jim Rogash/Getty ImagesThe guys comment on the tribute to Boston before the Bruins' game against the Sabres and more.
• Indians manager Terry Francona weighs in on the explosions at the Boston Marathon, what Patriots Day is like in Boston and more. Francona

• Greeny and Golic react to the atmosphere in Boston for the Bruins' first game since tragedy struck the city. Listen

LISTEN LIVE ON ESPNLA.COM
SportsCenter AM
1:00 AM-3:00 AM


NCAA TOURNAMENT BET PAYOFFS
Mike Greenberg completes the latest installment of the guys' bracket wager payoff. Photos


Watch: Greeny Milks a Cow


Watch: Greeny Gets Waxed


Watch: Greeny Competitively Eats


Watch: Greeny Sings Vanilla Ice

JAYSON STARK'S MLB TRIVIA
Jon Lester has won at least 15 wins five times since 2008. Only three other active pitchers have achieved at least four 15-win seasons since that year. Who are these individuals? Listen

THE HIGHLIGHTS
Jayson Stark, MLB
ESPN MLB Insider Jayson Stark joins Mike Greenberg and Mike Golic to ask his baseball trivia question and gives his take on Jon Lester's trade possibilities.
Herm Edwards, NFL
ESPN NFL analyst Herm Edwards talks to Mike Greenberg and Mike Golic about Ray Rice, Johnny Manziel and training camps around the league.
Jimbo Fisher, Florida State
Florida State coach Jimbo Fisher previews the Seminoles' upcoming season and discusses Jameis Winston.
Amy Van Dyken-Rouen, Olympics
Olympic swimmer Amy Van Dyken-Rouen opens up about her recovery from a spinal cord injury.
Matthew Stafford, Lions
Lions QB Matthew Stafford discusses his relationship with Dodgers ace Clayton Kershaw and previews Detroit's upcoming season.
Joe Torre, MLB
Baseball Hall of Famer Joe Torre discusses his induction into the Baseball Hall of Fame.
Adolpho Birch, NFL
Adolpho Birch, the NFL's senior vice president of labor policy and government affairs, covers how the league determined Ray Rice's suspension and public reaction to the discipline.
Mike Smith, Falcons
Falcons coach Mike Smith comments on why his team agreed to appear on "Hard Knocks," Roddy White's contract extension, Julio Jones' health and Tony Gonzalez's departure.
BEST OF MIKE & MIKE ON ESPN RADIO: HOME OF THE BRAVE APRIL 18