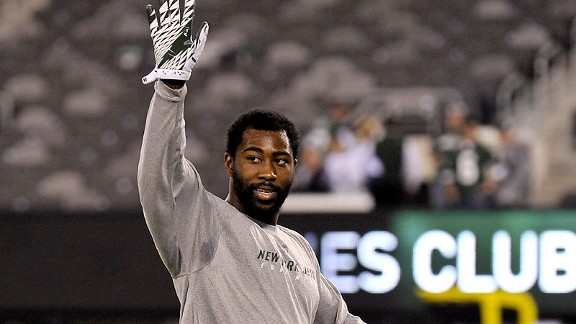 Jim Luzzi/Getty ImagesThe guys give their takes on the trade that sends Darrelle Revis to the Buccaneers and much more.
• ESPN NFL Insider Adam Schefter talks about the impact of the Darrelle Revis trade, Revis' new contract, the QB class in the draft and more. Schefter

• ESPN NFL draft Insider Todd McShay discusses his expectations for Ryan Nassib and Geno Smith, the Jets' two first-round picks and more. McShay

• Greeny and Golic share their thoughts on the Buccaneers' acquisition of Darrelle Revis from the Jets. Which team made a better trade? Listen

LISTEN LIVE ON ESPNLA.COM


MIKE & MIKE AT NBA ALL-STAR WEEKEND
MIKES AND ME
Now you can be pictured with Mike & Mike! Print this image, pose with the Mikes and tweet your photo to @MikeAndMike using the hashtag #MikesAndMe for a chance to be featured here and on the show. Watch

THE HIGHLIGHTS
On Phil Jackson, 3/10
Mike Greenberg and Mark Schlereth share their thoughts on the reports that Phil Jackson could take a front-office job with the Knicks, Jackson's competitiveness and more.
Stephen A. Smith, NBA
ESPN New York 98.7 FM's Stephen A. Smith covers the Knicks' reasons for offering a front-office job to Phil Jackson, what Jackson could gain from taking the position and more.
Josh McCown, Bears
Bears QB Josh McCown dishes on his performance last season, the number of teams he has communicated with regarding his future, his relationship with Jay Cutler, Cutler's maturation and more.
Buster Olney, MLB
ESPN MLB Insider Buster Olney weighs in on the Royals' potential, Ervin Santana's health, Robinson Cano's remarks about the Mariners' roster, Ryan Braun's return and more.
Chris Broussard, NBA
ESPN NBA Insider Chris Broussard discusses what it would take to bring Carmelo Anthony to Chicago, how much money matters to Melo, Melo's options in 2015 and more.
Roy Williams, North Carolina
North Carolina coach Roy Williams comments on his coaching this season, his respect for Dean Smith, the rivalry with Duke, the confrontation between a fan and Gib Arnold and more.
Jayson Stark, MLB
ESPN MLB Insider Jayson Stark talks about the first use of instant replay, Masahiro Tanaka's debut, which team has the most pressure to be successful this season and more.
Adam Vinatieri, Colts
Colts K Adam Vinatieri weighs in on why the NFL wants to change the extra point, how increasing the length of PATs would affect the frequency of two-point conversion attempts and more.
BEST OF MIKE & MIKE ON ESPN RADIO: BAY ISLAND APRIL 22