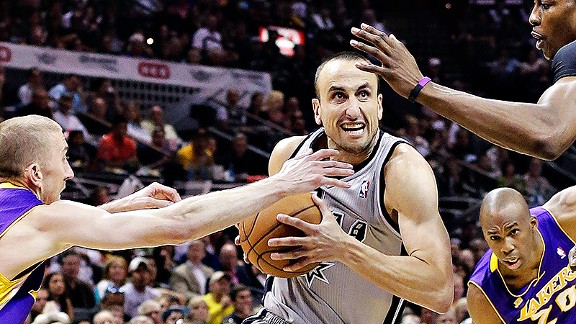 AP Photo/Eric GayJeff Van Gundy tells the guys about Lakers-Spurs, Kobe Bryant's tweets, Celtics-Knicks and more.
• ESPN NBA analyst Jeff Van Gundy dishes on Lakers-Spurs, Kobe Bryant's tweets, Bulls-Nets, Celtics-Knicks, Rockets-Thunder, David Lee's injury and more. Van Gundy

• Lakers analyst Dave Miller comments on the Spurs' win over Los Angeles in Game 1, Manu Ginobili's performance, Kobe Bryant's tweets and more. Miller

LISTEN LIVE ON ESPNLA.COM


NCAA TOURNAMENT BET PAYOFFS
Mike Greenberg completes the latest installment of the guys' bracket wager payoff. Photos


Watch: Greeny Milks a Cow


Watch: Greeny Gets Waxed


Watch: Greeny Competitively Eats


Watch: Greeny Sings Vanilla Ice

WERNER LADDERS BRACKET CHALLENGE
THE HIGHLIGHTS
Martin J. Walsh, Boston
Boston Mayor Martin J. Walsh comments on how this Patriots' Day differs from those in the past, securing the marathon, the role sports plays in the city and more.
Avery Johnson, NBA
ESPN NBA analyst Avery Johnson covers concerns with the Clippers, whether the Pacers can recover from losing Game 1, Gregg Popovich's demeanor off the court and more.
Donnie Wahlberg, Actor
Actor Donnie Wahlberg talks about this year's Patriots' Day, his experience involving last year's Boston Marathon, security presence in the city and more.
Larry Lucchino, Red Sox
Red Sox president and CEO Larry Lucchino discusses his team's response to the Boston Marathon bombings, how the city bounced back from the tragedy and more.
Mark Emmert, NCAA
NCAA president Mark Emmert comments on scholarships' value, why it takes so long for the association to enact change, Northwestern's impending union vote, transfer rules and more.
Scott Brooks, Thunder
Thunder coach Scott Brooks covers the path his team must take to reach the NBA Finals, Kendrick Perkins' impact on Oklahoma City, the upcoming matchup against the Grizzlies and more.
Shane Battier, Heat
Heat F Shane Battier dishes on what he would change about the NCAA, compensation for student-athletes, Miami's season, the Big Three's future, potentially facing the Nets in the playoffs and more.
Rick Carlisle, Mavericks
Mavericks coach Rick Carlisle comments on his team's approach to the Grizzlies, preparing to face the Spurs, Dirk Nowitzki's impact on Dallas and the power forward position and more.
BEST OF MIKE & MIKE ON ESPN RADIO: HOME COOKING APRIL 22