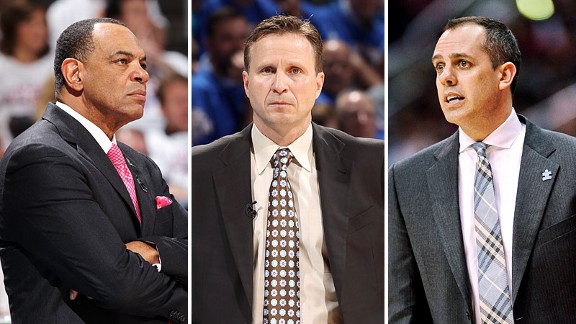 Getty ImagesThe Grizzlies' Lionel Hollins, the Thunder's Scott Brooks and the Pacers' Frank Vogel joined the guys.
• Thunder coach Scott Brooks talks about dealing with Marc Gasol and Zach Randolph, what Kevin Durant is like, the impact of Russell Westbrook's injury, James Harden and more. Brooks

• Grizzlies coach Lionel Hollins weighs in on Memphis' style of play, Marc Gasol, Zach Randolph, Mike Conley, his contract status, Dr. Jack Ramsay and more. Hollins

• Pacers coach Frank Vogel shares his thoughts on Indiana's matchup with the Knicks, the potential return of Amar'e Stoudemire, the perception of his team and more. Vogel

LISTEN LIVE ON ESPNLA.COM


WERNER LADDERS BRACKET CHALLENGE
MIKE & MIKE AT NBA ALL-STAR WEEKEND
MIKES AND ME
Now you can be pictured with Mike & Mike! Print this image, pose with the Mikes and tweet your photo to @MikeAndMike using the hashtag #MikesAndMe for a chance to be featured here and on the show. Watch

THE HIGHLIGHTS
Larry Brown, SMU
SMU coach Larry Brown comments on the Mustangs' failure to receive a NCAA tournament bid, whether he would have scheduled differently, preparing for the NIT and more.
Eric Decker, Jets
Jets WR Eric Decker dishes on what influenced him to sign with the team, his role with the squad, transitioning to New York, how the franchise treated him during negotiations and more.
Tony Bennett, Virginia
Virginia coach Tony Bennett discusses his father's influence on his coaching, receiving a No. 1 seed, the Cavaliers' season, preparing for the NCAA tournament and more.
Terry Francona, Indians
Indians manager Terry Francona discusses his team's progression, replacing Ubaldo Jimenez and Scott Kazmir, the Red Sox's World Series win, using instant replay during spring training and more.
Josh McCown, Buccaneers
Buccaneers QB Josh McCown dishes on signing with Tampa Bay, what influenced his decision to sign with the team, how the squad's offense differs from that of the Bears and more.
Dan Gilbert, Cavaliers
Cavaliers owner Dan Gilbert discusses his relationship with LeBron James, partnering with Warren Buffett for the Billion Dollar Bracket Challenge, Kyrie Irving's future and more.
Lovie Smith, Buccaneers
Buccaneers coach Lovie Smith comments on signing Josh McCown, assessing Darrelle Revis' health, building Tampa Bay's defense, Mike Glennon's future and more.
Andrew McCutchen, Pirates
Pirates OF Andrew McCutchen dishes on his hair, Ken Griffey Jr.'s praise of him, the vibe at spring training, Clint Hurdle's impact on Pittsburgh, takeaways from last season and more.
BEST OF MIKE & MIKE ON ESPN RADIO: ELITE EIGHT