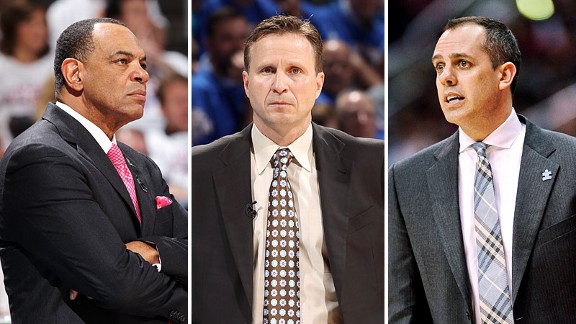 Getty ImagesThe Grizzlies' Lionel Hollins, the Thunder's Scott Brooks and the Pacers' Frank Vogel joined the guys.
• Thunder coach Scott Brooks talks about dealing with Marc Gasol and Zach Randolph, what Kevin Durant is like, the impact of Russell Westbrook's injury, James Harden and more. Brooks

• Grizzlies coach Lionel Hollins weighs in on Memphis' style of play, Marc Gasol, Zach Randolph, Mike Conley, his contract status, Dr. Jack Ramsay and more. Hollins

• Pacers coach Frank Vogel shares his thoughts on Indiana's matchup with the Knicks, the potential return of Amar'e Stoudemire, the perception of his team and more. Vogel

LISTEN LIVE ON ESPNLA.COM
ESPNLA Morning Show
5:00 AM-9:00 AM


BEST OF MIKE & MIKE PODCAST
JAYSON STARK'S MLB TRIVIA
Besides Felix Hernandez, four active pitchers have finished in the top two in Cy Young Award voting more than once. Who are they? Listen

FRANK CALIENDO
Our favorite moments with Frank Caliendo:
-Watch: 'A Visit from St. Nicholas'


-Watch: William Shatner


-Listen: #GolicButtPhoto voicemails


-Watch: Donald Trump


-Listen: Trick-or-Treat


-Watch: Stephen A. Smith


-Watch: Mel Kiper Jr.


-Watch: Charles Barkley


-Watch: Allen Iverson's rant


-Watch: Remembering Robin Williams


-Watch: LeBron James' letter

THE HIGHLIGHTS
Brian Windhorst, NBA
ESPN NBA Insider Brian Windhorst weighs in on the Cavaliers' sweep of the Hawks in the Eastern Conference finals, including LeBron James' historic playoff performance, what it means to the city of Cleveland and James' supporting cast.
Jayson Stark, MLB
ESPN MLB Insider Jayson Stark weighs in on the debate between Bryce Harper and Mike Trout and whether pitchers should be allowed to use substances to help grip the ball. Plus, Stark plays trivia with Mike Greenberg and Mike Golic.
Jared Dudley, Bucks
Bucks F Jared Dudley dishes on what it is like to compete against LeBron James, how James compares to Michael Jordan and how far is too far when it comes to physical play in the NBA playoffs.
Sarah Spain, NFL
espnW's Sarah Spain discusses the release of Bears DE Ray McDonald, including how Chicago failed in the initial process of signing McDonald and why the NFL doesn't need to wait for the legal process.
Tim Legler, NBA
ESPN NBA analyst Tim Legler shares his thoughts on Stephen Curry's hard fall in the Warriors' Game 4 loss to the Rockets, the increase in playoff injuries and the physical play of Matthew Dellavedova.
Jeff Van Gundy, NBA
ESPN NBA analyst Jeff Van Gundy weighs in on claims that Matthew Dellavedova is a dirty player, teams' process for evaluating head injuries such as Stephen Curry's and more.
Ric Bucher, Bleacher Report
Ric Bucher of Bleacher Report discusses the legitimacy of Al Horford's ejection, how despite his decline in efficiency LeBron is playing better than ever and why the Warriors are a class above everyone else this year.
Mark Brunell, ESPN NFL Analyst
ESPN NFL analyst Mark Brunell weighs in on preferential treatment for certain players and game situations in the NFL based on importance and historical significance. Plus, he discusses the latest from Deflategate.
OFF-MIKES EPISODES
View episodes of ESPN.com's first Emmy winner, "Off-Mikes," a series based on the interactions of Greeny and Golic on "Mike & Mike."
-"Snook, Line and Sinker"


-"Wee-Wee Mon Sewer"


-"Raging Bull-Oney"


-"Bend It Like Golic"


-"The Wettest Yard"


-"Pomp You Up"


-"Throw Momma from the Chair"


-"Air Force Ton"


-"Night of the Living Chippers"

BEST OF MIKE & MIKE ON ESPN RADIO: ELITE EIGHT