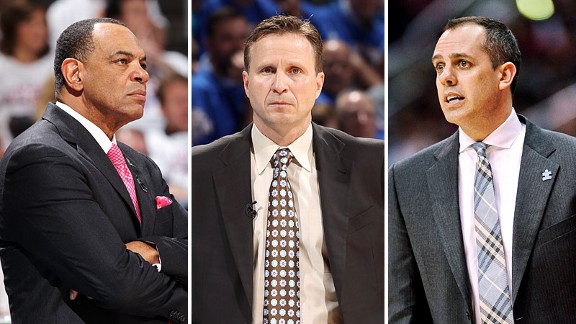 Getty ImagesThe Grizzlies' Lionel Hollins, the Thunder's Scott Brooks and the Pacers' Frank Vogel joined the guys.
• Thunder coach Scott Brooks talks about dealing with Marc Gasol and Zach Randolph, what Kevin Durant is like, the impact of Russell Westbrook's injury, James Harden and more. Brooks

• Grizzlies coach Lionel Hollins weighs in on Memphis' style of play, Marc Gasol, Zach Randolph, Mike Conley, his contract status, Dr. Jack Ramsay and more. Hollins

• Pacers coach Frank Vogel shares his thoughts on Indiana's matchup with the Knicks, the potential return of Amar'e Stoudemire, the perception of his team and more. Vogel

LISTEN LIVE ON ESPNLA.COM
BEST OF MIKE & MIKE PODCAST
mlitzinger Michael Litzinger
Can't think of anything better on this July 4th than cheering for @chloreaney reppin' Team USA at WUGs! @NDwSwimming Kick it!! #GoIrish
about 18 hours ago

SydGolic Sydney Golic
Mother put me in charge of making the S'mores cookie pie and as you would have guessed I did an impeccable job
about 20 hours ago

espngolic Mike Golic
Parents use this as a teaching moment when discussing one of the greatest upsets of all time with your children
about 21 hours ago

espngolic Mike Golic
@espngolic the big question will this motivate Joey even more to win title back, or send him spiraling out of the game
about 21 hours ago

espngolic Mike Golic
Upset upset upset
about 21 hours ago

espngolic Mike Golic
I think this the end for Joey
about 21 hours ago

MikeAndMike Mike & Mike
Everyone in America's reaction to the Hot Dog Eating Contest... http://t.co/IePc76dax3
about 21 hours ago

espngolic Mike Golic
I actually think Stonie looks stronger at this point
about 21 hours ago

espngolic Mike Golic
9 hot dogs a minute..... Pretty impressive
about 21 hours ago

espngolic Mike Golic
The introductions for the eaters are fantastic, great job George Shea
about 21 hours ago

SydGolic Sydney Golic
Nothing more American than our fellow people pile driving as many hot dogs as they can for time
about 21 hours ago

espngolic Mike Golic
Seems to be the question of the day, higher number, Tigers round or Joey chestnut number of hot dogs eaten
about 21 hours ago

MikeAndMike Mike & Mike
NERD NOTES: On July 4th, Americans will enjoy 150 million hot dogs, enough to stretch from Washington D.C. to Los Angeles more than 5 times.
about 22 hours ago

MikeAndMike Mike & Mike
NERD NOTES: Between Memorial Day & Labor Day, Americans typically consume 7 billion hot dogs. That's 818 hot dogs consumed every second.
1 day ago

MikeAndMike Mike & Mike
Golic with some wise words that we should all remember as heard #OnDeck with @CabotStains.https://t.co/BOBs8WrDoP
2 days ago

Espngreeny Mike Greenberg
Unless there are pictures, the answer is always "no."RT "@Quinntessence_: @Espngreeny Has @espngolic read it yet?"
2 days ago

EricStangel Eric Stangel
Not sure what's more embarrassing- Antonio Gates failing a drug test or the Chargers dating the statement July 2 2105 http://t.co/onKUx2gjoP
2 days ago

Espngreeny Mike Greenberg
Just finished this. Absolutely sensational. Fast paced, suspenseful, memorable characters. She's a terrific writer. http://t.co/9Fa5r8BugY
2 days ago

Espngreeny Mike Greenberg
No debating that.... https://t.co/cg1K4kDzmx
2 days ago

Espngreeny Mike Greenberg
NOOOOOOOO!!!!!!!!!!! https://t.co/ksX1Nvl06i
2 days ago
JAYSON STARK'S MLB TRIVIA
Giancarlo Stanton's 125 home runs since the 2012 season are only the fourth most in MLB. Which three players have hit more? Listen

FRANK CALIENDO
Our favorite moments with Frank Caliendo:
-Watch: 'A Visit from St. Nicholas'


-Watch: William Shatner


-Listen: #GolicButtPhoto voicemails


-Watch: Donald Trump


-Listen: Trick-or-Treat


-Watch: Stephen A. Smith


-Watch: Mel Kiper Jr.


-Watch: Charles Barkley


-Watch: Allen Iverson's rant


-Watch: Remembering Robin Williams


-Watch: LeBron James' letter

THE HIGHLIGHTS
Bruce Bowen, ESPN NBA Analyst
ESPN NBA analyst Bruce Bowen shares his thoughts on the recruiting power of Pat Riley and who the most underrated signing of free agency has been thus far. Plus, if DeAndre Jordan can be the main threat on a championship team.
Adam Schefter, ESPN NFL Insider
ESPN NFL Insider Adam Schefter covers the recent run of suspensions in the NFL due to performance enhancing drugs and banned substances. Plus, when there will a decision on the appeals of Greg Hardy and Tom Brady.
Julie Foudy, ESPN Soccer Analyst
ESPN soccer analyst Julie Foudy previews the Women's World Cup Final including what style of play we can expect from the USWNT and Japan and if there will be any formation changes from either side. Plus, reaction to Laura Bassett's own goal for England.
Ramona Shelburne, ESPN NBA Insider
ESPN NBA Insider Ramona Shelburne covers the latest in LaMarcus Aldridge's free agency recruitment including a dinner with Pat Riley and a follow-up meeting with the Lakers. Plus, how the Suns were able to become a contender for his services.
Jeff Van Gundy, NBA
ESPN NBA analyst Jeff Van Gundy talks about NBA free agency and housing Morgan Brian and Meghan Klingenberg when they play for the Houston Dash in the summer.
David Price, Tigers
Tigers P David Price comments on his team's outlook, his performance this season, his expiring contract, the voting process for the All-Star Game and self-policing in MLB.
Carli Lloyd, United States
United States M Carli Lloyd dishes on converting a second-half penalty kick in her team's win over Germany in the Women's World Cup, Celia Sasic's missed penalty kick and the upcoming final.
Jayson Stark, MLB
ESPN MLB Insider Jayson Stark gives his takes on Jerry Dipoto's future, the state of the Phillies, whether Ryne Sandberg will manage again and changes to the Home Run Derby format.
OFF-MIKES EPISODES
View episodes of ESPN.com's first Emmy winner, "Off-Mikes," a series based on the interactions of Greeny and Golic on "Mike & Mike."
-"Snook, Line and Sinker"


-"Wee-Wee Mon Sewer"


-"Raging Bull-Oney"


-"Bend It Like Golic"


-"The Wettest Yard"


-"Pomp You Up"


-"Throw Momma from the Chair"


-"Air Force Ton"


-"Night of the Living Chippers"

BEST OF MIKE & MIKE ON ESPN RADIO: ELITE EIGHT