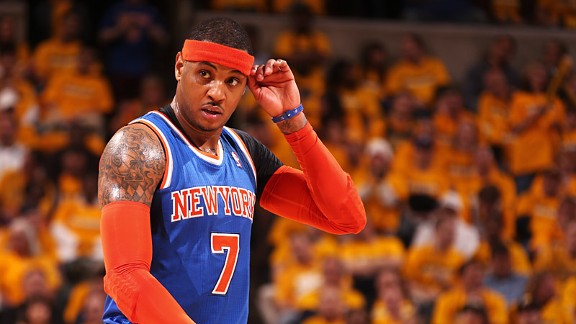 Nathaniel S. Butler/NBAE/Getty ImagesSkip Bayless tells Greeny and Stephen A. Smith about Knicks-Pacers, Carmelo Anthony and more.
• ESPN First Take's Skip Bayless weighs in on the Pacers' elimination of the Knicks, Carmelo Anthony's performance, his relationship with Stephen A. Smith and more.
Bayless

• ESPN NBA analyst Antonio Davis dishes on the end of the Knicks' season, LeBron James' response to Frank Vogel's comments, Pacers-Heat, Grizzlies-Spurs and more. Davis

• ESPN Radio's Mike Lupica talks about the criticism of Carmelo Anthony, Anthony's style of play, the Heat's dominance and more. Lupica

• Greeny and Stephen A. share their thoughts on the Pacers' elimination of the Knicks, LeBron James' reaction to Frank Vogel's remarks about the Heat and more. Listen

LISTEN LIVE ON ESPNLA.COM
SportsCenter AM
1:00 AM-3:00 AM


NCAA TOURNAMENT BET PAYOFFS
Mike Greenberg completes the latest installment of the guys' bracket wager payoff. Photos


Watch: Greeny Milks a Cow


Watch: Greeny Gets Waxed


Watch: Greeny Competitively Eats


Watch: Greeny Sings Vanilla Ice

WERNER LADDERS BRACKET CHALLENGE
THE HIGHLIGHTS
Jordan Spieth, Golf
Jordan Spieth dishes on finishing second at the Masters, the pressure he felt over the weekend, his errant tee shot at the par- 3 12th hole Sunday, his takeaways from the tournament and more.
Andy North, Golf
ESPN golf analyst Andy North weighs in on Bubba Watson's Masters Tournament win, Jordan Spieth's performance at the tournament, Phil Mickelson's struggles and more.
Tim Legler, NBA
ESPN NBA analyst Tim Legler covers Dwyane Wade's injury, the Spurs' dominance, which team in the Western Conference matches up best with San Antonio and more.
Hootie & the Blowfish
Hootie & the Blowfish talks about Bubba Watson's Masters Tournament win, the development of Monday After the Masters, memorable MAM attendees over the years and more.
On Aldon Smith, 4/14
Mike Greenberg and Mike Golic react to the false bomb report charge against Aldon Smith, previous incidents involving athletes at airports and more.
Mike Schmidt, MLB
Baseball Hall of Famer Mike Schmidt talks about the strike zone, MLB's use of instant replay, increasing the game's pace of play, potentially calling strikes electronically and more.
Jeremy Piven, Actor
Actor Jeremy Piven discusses his role in "Mr. Selfridge," his approach to acting, the popularity of the Entourage series, this season's Bulls team, meeting Mike & Mike's agent and more.
Scott Van Pelt, Golf
ESPN's Scott Van Pelt comments on his predictions for the Masters Tournament, whether Tiger Woods' absence is impacting the Masters, Phil Mickelson's performance and more.
MikeAndMike Mike & Mike
Bubba's shaving? Usually that's a good thing. Find out why it's a big deal tomorrow on the show http://t.co/uTZuuxiKzZ
about 6 hours ago

espngolic Mike Golic
RT @MGolicJR57: Hey guys @croucheric and I are starting a new podcast this week talking college football, give us a follow at http://t.co/m…
about 11 hours ago

Espngreeny Mike Greenberg
RT @timkawakami: My own view, after talking to several sources: Aldon Smith hasn't only lost the benefit of the doubt, he probably won't pl…
about 11 hours ago

Espngreeny Mike Greenberg
RT @MagicJohnson: Happy Jackie Robinson Day! Thank you Jackie, you are the reason I am able to be a part of the @Dodgers ownership! #Jackie…
about 14 hours ago

Espngreeny Mike Greenberg
On this day, honoring most significant man in history of American sports, also google the name Larry Doby. And remember him too. #Jackie42
about 15 hours ago

MikeAndMike Mike & Mike
RT @espnradio: Your text can wait. Make the smart decision and #justdrive.
about 15 hours ago

MikeAndMike Mike & Mike
"I had a friend who said 'I think I can add 10 wins to the team' I asked him, "Are you trading somebody?'" @UKCoachCalipari on NBA coaching
about 18 hours ago

MikeAndMike Mike & Mike
More with @UKCoachCalipari about his kids on Twitter and his NBA interests LISTEN HERE http://t.co/g60Zslb2ha http://t.co/1FdS4yBk9Z
about 18 hours ago

MikeAndMike Mike & Mike
Right now @UKCoachCalipari defending his kids in school LISTEN IN http://t.co/g60Zslb2ha #askCoachCal
about 18 hours ago

MikeAndMike Mike & Mike
In studio with @Espngreeny it's @UKCoachCalipari and you can ask him a question with #askCoachCal http://t.co/HpG9p39qck
about 19 hours ago

MikeAndMike Mike & Mike
20 mins until @UKCoachCalipari joins us in studio for a FULL HOUR. Have a question for coach? Go ahead and #AskCoachCal
about 19 hours ago

MikeAndMike Mike & Mike
Joining the show is @JordanSpieth who had a great run at @The_Masters LISTEN HERE http://t.co/g60Zslb2ha
about 19 hours ago

MikeAndMike Mike & Mike
Coming up at 830ET PGA golfer @JordanSpieth who gave @bubbawatson a good run http://t.co/DAkqtxhm6C
about 20 hours ago

MikeAndMike Mike & Mike
Pic that @Espngreeny is talking about RT @ShondaSchilling Time to heal. Mentally and physically. Proud of you!! http://t.co/Ws6mHIioKT
about 20 hours ago

MikeAndMike Mike & Mike
Record your own 1-740-535-MIKE(6453) RT @Chris_Broussard On @MikeAndMike. Send me your NBA questions. #AskBrou
about 21 hours ago

MikeAndMike Mike & Mike
Send those questions for @Chris_Broussard to 1-740-535-MIKE(6453) or ask here with #askbrou
about 21 hours ago

MikeAndMike Mike & Mike
Today with @Espngreeny @Chris_Broussard in studio until 820ET. Have questions? Send them with #AskBrou http://t.co/YdwesihmDV
about 22 hours ago

Espngreeny Mike Greenberg
RT @ShondaSchilling: Time to heal. Mentally and physically. Proud of you!! http://t.co/GjqS4H6BYR
about 23 hours ago

Espngreeny Mike Greenberg
RT "@JasonSobelGC: Masters champions only have one green jacket. If they win again, same jacket ... but get to take it home for a year."
1 day ago

Espngreeny Mike Greenberg
If Golic doesn't win there should be an investigation.RT "@ABC: Pulitzer Prizes, journalism's highest honor, to be announced Monday."
1 day ago
BEST OF MIKE & MIKE ON ESPN RADIO: ELIMINATION BLUES