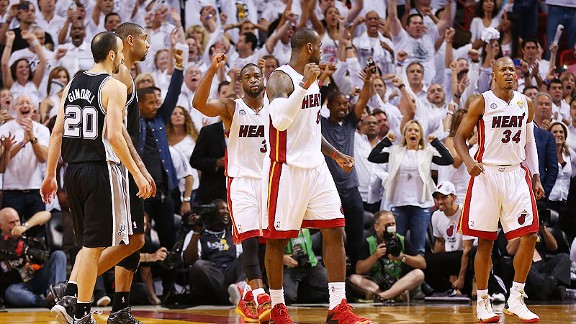 Mike Ehrmann/Getty ImagesThe guys give their takes on Ray Allen, LeBron James, Gregg Popovich and Game 6 of the NBA Finals.
• ESPN's Dan Le Batard dishes on the Heat's comeback against the Spurs in Game 6 of the NBA Finals, LeBron James, Gregg Popovich, Manu Ginobili, his expectations for Game 7 and more. Le Batard

• ESPN NBA analyst Jon Barry talks about Spurs-Heat, LeBron James' performance in Game 6, the criticism of Gregg Popovich, Ray Allen's game-tying three-pointer and more. Barry

• Greeny and Golic cover the Heat's OT win over the Spurs in Game 6 of the NBA Finals, Ray Allen's game-tying three-pointer, LeBron James' triple-double and more. Listen

LISTEN LIVE ON ESPNLA.COM


MIKE & MIKE'S 15TH ANNIVERSARY
MIKES & WIVES
The wives of Greeny and Golic, Stacy Greenberg and Christine Golic, join the guys to reflect on the past 15 years of "Mike & Mike." Listen

#GOLICBUTTPHOTO SHIRT
Muze Clothing has created a shirt featuring the infamous #GolicButtPhoto. All proceeds benefit the South Bend Center for the Homeless. More »
FRANK CALIENDO
Our favorite moments with Frank Caliendo:
-Watch: 'A Visit from St. Nicholas'


-Watch: William Shatner


-Listen: #GolicButtPhoto voicemails


-Watch: Donald Trump


-Listen: Trick-or-Treat


-Watch: Stephen A. Smith


-Watch: Mel Kiper Jr.


-Watch: Charles Barkley


-Watch: Allen Iverson's rant


-Watch: Remembering Robin Williams


-Watch: LeBron James' letter

THE HIGHLIGHTS
Roy Williams, North Carolina
North Carolina coach Roy Williams comments on his team's inconsistency, preparing for Wisconsin, CBB officiating, potential changes to the game and Kennedy Meeks' injury.
Louis Riddick, NFL
ESPN NFL Insider Louis Riddick covers Randy Gregory's positive marijuana test at the combine, Jameis Winston's draft position, Adrian Peterson's future and the potential for a Chargers-Titans trade.
Paul Pierce, Wizards
Wizards F Paul Pierce dishes on his health, the outlook for Washington, whether Kentucky could compete in the NBA, the race for MVP and the off-court relationships between teammates.
Gregg Marshall, Wichita State
Wichita State coach Gregg Marshall comments on his future, beating Kansas, preparing for Notre Dame and the Shockers' mindset during the NCAA tournament.
Tom Waddle, NFL
ESPN 1000 in Chicago's Tom Waddle gives his takes on fan reaction to the Bears' signing of Ray McDonald, fallout from the deal and whether the team had interest in Greg Hardy.
Shane Battier, CBB
ESPN CBB analyst Shane Battier covers how West Virginia matches up against Kentucky, the Wildcats' biggest weakness, Bob Huggins' record against John Calipari and Michigan State's potential.
Mark Few, Gonzaga
Gonzaga coach Mark Few talks about the pressure to perform in the NCAA tournament, his celebratory handstands, the keys to beating UCLA and how the game could be improved.
Bob Huggins, West Virginia
West Virginia coach Bob Huggins gives his takes on officiating in CBB, whether the Mountaineers make adjustments during games to officiating and preparing to face Kentucky.
BEST OF MIKE & MIKE ON ESPN RADIO: INSTANT CLASSIC