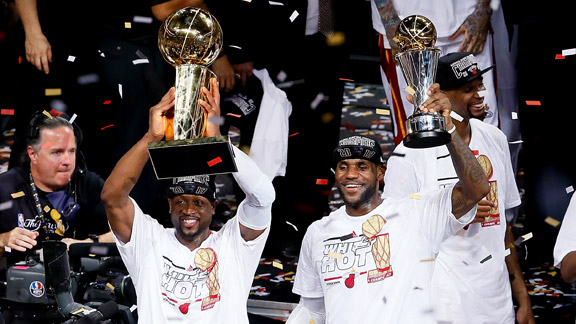 Kevin C. Cox/Getty ImagesDwyane Wade tells the guys about winning another NBA title, his plans for the offseason and more.
• Heat G Dwyane Wade discusses winning a third NBA championship, his health, what comes next for Miami, his relationship with Pat Riley and more. Wade

• Heat F Shane Battier dishes on overcoming his struggles during the postseason, his role in Miami, his performance in Game 7 of the NBA Finals, being LeBron James' teammate and more. Battier

LISTEN LIVE ON ESPNLA.COM
espngolic Mike Golic
"@Mheuerman9: My sincerest apologies @SydGolic @NDmom @espngolic #itwasanaccident" no worries, that was hilarious
about 6 hours ago

Cleo_FrankJR Cleo Franklin
@espngolic @SydGolic Mahindra Tractors don't just run, they push, pull & lift more! Go #Mahindra Red @Mahindra_USA & ready to go do work!
about 8 hours ago

boccountry Brian O'Connell
A thrill of a lifetime, thanks @lukebryanonline for sharing your talents with my beloved hometown of… http://t.co/NS19B2DyjR
about 10 hours ago

espngolic Mike Golic
.@jlbarnhart @AndyKrek most vacation per our bosses is taken in June, July, and August, so it seems like more than it is, back tomorrow
about 11 hours ago

espngolic Mike Golic
.@carmvb @NDmom it's an interesting series, I see good and bad, which I believe is the story nation wide, that's why proper technique is key
about 11 hours ago

espngolic Mike Golic
.@rlavere03 @MikeAndMike @Espngreeny not sure of guest list, we are looking forward to being there.
about 11 hours ago

Espngreeny Mike Greenberg
An enormous honor, and well deserved. Congratulations to a true pro. @DaveEanet @NUFBFamily http://t.co/7Wz6GzZAaw
about 12 hours ago

MikeAndMike Mike & Mike
Herm Edwards & @RyanRuocco on Ray McDonald's arrest, Michael Sam's future, Tony Stewart returns to the track & more: http://t.co/mp9XdqdL6T
about 12 hours ago

Espngreeny Mike Greenberg
His agent didn't do him any favors...#Jets http://t.co/zvGgTksnJX
about 13 hours ago

MikeAndMike Mike & Mike
Herm is back from SportsCenter and steps back in with @RyanRuocco LISTEN IN http://t.co/zg2tTcaaL4
about 15 hours ago

MikeAndMike Mike & Mike
Herm is off to TV, so @SedanoESPN is in with @RyanRuocco LISTEN IN http://t.co/MdlQix0bBR
about 15 hours ago

c_wart Mr. Christopher
"A goal without a plan is a dream." - Herm @MikeAndMike
about 16 hours ago

MikeAndMike Mike & Mike
Today @RyanRuocco and Herm Edwards with you on the holiday. Send your NFL questions to #HelloHerm http://t.co/xo4O5XmwdD
about 18 hours ago

StacyGSG StacyGSGreenberg
This is Greeny. On a tractor. What more needs be said?#Deuces http://t.co/eMUHQ1P3KP
1 day ago

Espngreeny Mike Greenberg
How freakin cool is this?RT "@HistoryInPics: Joe Strummer's original lyrics for London Calling, 1979 http://t.co/Ns6N6YsoeH"
1 day ago

Espngreeny Mike Greenberg
A lot to think about.RT "@RichCimini: A few thoughts on the New York #Jets as we head into stage II of cu... http://t.co/XrIVfnFBwn"
1 day ago

Espngreeny Mike Greenberg
#Rams may have been perfect spot for Michael Sam to land, but also maybe hardest roster for him to make. He'll play in the league.
1 day ago

Espngreeny Mike Greenberg
I still like #UCLA but of the big teams they concerned me most. If that offensive line doesn't get much better, someone will knock them off.
1 day ago

Espngreeny Mike Greenberg
Ohio State is going to get better fast. QB will get more comfortable. That Navy offense makes a lot of teams look bad. #OSU will be fine.
1 day ago
NCAA TOURNAMENT BET PAYOFFS
Mike Greenberg completes the latest installment of the guys' bracket wager payoff. Photos


Watch: Greeny Milks a Cow


Watch: Greeny Gets Waxed


Watch: Greeny Competitively Eats


Watch: Greeny Sings Vanilla Ice

JAYSON STARK'S MLB TRIVIA
Derek Jeter is the active leader in postseason game appearances with 158. Only two other active players have appeared in at least 80 postseason matchups. Who are they? Listen

THE HIGHLIGHTS
Dale Jarrett, NASCAR
ESPN NASCAR analyst Dale Jarrett covers Tony Stewart's decision to return to the track, the impact of Kevin Ward Jr.'s death on racing and Stewart's eligibility for the Chase.
Eli Manning, Giants
Giants QB Eli Manning comments on his fantasy football DirecTV commercial, losing to Michael Smith's high school team and New York's new offensive system.
LeSean McCoy, Eagles
Eagles RB LeSean McCoy dishes on his weight loss during the offseason, how many hours he sleeps per night, his fitness regimen and what makes Chip Kelly unique.
Danny Kanell, CFB
ESPN CFB analyst Danny Kanell discusses Kenny Hill's performance against South Carolina, the Josh Shaw situation and Jameis Winston's chances to win the Heisman Trophy again.
Matthew Berry, NFL
ESPN fantasy analyst Matthew Berry provides a fantasy breakdown of wide receivers and tight ends in the NFL.
Jeff Saturday & Shaun O'Hara, NFL
ESPN NFL analyst Jeff Saturday and NFL Network's Shaun O'Hara discuss Josh Gordon's suspension from the NFL.
Bobby Bowden, CFB
College Football Hall of Famer Bobby Bowden weighs in on the Josh Shaw situation at USC, previews the upcoming season and looks ahead to the College Football Playoff.
Jimbo Fisher, Florida State
Florida State coach Jimbo Fisher previews the Seminoles' upcoming season.
BEST OF MIKE & MIKE ON ESPN RADIO: HEAT REPEAT