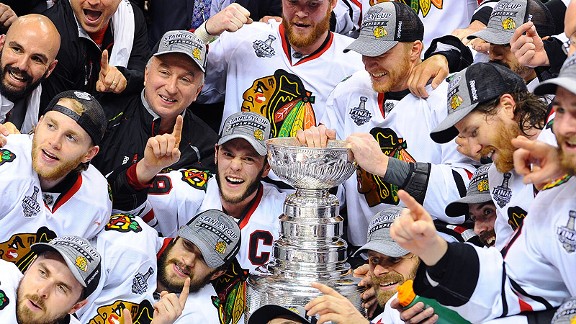 Brian Babineau/NHLI/Getty ImagesThe guys give their takes on the Blackhawks' win over the Bruins in Game 6 of the Stanley Cup finals.
• The Boston Globe's Bob Ryan shares his thoughts on the elimination of the Bruins, LeBron James' dominance, Doc Rivers' departure from the Celtics and more. Ryan

• Greeny and Golic cover the Blackhawks' win over the Bruins to claim the Stanley Cup, the goals that Chicago scored 17 seconds apart in the third period and more. Listen

LISTEN LIVE ON ESPNLA.COM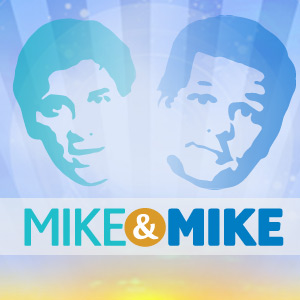 NCAA TOURNAMENT BET PAYOFFS
Mike Greenberg completes the latest installment of the guys' bracket wager payoff. Photos


Watch: Greeny Milks a Cow


Watch: Greeny Gets Waxed


Watch: Greeny Competitively Eats


Watch: Greeny Sings Vanilla Ice

WERNER LADDERS BRACKET CHALLENGE
THE HIGHLIGHTS
Mark Emmert, NCAA
NCAA president Mark Emmert comments on scholarships' value, why it takes so long for the association to enact change, Northwestern's impending union vote, transfer rules and more.
Scott Brooks, Thunder
Thunder coach Scott Brooks covers the path his team must take to reach the NBA Finals, Kendrick Perkins' impact on Oklahoma City, the upcoming matchup against the Grizzlies and more.
Shane Battier, Heat
Heat F Shane Battier dishes on what he would change about the NCAA, compensation for student-athletes, Miami's season, the Big Three's future, potentially facing the Nets in the playoffs and more.
Rick Carlisle, Mavericks
Mavericks coach Rick Carlisle comments on his team's approach to the Grizzlies, preparing to face the Spurs, Dirk Nowitzki's impact on Dallas and the power forward position and more.
Tom Thibodeau, Bulls
Bulls coach Tom Thibodeau dishes on moving forward from adversity this season, Joakim Noah's influence on Chicago, the upcoming matchup against the Wizards, John Wall's development and more.
On Chris Johnson, 4/17
Mike Greenberg and Mike Golic share their thoughts on the Jets' signing of Chris Johnson and the devaluation of the RB position.
Bruce Bowen, NBA
ESPN NBA analyst Bruce Bowen discusses whether the Pacers can win the NBA title, the root of Indiana's struggles, the Nets' potential, the Bulls' success, LeBron James' future and more.
Tony La Russa, MLB
Baseball Hall of Famer Tony La Russa comments on the use of MLB replay, issues with replay so far, the strike zone, the number of African-American MLB players and more.
BEST OF MIKE & MIKE ON ESPN RADIO: THE BIG CHILL