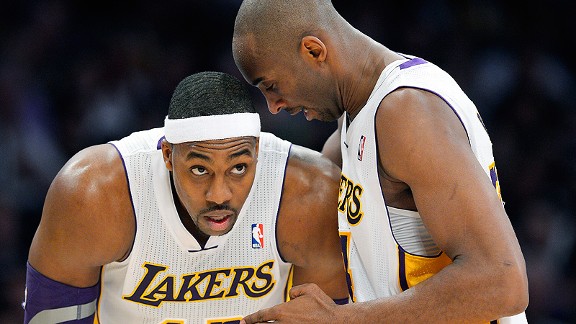 AP Photo/Mark J. TerrillChris Broussard tells Mark Schlereth and Ryan Ruocco about Dwight Howard's future and much more.
• ESPN NBA Insider Chris Broussard covers the Lakers' pitch to Dwight Howard, Howard's free agency, Andrew Bynum's value, the Nets' pursuit of Kyle Korver, the Kings' treatment of Andre Iguodala and more. Broussard

• ESPN Los Angeles' Dave McMenamin dishes on the perception of Dwight Howard, how the Lakers feel about Howard, Mike D'Antoni's future and more. McMenamin

• CBSSports.com's Gregg Doyel discusses his criticism of Dwight Howard, Howard's demeanor, the Lakers' desire to re-sign Howard, the nature of the NBA and more. Doyel

LISTEN LIVE ON ESPNLA.COM
Inside the Huddle
2:00 AM-3:00 AM


Coming Up

3:00 AM

The Sporting Life

4:00 AM

The Ian O'Connor Show

6:00 AM

The Mike Lupica Show
MIKE & MIKE AT NBA ALL-STAR WEEKEND
MIKES AND ME
Now you can be pictured with Mike & Mike! Print this image, pose with the Mikes and tweet your photo to @MikeAndMike using the hashtag #MikesAndMe for a chance to be featured here and on the show. Watch

THE HIGHLIGHTS
Josh McCown, Buccaneers
Buccaneers QB Josh McCown dishes on signing with Tampa Bay, what influenced his decision to sign with the team, how the squad's offense differs from that of the Bears and more.
Dan Gilbert, Cavaliers
Cavaliers owner Dan Gilbert discusses his relationship with LeBron James, partnering with Warren Buffett for the Billion Dollar Bracket Challenge, Kyrie Irving's future and more.
Lovie Smith, Buccaneers
Buccaneers coach Lovie Smith comments on signing Josh McCown, assessing Darrelle Revis' health, building Tampa Bay's defense, Mike Glennon's future and more.
Andrew McCutchen, Pirates
Pirates OF Andrew McCutchen dishes on his hair, Ken Griffey Jr.'s praise of him, the vibe at spring training, Clint Hurdle's impact on Pittsburgh, takeaways from last season and more.
Donnie Walsh, Pacers
Pacers consultant Donnie Walsh comments on the Pacers' skid, expectations for Andrew Bynum, the Nets' resurgence, whether James Dolan would give Phil Jackson autonomy and more.
Gregg Marshall, Wichita State
Wichita State coach Gregg Marshall dishes on the meaning of "playing angry," whether his players play with a chip on their shoulders, challenges of coaching an undefeated team and more.
Adam Schefter, NFL
ESPN NFL Insider Adam Schefter weighs in on whether the Buccaneers will release Darrelle Revis, the Saints' handling of Darren Sproles, the Texans' chances for Josh McCown and more.
Justin Verlander, Tigers
Tigers P Justin Verlander dishes on differences between Jim Leyland and Brad Ausmus, daring Torii Hunter to kiss an alligator, recovering from core-muscle surgery and more.
espngolic Mike Golic
"@jgoodwin2: @espngolic rocky 3 on & rocky is mumbling over dying mic, one of your finest moments #halarious" mghuffyihgfggh....... Mickkkkk
about 6 hours ago

espngolic Mike Golic
"@DeBo1417: @espngolic i love the show. Where can I send your book to be signed?" To Espn with a SASE to get it back to you
about 8 hours ago

espngolic Mike Golic
"@Fdrizz67: @espngolic saw you at #chipolte today didn't want to bother you. #fanoftheshow" no bother, please say hi next time
about 8 hours ago

espngolic Mike Golic
"@kohalloran25: @SydGolic @espngolic must have a proud tear in his eye. Assuming you ate the wing first!" No doubt she did
about 8 hours ago

espngolic Mike Golic
"@GatorsFanPage: "But ref, I got all ball" http://t.co/H1a3Aw2hhB"gotta be a two ball.........I mean 2 shot foul
about 8 hours ago

Espngreeny Mike Greenberg
Saw end of #MichiganState vs #Wisconsin. Tough teams to project. Wouldn't be surprised if either goes out in round one, or makes Final Four.
about 10 hours ago

espngolic Mike Golic
"@PaulK2005: @espngolic That was the team you picked for Olympic gold....right???"that's what I meant all along
about 14 hours ago

espngolic Mike Golic
Congrats to all the paralympians, not just for your competing, but your incredible work ethic when faced with adversity, very inspiring.
about 14 hours ago

espngolic Mike Golic
RT @NDmom: Congrats to @spudsusa27 @usasledsniper7 and the whole @USParalympics sled team!Way to bring home the gold! #america #Paralympics…
about 15 hours ago

espngolic Mike Golic
"@StrongDog24: @espngolic check out the gold medal sled hockey game on NBC"been watching
about 16 hours ago

espngolic Mike Golic
"@butchsikora: @Espngreeny you know @NDmom is a better follow than @espngolic" that's pretty obvious
about 16 hours ago

espngolic Mike Golic
RT @brodyusa4: Gold medal game today you can watch at home at 11am on @nbc #goldorbust #USAvsRussia #TeamUSA
about 17 hours ago

Espngreeny Mike Greenberg
Interesting.RT @chrisfallica: Villanova 1 bc beat KU by 4 Nov 29 in Bahamas in Wiggins/Embiid 6th gm? L to Syr by 16, Creighton by 28, 21.
about 17 hours ago

Espngreeny Mike Greenberg
RT "@MMehtaNYDN: CB Dominique Rodgers-Cromartie visiting #Jets today. I'm told Rex Ryan's head may explode if #NYJ doesn't sign him."
about 18 hours ago

Espngreeny Mike Greenberg
Highly recommend reading the piece in this week's @TIME by the brilliantly funny @KeyAndPeele. Made me think.
about 20 hours ago

Espngreeny Mike Greenberg
RT @RealJayWilliams: Great first season by @coach_collins @NU_Sports Proud of my guy!
about 20 hours ago

Espngreeny Mike Greenberg
RT @coach_collins: Proud of our guys and how we fought this season! A great foundation has been set for our future! Thx to all for the supp…
about 20 hours ago

Espngreeny Mike Greenberg
Wetzel. Exceptional. As usual.RT "@DanWetzel: NBC let Dottie Sandusky attack her husband's victims. http://t.co/yTQW5UldVH"
about 22 hours ago

Espngreeny Mike Greenberg
RT @ESPNSteinLine: Give Phil this much: After all those claims he was gift-wrapped MJ/Pip, then Shaq & Kobe, he's now taking hardest job he…
about 22 hours ago

Espngreeny Mike Greenberg
I cannot believe Phil is doing this. #Knicks
1 day ago
BEST OF MIKE & MIKE ON ESPN RADIO: CALIFORNIA WAITING