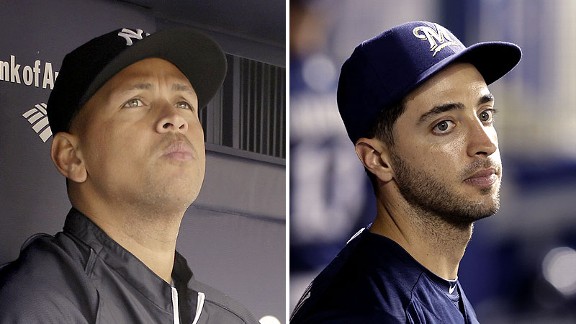 AP PhotoBuster Olney tells the guys about whether MLB will suspend players with ties to Biogenesis and more.
• ESPN MLB Insider Buster Olney dishes on the potential suspensions of players connected to the Biogenesis clinic in Miami, how Ryan Braun and Alex Rodriguez are perceived within the sport and more. Olney

• ESPN investigative reporter T.J. Quinn discusses Ryan Braun's refusal to answer questions during a meeting with MLB regarding his connection to the Biogenesis clinic in Miami, the possible suspensions and more. Quinn

LISTEN LIVE ON ESPNLA.COM
SportsCenter AM
1:00 AM-3:00 AM


NCAA TOURNAMENT BET PAYOFFS
Mike Greenberg completes the latest installment of the guys' bracket wager payoff. Photos


Watch: Greeny Milks a Cow


Watch: Greeny Gets Waxed


Watch: Greeny Competitively Eats


Watch: Greeny Sings Vanilla Ice

JAYSON STARK'S MLB TRIVIA
Former Twins skipper Ron Gardenhire managed 2,107 games without winning a World Series. Only two active managers have managed more than 1,800 games without capturing an MLB championship. Who are they? Listen

THE HIGHLIGHTS
Mike Ditka, NFL
ESPN NFL analyst Mike Ditka talks about Peyton Manning's record-breaking performance, the Bears' struggling defense and the Browns' disappointing loss.
Danny Kanell, CFB
ESPN CFB analyst Danny Kanell discusses the plays in the Notre Dame-Florida State matchup, shares his thoughts on the game and much more.
Andy Reid, Chiefs
Chiefs coach Andy Reid comments on his team's win over the Chargers, Cairo Santos' game-winning field goal, Kansas City's development and Peyton Manning's career.
Zack Martin, Cowboys
Cowboys OG Zack Martin dishes on his team's offensive line, his transition to the NFL, facing J.J. Watt, beating the Seahawks in Seattle and Dallas' use of DeMarco Murray.
Jimbo Fisher, Florida State
Florida State coach Jimbo Fisher comments on whether Jameis Winston will start against Notre Dame, the investigation of Winston autographs and preparing to face the Fighting Irish.
Brian Kelly, Notre Dame
Notre Dame coach Brian Kelly talks about his school's investigation into academic fraud on the team, Everett Golson's development and preparing to face Florida State.
On Giants' NLCS win, 10/17
Mike Greenberg and Mike Golic react to the Giants' elimination of the Cardinals in Game 5 of the NLCS and Travis Ishikawa's game-ending home run.
Brian Billick, NFL
Super Bowl XXXV champion Brian Billick talks about Jameis Winston's character, whether the Cowboys are running DeMarco Murray into the ground and more.
BEST OF MIKE & MIKE ON ESPN RADIO: LAW & ORDER