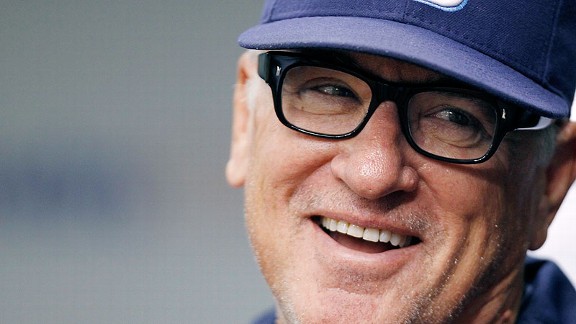 AP Photo/Scott IskowitzJoe Maddon tells Greeny and Buster Olney about David Price, the All-Star Game and much more.
• Rays manager Joe Maddon dishes on where his team stands in the AL East, how David Price has pitched since coming off of the DL, Wil Myers' potential, Alex Cobb's health, the atmosphere in Tampa Bay's clubhouse and more. Maddon

• ESPN senior fantasy analyst Matthew Berry talks about his new book, the big stories that he will be following in the second half of the MLB season, Tom Brady's value and more. Berry

LISTEN LIVE ON ESPNLA.COM


Coming Up

7:00 PM

ESPN News

9:00 PM

SportsCenter Tonight

11:00 PM

Inside The Huddle
NCAA TOURNAMENT BET PAYOFFS
Mike Greenberg completes the latest installment of the guys' bracket wager payoff. Photos


Watch: Greeny Milks a Cow


Watch: Greeny Gets Waxed


Watch: Greeny Competitively Eats


Watch: Greeny Sings Vanilla Ice

JAYSON STARK'S MLB TRIVIA
Jon Lester has won at least 15 wins five times since 2008. Only three other active pitchers have achieved at least four 15-win seasons since that year. Who are these individuals? Listen

THE HIGHLIGHTS
Buster Olney, MLB
ESPN MLB Insider Buster Olney recaps a wild MLB trade deadline with Jorge Sedano and Mark Schlereth.
Sal Paolantonio, NFL
ESPN NFL reporter Sal Paolantonio reviews Ray Rice's news conference with Jorge Sedano and Mark Schlereth.
Jemele Hill, NFL
ESPN's Jemele Hill reacts to Ray Rice's apology during his news conference.
Jerome Bettis, NFL
ESPN NFL analyst Jerome Bettis covers the state of the NFC North, Emmanuel Sanders' remarks about Ben Roethlisberger, the Steelers' outlook and the Ray Rice situation.
Tim Kurkjian, MLB
ESPN MLB Insider Tim Kurkjian weighs in on the best team in the National League, the futures of David Price and Matt Kemp and the Yankees' trade deadline action.
Pat Fitzgerald, Northwestern
Northwestern coach Pat Fitzgerald dishes on his team's performance last season, how the unionization situation affected the Wildcats and changes he would make to college athletics.
Urban Meyer, Ohio State
Ohio State coach Urban Meyer comments on what he would change about college athletics, Braxton Miller's health, the College Football Playoff and replacing Carlos Hyde.
Gordon Edes, MLB
ESPN Boston's Gordon Edes tells Jorge Sedano and Herm Edwards about Jon Lester's trade status.
BEST OF MIKE & MIKE ON ESPN RADIO: RAY OF LIGHT