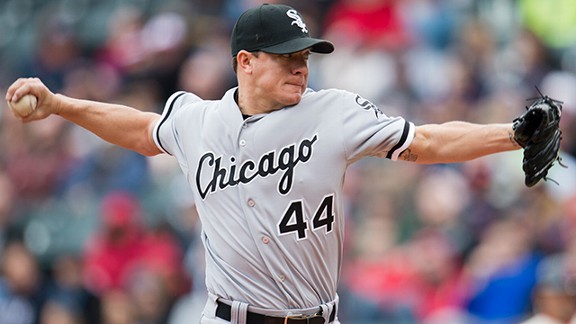 Jason Miller/Getty ImagesBuster Olney tells the guys about Jake Peavy, the trade deadline, Alex Rodriguez and much more.
• ESPN MLB Insider Buster Olney dishes on the Red Sox's acquisition of Jake Peavy in a three-team deal with the Tigers and White Sox, his expectations for the trade deadline, Alex Rodriguez's future and more. Olney

• ESPN MLB Insider Tim Kurkjian discusses the Biogenesis investigation, the Red Sox's addition of Jake Peavy, the trade deadline, Pete Rose's future and more. Kurkjian

• ESPN New York 98.7 FM's Stephen A. Smith shares his thoughts on Mike Schmidt's remarks regarding the state of MLB and more. Smith

• MLB Network's Tom Verducci talks about the state of the Biogenesis investigation, the roles of Bud Selig and the MLBPA, what comes next for Alex Rodriguez, the latest rumors regarding the trade deadline and more. Verducci

• Former MLB commissioner Fay Vincent comments on the different ways that Bud Selig could suspend players connected to the Biogenesis investigation, whether Pete Rose should be reinstated and more. Vincent

LISTEN LIVE ON ESPNLA.COM


Coming Up

3:00 PM

Max & Marcellus

6:00 PM

Kia Motors Shootaround

7:30 PM

ESPN News
#GOLICBUTTPHOTO SHIRT
Muze Clothing has created a shirt featuring the infamous #GolicButtPhoto. All proceeds benefit the South Bend Center for the Homeless. More »
FRANK CALIENDO
Our favorite moments with Frank Caliendo:
-Watch: 'A Visit from St. Nicholas'


-Watch: William Shatner


-Listen: #GolicButtPhoto voicemails


-Watch: Donald Trump


-Listen: Trick-or-Treat


-Watch: Stephen A. Smith


-Watch: Mel Kiper Jr.


-Watch: Charles Barkley


-Watch: Allen Iverson's rant


-Watch: Remembering Robin Williams


-Watch: LeBron James' letter

THE HIGHLIGHTS
Jimbo Fisher, Florida State
Florida State coach Jimbo Fisher dishes on his team's approach to the Rose Bowl, the Seminoles' motivation, Jameis Winston's drive and whether Winston will declare for the NFL draft.
Frank Caliendo, Comedian
Comedian Frank Caliendo channels the voices of various ESPN personalities in a special reading of "A Visit from St. Nicholas."
Darren Woodson, NFL
ESPN NFL analyst Darren Woodson discusses whether DeMarco Murray will play against the Colts, the Cardinals' chances to beat the Seahawks, Seattle's defense and the Broncos' running game.
George Karl, NBA
ESPN NBA analyst George Karl offers his insights on the Mavericks' acquisition of Rajon Rondo, Rondo's transition to Dallas and the development of Stephen Curry and Klay Thompson.
Adam Schefter, NFL
ESPN NFL Insider Adam Schefter covers Jay Cutler's future, fan discontent with the Bears, whether Jim Harbaugh will leave for Michigan and teams that could make a coaching change.
Todd McShay, NFL
ESPN NFL draft Insider Todd McShay offers his insights on the benching of Jay Cutler, Marcus Mariota's potential, Andrew Luck's talent and the top QBs in this year's draft.
Charles Tillman, Bears
Bears CB Charles Tillman dishes on his team's decision to bench Jay Cutler, Cutler's leadership, whether Chicago will retain Marc Trestman and the criticism of the squad's defense.
Mark Helfrich, Oregon
Oregon coach Mark Helfrich comments on Ifo Ekpre-Olomu's injury, preparing for the Rose Bowl, what makes Marcus Mariota unique and the Ducks' reaction to Mariota's Heisman Trophy win.
BEST OF MIKE & MIKE ON ESPN RADIO: CHANGING SOX