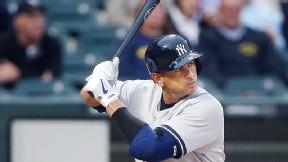 AP Photo/Charles CherneyThe guys will cover A-Rod's return to the Yankees.
Greeny and Golic welcome ESPN MLB Insider Buster Olney (6:30 a.m. ET), MLB Network's Peter Gammons (7:15), ESPN Radio's Ian O'Connor (8:00), ESPN MLB Insider Jayson Stark (8:30), ESPN investigative reporter T.J. Quinn (8:45) and USA Today's Bob Nightengale (9:00) to the show on Tuesday.
Get in touch with Mike & Mike by emailing (mikeandmike@espnradio.com), texting (73776) or tweeting (@MikeAndMike) the guys -- we'll be with you from 6-10 a.m. ET. Follow all of the action on ESPN2, ESPN Radio or ESPNRadio.com.
LISTEN LIVE ON ESPNLA.COM


Coming Up

9:00 AM

The Dan Le Batard Show

10:00 AM

ESPN News
BEST OF MIKE & MIKE PODCAST
LOCKS
ELIMINATOR CHALLENGE
See how Greeny, Golic and the Mike & Mike staff are faring in the show's Eliminator Challenge group for the NFL season. Eliminator Challenge »
JAYSON STARK'S MLB TRIVIA
If Jake Arrieta fails to win the NL Cy Young Award, he has the consolation that three active pitchers with at least 21 victories in a season didn't receive the Cy Young during that same season. Who are these individuals? Listen

FRANK CALIENDO
Our favorite moments with Frank Caliendo:
-Watch: 'A Visit from St. Nicholas'


-Watch: William Shatner


-Listen: #GolicButtPhoto voicemails


-Watch: Donald Trump


-Listen: Trick-or-Treat


-Watch: Stephen A. Smith


-Watch: Mel Kiper Jr.


-Watch: Charles Barkley


-Watch: Allen Iverson's rant


-Watch: Remembering Robin Williams


-Watch: LeBron James' letter

THE HIGHLIGHTS
Brian Billick, NFL
Super Bowl XXXV champion Brian Billick shares his thoughts on discontent growing within the Eagles' locker room and breaks down Dan Campbell's first week in charge as head coach of the Dolphins.
Jayson Stark, MLB
ESPN MLB Insider Jayson Stark covers a brilliant performance by Jake Arrieta in the Cubs' NL wild-card victory over the Pirates, the clearing of the benches and the effectiveness of the playoff format.
Myles Jack, CFB
Former UCLA LB Myles Jack breaks down his decision to withdraw from school and head to the NFL, his relationship with coach Jim Mora and why it is apparent that schools can still profit off of players' likenesses.
Ronda Rousey, UFC
UFC women's bantamweight champion Ronda Rousey discusses her upcoming matchup with Holly Holm in Australia, her parts in Hollywood films, whether or not kids should view her as a role model and more.
Buster Olney, MLB
ESPN MLB Insider Buster Olney covers the Astros' victory over the Yankees in the AL wild-card game, including a questionable strike zone, Dallas Keuchel's dominance and the end of a surprising season for Alex Rodriguez.
Kirk Herbstreit, CFB
College GameDay's Kirk Herbstreit comments on Northwestern's matchup with Michigan, Jared Goff's progression as QB for California, Ohio State's lack of a deep passing threat and more.
Jon Gruden, NFL
Monday Night Football's Jon Gruden shares his thoughts on the missed call in Lions-Seahawks, the Dolphins' struggles, the Steelers' ability to feature Le'Veon Bell in their offense and more.
Dan Le Batard, NFL
ESPN's Dan Le Batard shares his thoughts on the firing of Joe Philbin from the Dolphins, how Miami can overcome the toxicity of its locker-room culture and why we're seeing a decline in Ryan Tannehill.
OFF-MIKES EPISODES
View episodes of ESPN.com's first Emmy winner, "Off-Mikes," a series based on the interactions of Greeny and Golic on "Mike & Mike."
-"Snook, Line and Sinker"


-"Wee-Wee Mon Sewer"


-"Raging Bull-Oney"


-"Bend It Like Golic"


-"The Wettest Yard"


-"Pomp You Up"


-"Throw Momma from the Chair"


-"Air Force Ton"


-"Night of the Living Chippers"

BEST OF MIKE & MIKE ON ESPN RADIO: SHOW PREVIEW AUGUST 6, 2013