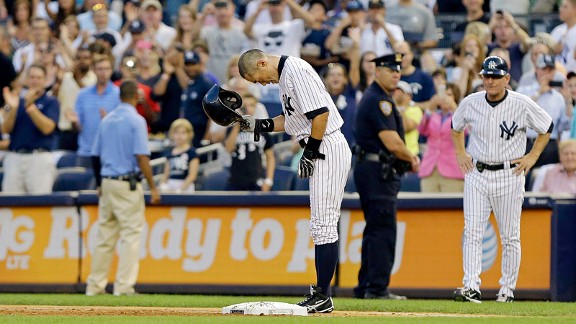 AP Photo/Frank Franklin IITim Kurkjian tells Golic and Jonathan Coachman about Ichiro Suzuki's 4,000th hit and much more.
• ESPN MLB Insider Tim Kurkjian talks about Ichiro Suzuki's 4,000th hit in professional baseball, whether the Yankees can reach the playoffs and more. Kurkjian

• ESPN MLB analyst Orel Hershiser weighs in on Ichiro Suzuki's 4,000th hit in professional baseball, the criticism of Yasiel Puig, Ryan Dempster's suspension for hitting Alex Rodriguez and more. Hershiser

LISTEN LIVE ON ESPNLA.COM
ESPN News
7:00 PM-9:30 PM


BEST OF MIKE & MIKE PODCAST
LOCKS
ELIMINATOR CHALLENGE
See how Greeny, Golic and the Mike & Mike staff are faring in the show's Eliminator Challenge group for the NFL season. Eliminator Challenge »
JAYSON STARK'S MLB TRIVIA
If Jake Arrieta fails to win the NL Cy Young Award, he has the consolation that three active pitchers with at least 21 victories in a season didn't receive the Cy Young during that same season. Who are these individuals? Listen

FRANK CALIENDO
Our favorite moments with Frank Caliendo:
-Watch: 'A Visit from St. Nicholas'


-Watch: William Shatner


-Listen: #GolicButtPhoto voicemails


-Watch: Donald Trump


-Listen: Trick-or-Treat


-Watch: Stephen A. Smith


-Watch: Mel Kiper Jr.


-Watch: Charles Barkley


-Watch: Allen Iverson's rant


-Watch: Remembering Robin Williams


-Watch: LeBron James' letter

THE HIGHLIGHTS
Marcellus Wiley, ESPN LA 710
ESPN 710's Marcellus Wiley weighs in on Steve Sarkisian's firing from USC. He feels that it is a "shame" for the Trojan players to not have a place to look to for leadership and that the timing couldn't have been worse.
Aaron Boone, ESPN MLB Analyst
ESPN MLB analyst Aaron Boone discusses the Cubs' Game 3 victory over the Cardinals including the poise of their rookies. Plus, he weighs in on the postseason perils of Clayton Kershaw, David Price and the firing Steve Sarkisian at USC.
Paul Finebaum, SEC Network
Paul Finebaum of the SEC Network shares his takes on the firing of Steve Sarkisian from USC, Steve Spurrier's decision to retire at South Carolina, the suspension of Florida QB Will Grier for performance enhancing drugs and more.
Herm Edwards, NFL
ESPN NFL analyst Herm Edwards dishes on the impact of Jim Harbaugh at Michigan, the effect of Steve Sarkisian's problems on USC, what teams are doing to limit Peyton Manning and more.
Ron Darling, MLB
1986 World Series champion Ron Darling covers the late slide of Chase Utley that injured Ruben Tejada, Utley's subsequent suspension and the pressure placed on Matt Harvey.
Ron Jaworski, ESPN NFL Analyst
ESPN NFL analyst Ron Jaworski comments on Bill O'Brien's indecision at QB for the Texans, the deficiencies of Ryan Mallet, Eli Manning's improvement in facing the blitz and more.
Myles Jack, CFB
Former UCLA LB Myles Jack breaks down his decision to withdraw from school and head to the NFL, his relationship with coach Jim Mora and why it is apparent that schools can still profit off of players' likenesses.
Ronda Rousey, UFC
UFC women's bantamweight champion Ronda Rousey discusses her upcoming matchup with Holly Holm in Australia, her parts in Hollywood films, whether or not kids should view her as a role model and more.
OFF-MIKES EPISODES
View episodes of ESPN.com's first Emmy winner, "Off-Mikes," a series based on the interactions of Greeny and Golic on "Mike & Mike."
-"Snook, Line and Sinker"


-"Wee-Wee Mon Sewer"


-"Raging Bull-Oney"


-"Bend It Like Golic"


-"The Wettest Yard"


-"Pomp You Up"


-"Throw Momma from the Chair"


-"Air Force Ton"


-"Night of the Living Chippers"

BEST OF MIKE & MIKE ON ESPN RADIO: INTERNATIONAL SUPERHITS