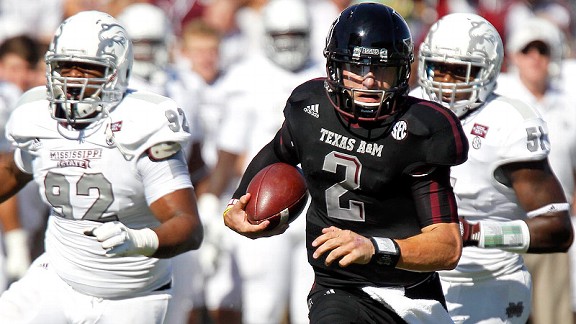 AP Photo/Rogelio V. SolisDarren Rovell tells the guys about the latest news regarding Johnny Manziel and Texas A&M and more.
• ESPN CFB analyst Danny Kanell covers the NCAA's investigation of Johnny Manziel, Georgia-Clemson, the NFL's QB competitions in New York, Buffalo and Oakland and more. Kanell

• ESPN sports business reporter Darren Rovell dishes on the remarks that Texas A&M's chancellor made regarding the NCAA's investigation of Johnny Manziel's future and more. Rovell

• Two-time SEC coach of the Year Bill Curry shares his thoughts on Texas A&M's handling of Johnny Manziel, how programs deal with NCAA investigations and more. Curry

STONE COLD LEAD PIPE LOCKS
HOLIDAY GIFT GUIDE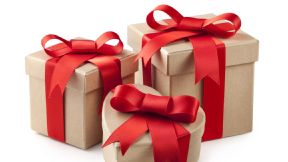 Need to find the perfect gift for a loved one or acquaintance? Look no further! We've got the best gift ideas right here. Holiday Gift Guide »
MIKES AND ME
Now you can be pictured with Mike & Mike! Print this image, pose with the Mikes and tweet your photo to @MikeAndMike using the hashtag #MikesAndMe for a chance to be featured here and on the show. Watch

THE HIGHLIGHTS
Dr. Michael Kaplan, NBA
ESPN medical analyst Dr. Michael Kaplan comments on Kobe Bryant's knee injury, his expectations for Bryant's future and more.
Darren Woodson, NFL
ESPN NFL analyst Darren Woodson talks about the state of the Cowboys, Dallas' management, the chances the Saints will beat the Panthers, the Chiefs' improved offense and more.
Bruce Bowen, NBA
ESPN NBA analyst Bruce Bowen gives his take on Kobe Bryant's injury, adjustments Bryant must make when he returns, the Lakers' chances of signing another big name, Carmelo Anthony's future and more.
Joe Flacco, Ravens
Ravens QB Joe Flacco talks about his health, Baltimore's win over the Lions, his team's four-game winning streak, preparing to face the Patriots, the keys to success in December and more.
Brian Billick, NFL
Super Bowl XXXV champion Brian Billick dishes on Tom Coughlin's future with the Giants, the state of the NFC North, Patriots-Ravens and more.
Alex Smith, Chiefs
Chiefs QB Alex Smith talks about what he learned from struggles earlier in his career, Andy Reid's passion, Kansas City's mindset during its losing streak, Jamaal Charles' performance against the Raiders and more.
Steve Weatherford, Giants
Giants P Steve Weatherford comments on how many tackles he has made throughout his career, the hit on Kevin Huber during Bengals-Steelers, the rule that provides punters with defenseless-player protection and more.
Jon Gruden, NFL
Monday Night Football's Jon Gruden dishes on the injury to Kevin Huber, the Ravens' win over the Lions, the Cowboys' loss to the Packers, the state of the 49ers and more.
BEST OF MIKE & MIKE ON ESPN RADIO: DON'T MESS WITH TEXAS?