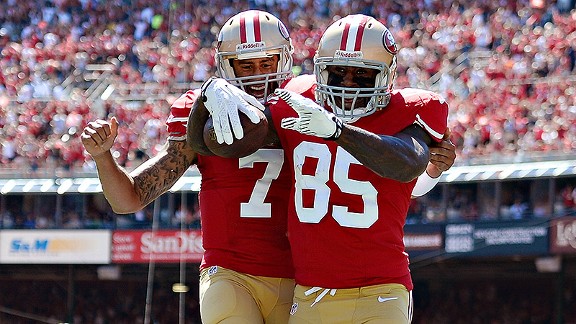 Thearon W. Henderson/Getty ImagesThe guys give their takes on Packers-49ers, Giants-Cowboys, Buccaneers-Jets and Week 1 in the NFL.
• ESPN NFL analyst Herm Edwards weighs in on Giants-Cowboys, Packers-49ers, Colin Kaepernick's performance, Geno Smith's debut, Lavonte David's mental error, Bengals-Bears, Falcons-Saints and more. Edwards

• ESPN NFL analyst Mike Ditka discusses Bengals-Bears, Clay Matthews' late hit on Colin Kaepernick, Lavonte David's game-changing penalty, the Giants' sloppy loss to the Cowboys, Robert Griffin III's status and more. Ditka

• ESPN NFL analyst Cris Carter comments on Packers-49ers, Anquan Boldin's big day, Buccaneers-Jets, the performances of the rookie QBs and more. Carter

• ESPN NFL analyst Tim Hasselbeck talks about how Colin Kaepernick fared against the Packers, the debuts of the rookie QBs, the Bears' offense, the Steelers' struggles and more. Hasselbeck

• Greeny and Golic share their thoughts on Week 1 of the NFL season, including Packers-49ers, Giants-Cowboys, Buccaneers-Jets and more. Listen

LISTEN LIVE ON ESPNLA.COM
SportsCenter AM
1:00 AM-3:00 AM


MIKE & MIKE AT NBA ALL-STAR WEEKEND
MIKES AND ME
Now you can be pictured with Mike & Mike! Print this image, pose with the Mikes and tweet your photo to @MikeAndMike using the hashtag #MikesAndMe for a chance to be featured here and on the show. Watch

THE HIGHLIGHTS
Josh McCown, Buccaneers
Buccaneers QB Josh McCown dishes on signing with Tampa Bay, what influenced his decision to sign with the team, how the squad's offense differs from that of the Bears and more.
Dan Gilbert, Cavaliers
Cavaliers owner Dan Gilbert discusses his relationship with LeBron James, partnering with Warren Buffett for the Billion Dollar Bracket Challenge, Kyrie Irving's future and more.
Lovie Smith, Buccaneers
Buccaneers coach Lovie Smith comments on signing Josh McCown, assessing Darrelle Revis' health, building Tampa Bay's defense, Mike Glennon's future and more.
Andrew McCutchen, Pirates
Pirates OF Andrew McCutchen dishes on his hair, Ken Griffey Jr.'s praise of him, the vibe at spring training, Clint Hurdle's impact on Pittsburgh, takeaways from last season and more.
Donnie Walsh, Pacers
Pacers consultant Donnie Walsh comments on the Pacers' skid, expectations for Andrew Bynum, the Nets' resurgence, whether James Dolan would give Phil Jackson autonomy and more.
Gregg Marshall, Wichita State
Wichita State coach Gregg Marshall dishes on the meaning of "playing angry," whether his players play with a chip on their shoulders, challenges of coaching an undefeated team and more.
Adam Schefter, NFL
ESPN NFL Insider Adam Schefter weighs in on whether the Buccaneers will release Darrelle Revis, the Saints' handling of Darren Sproles, the Texans' chances for Josh McCown and more.
Justin Verlander, Tigers
Tigers P Justin Verlander dishes on differences between Jim Leyland and Brad Ausmus, daring Torii Hunter to kiss an alligator, recovering from core-muscle surgery and more.
BEST OF MIKE & MIKE ON ESPN RADIO: MONDAY MORNING QB